Looking for a fun and safe way to bring the Zoo to your own learning space?
Whether you're learning from home or in the classroom, check out our virtual learning opportunities below.
Click here
for Zoo to You frequently asked questions
Watch us LIVE from the comfort of your own home!
Join us for our weekly Facebook #LIVE with one our amazing Keepers to learn more about the over 4,000 animals that call the Toronto Zoo home. See the calendar below for upcoming scheduled programs and tune in on our Facebook Page!
Explore By The Seat Of Your Pants
Animal Welfare and Enrichment
Thursday, December 15 at 1:00pm
Have you ever wondered what an animal's favourite game is? Do they like puzzles or painting maybe even playing with a new toy? Let's go on an adventure to the Tundra Trek and find out the different types of Enrichments animals love and why they are so important to a healthy happy life!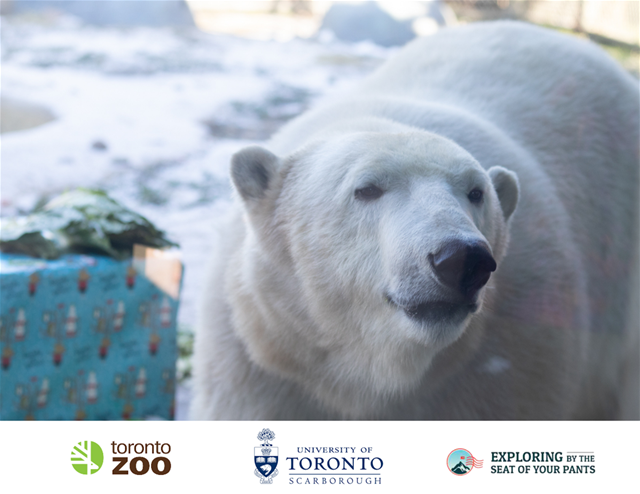 Alerts
The Zootique gift shop will be closed on December 1st
---
Please also note our Zoomobile will now be taking an alternate route through the Eurasia Wilds and will no longer be travelling through the Eurasia Drive Thru.
---
The Wildlife Health Centre Viewing Gallery will be closed at 2:00 pm on Wednesday, December 7 for a private event.
---
Splash Island and Discovery Zone Washrooms are currently closed for renovations.
---
Animals that may not be viewable at this time:
Canadian Domain:
Please note as of Monday, November 14, the Canadian Domain is closed for the season.
African Savanna:
Some animals may not be viewable due to decreasing temperatures.

Kids Zoo
Closed for the season.

*Please note all events subject to change without notice.