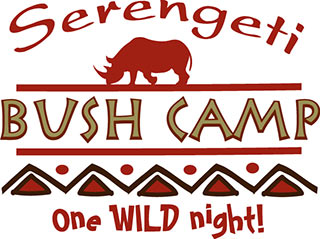 Our 2023 season is now closed.
Thank you all for a great year, see you in 2024!
The sun sets over the African Savanna. The buzz of crickets is briefly dulled by the roar of distant lions. We stroll along the trails, ever watching for a glimpse of the diverse wildlife. The stars appear and light our way as we brave the Serengeti night and return to camp. The flames of the campfire dance as stories of the day's adventure are told

How will your adventure unfold? Come to the Toronto Zoo's Serengeti Bush Camp to experience the wildlife of our African Savanna and Rainforest Pavilion, enjoy evening activities, campfire tales, and the chance to sleep under the stars in our authentic African tents.
Your overnight experience includes the following:
Accommodation in authentic African tents, complete with cots
Behind-the-scenes opportunity in the African Savanna area
Fully guided program, including interactive walking tours of African Savanna & African Rainforest Pavilion and an evening adventure
Buffet-style dinner and breakfast
Campfire (weather permitting)
Campfire snack (s'mores and marshmallows)
Zoomobile ride to and from camp
Zoo admission during the overnight
Complimentary parking during the overnight
Opportunity to see the rest of the Zoo the day of or the day after your Serengeti Bush Camp experience (Parking not included.)
Our Serengeti Bush Camp adventure is offered from the May long weekend to September Labour Day weekend for families (age 6+) and youth groups. Specialty nights for families with young children (age 2+) and adults-only nights are offered on select dates in July and August.
Read more information about the program in the Information Handbook (click to open)
Registration for Bush Camp takes place online only and is on a first come, first served basis. Be ready for when registration opens in early 2024, by creating or reviewing your account.
Create/Review Account HERE
2023 Pricing:
Youth and School Groups
(min. 20 participants):
$79.65+ HST per person
Family/Adult Nights:
Ages 13 and up: $110.62+ HST per person
Ages 6 to 12: $101.77+ HST per person
Bush Camp Jr. Nights:
Ages 13 and up: $110.62+ HST per person
Ages 2 to 5: $101.77+ HST per person
*Zoo Members receive $10 off (includes HST) per person fees (excluding youth/school group rate).
* Bush Camp Family Nights are suitable for children aged 6 and up. Children under the age of 6 are not permitted.
* Bush Camp Jr Nights are suitable for children aged 2 and up, and especially geared towards ages 2 to 5. Children under the age of 2 are not permitted.
How to contact us:

Days of the week
Time
Contact information
Telephone
Monday to Friday
8:00am - 4:30pm
416-392-5947
Telephone
Saturday/Sunday/Holidays
24 hours
Voicemail only 416-392-5947
Email
Replies only from Monday to Friday
8:00am - 4:30pm

[email protected]

Mail
Monday to Friday
Learning & Engagement
361A Old Finch Ave
Toronto, ON M1B 5K7