Please observe the following rules* for a safe and enjoyable visit.
BEHAVIOUR: any behaviour that disrupts another guest's enjoyment, is seen as harmful to the animals, or breaks any of the City of Toronto bylaws or Federal or Provincial law, may result in immediate ejection from the Zoo and could lead to prosecution.

SMOKING: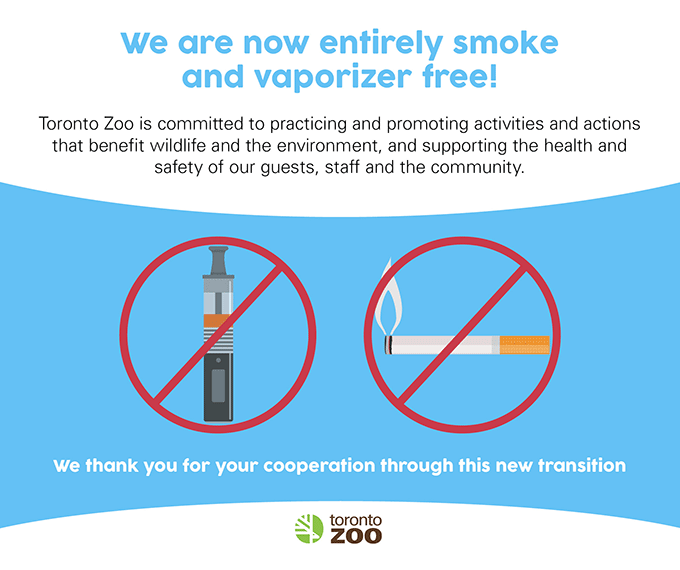 The Toronto Zoo became a smoke-free property for our guests on May 1, 2019. This designation refers to the elimination of the use of tobacco products and smoking such as cigarettes, cigars, cigarillos, mini-cigars, pipes, water pipes, hookah, shisha, and cannabis. It also includes the use of electronic smoking devices which create an aerosol or vapor, in any manner or in any form, or the use of any oral smoking device. Learn more
here
.
PETS: are not allowed anywhere on Zoo property.
SWIMMING: swimming in any Zoo waterway is prohibited.
CROSSING BARRIERS: entering restricted areas, or crossing public barriers, will not be tolerated and may result in ejection from the Zoo and prosecution.
PLEASE DON'T FEED THE ANIMALS! All our animals are on specialized diets; any additional food can seriously harm them, or provoke severe retaliation by more dominant animals.
KEEP THE WILDLIFE "WILD"
Danger – please do not approach or feed any of the wild birds (geese, seagulls) or animals who live at the Zoo. Animals may become aggressive towards visitors and may bite if approached. Unauthorized contact with zoo animals may cause injury.
THE FOLLOWING ITEMS ARE NOT ALLOWED IN THE ZOO AT ANY TIME: frisbees, balls/footballs, water guns, illegal drugs or controlled substances, external alcohol, firearms, fireworks, weapons, rollerblades/skates, skateboards, barbecues, radios, bicycles, tricycles, scooters, balloons or any other potential harmful items at the discretion of management.
Photography
During your visit today you may be filmed, taped or photographed by or on behalf of the Toronto Zoo. Your admission to the Zoo serves as your permission to use, record, reproduce, broadcast, sell and distribute all for any purpose any photographs, video, digital, audio or other recordings of you that may be made at the Toronto Zoo during your visit. The commercial use of photographs, video and film images of the Toronto Zoo is strictly prohibited without the full written consent of the Zoo.

Surveillance Cameras
CONSUMER IMAGE POLICY AND GUEST AWARENESS For the safety and protection of our guests, various areas of the Zoo are under video surveillance.

(Personal information is collected by CCTV cameras to promote public safety and reduce crime. Legal authority of the collection of information is Section 29(1)(g) of the Ontario Municipal Freedom of Information and Protection of Privacy Act. Any questions about this collection can be directed to the Manager of Safety & Security at (416) 392-5903, Toronto Zoo, 361A Old Finch Av., Toronto, ON M1B 5K7.)

*The official By-Laws are posted at the Main Entrance and our website.
Please be advised that as a public space, we are unable to ensure a peanut/tree-nut free environment. Additionally, some of our Wildlife are provided with peanuts/tree nuts as part of their diet. Please ask staff of Compass Group Canada, our third party food and beverage service provider, for options available and locations.