PRESS RELEASES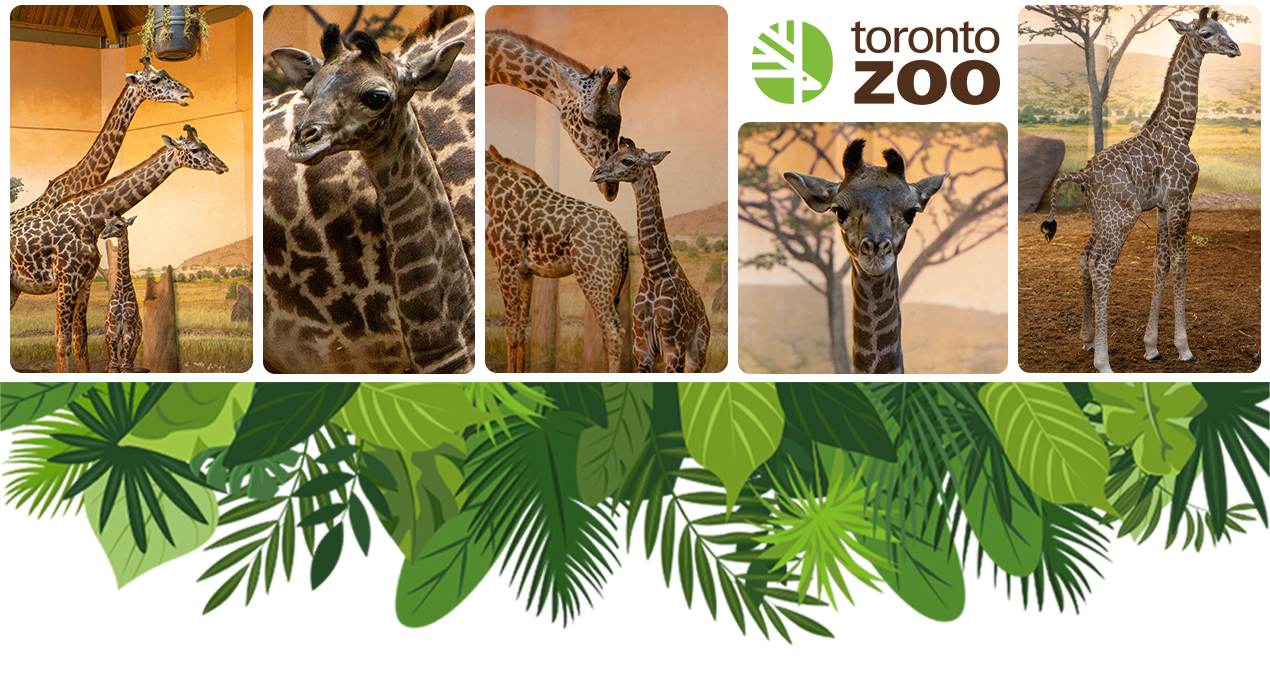 Little Long Legs Has A Name!🦒
Check out the video below to learn more about the meaning and to see footage of #LittleLongLegs!
TORONTO, ON, Wednesday, March 9, 2022: Your Toronto Zoo welcomed the newest addition to the Zoo family on Thursday February 24, 2022. This beautiful male calf arrived at the same time as the horrific events were escalating in the Ukraine, which caused us to reflect and consider how this birth could connect with those facing challenges beyond our imagination.
Your Toronto Zoo stands in solidarity with the Ukrainian community and we have made the decision to call him Matumaini, which means Hope in Swahili. We have been following the events as they have unfolded and while we may feel helpless to directly support the incredibly resilient and brave residents of the Ukraine, we salute their courage and offer them Hope for a peaceful resolution. We also encourage our community to contribute financially to the humanitarian efforts that are underway there.
This is the second offspring for both mother Mstari, born here at the Zoo in 2013, and father Kiko, a nine-year-old male. The pairing of Kiko and Mstari was at the recommendation of the AZA Masai Giraffe Species Survival Plan (SSP), a cooperative breeding program among accredited zoos.
In December 2018, the conservation status of Masai giraffes was elevated to Endangered by the International Union for Conservation and Nature (IUCN). Fewer than 35,000 Masai giraffes survive in the wild, having experienced more than a 50% decline in the past 30 years. Illegal hunting and habitat loss are their primary threats. The Toronto Zoo is part of the AZA Masai Giraffe Species Survival Plan (SSP) and continues to support field conservation efforts for the species through the Wild Nature Institute's Masai Giraffe Project.
Watch Little Long Legs LIVE on ZooLife daily from approximately 11:00am to about 1:30pm: https://www.youtube.com/watch?v=WV-k4nAGtxs. Want camera control and access to even more animal habitats? Check out ZooLife here where 80% of proceeds support animal care and conservation efforts at Your Toronto Zoo: https://zoolife.tv/torontozoo
| | |
| --- | --- |
| Giraffes will not be viewable to the public and media will not have access until further notice. | |
IMPORTANT NOTE FOR OUR MEDIA CONTACTS: Please note that all media visiting the Zoo will be required to show proof of full vaccination in order to gain entry to the Zoo.
The Toronto Zoo's mission is to connect people, animals and conservation science to fight extinction and our vision is a world where wildlife and wild spaces thrive.
An iconic tourist attraction and Conservation organization, the Toronto Zoo boasts a number of leading programs for helping wildlife and their natural habitats – from species reintroduction to reproductive research. A world-class educational centre for people of all ages, the Toronto Zoo is open every day including December 25 and attracts approximately 1.2 million guests each year.
Toronto Zoo is accredited by Canada's Accredited Zoos and Aquariums (CAZA) and the Association of Zoos and Aquariums (AZA). The Zoo has also achieved the Canadian Council on Animal Care (CCAC) Certificate of Good Animal Practice® and is inspected by the Ontario Ministry of Agriculture, Food and Rural Affairs (OMAFRA).
Toronto Zoo, 361A Old Finch Ave, Toronto ON, M1B 5K7
View Toronto Zoo's Privacy Statement
We acknowledge the land we are on is the traditional territory of many nations including the Mississaugas of the Credit, the Anishnabeg, the Chippewa, the Haudenosaunee and the Wendat peoples and is now home to many diverse First Nations, Inuit and Métis peoples. We also acknowledge that Toronto is covered by Treaty 13 with the Mississaugas of the Credit and the Williams Treaty signed with multiple Mississaugas and Chippewa bands.
---
Buy Tickets | Events | Conservancy | Zoo To You | Online Zootique | Donate
© 2022 Company. Toronto Zoo All Rights Reserved.