PRESS RELEASES


Your Toronto Zoo Celebrates 50th Birthday of Critically Endangered Western Lowland Gorilla Charles!
TORONTO, ON, Wednesday, January 19, 2022: Today your Toronto Zoo is excited to wish Charles, our beloved Western Lowland silverback gorilla, a happy 50th birthday! Charles has been a revered member of your Toronto Zoo since opening day in 1974! Tune in today for Facebook Live at 1:00 for our special Happy Birthday Charles celebration! Click here for the Toronto Zoo Facebook Page.
"We are both excited and proud to be celebrating this milestone with Charles" says Dolf DeJong, CEO, Toronto Zoo. "Your Toronto Zoo plays a vital role in supporting conservation efforts across the globe including the critically endangered Western Lowland gorilla. Thanks to funding from the Toronto Zoo Wildlife Conservancy we are very excited to be able to commit a quarter of a million dollars over the next 10 years to gorilla conservation efforts in the wild". Click here for more details on this exciting announcement.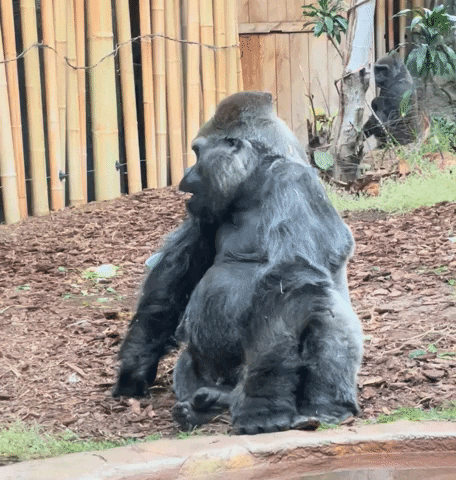 Charles came to the Zoo from Gabon Africa just prior to the Zoo's opening and has become one of our most iconic residents. He has proven himself to be an ideal example of what a silverback represents, siring over 10 offspring and being a grandfather to six gorillas, the last of whom is named "Charlie" in his honour. He was only a toddler when he arrived, and grew to be a 195kg magnificent male who, even at 50 years of age, continues to be vigilant about protecting his family and maintaining order in the troop. Charles is the consummate amazing father and grandfather to the family he has always dearly cared about.
Animals require some extra care and accommodation as they age, and the love and support Charles receives on a daily basis from the entire Toronto Zoo team is second to none. In order to ensure Charles is healthy and comfortable in his golden years, modifications have been made to both his habitat and diet. Harder root vegetables are steamed to make them soft, and his leaf eater chow is dipped in herbal tea to make them easier to chew. His preferred sleeping spot is always given thicker shavings to make sure it is extra comfy, and handrails were installed near the upper platforms to help with balance, should he choose to climb.
Charles has a regular regime of vitamins, supplements and analgesics (to help with arthritis) mixed in with his morning ground flax porridge served with herbal tea with honey. Like many of our animals, Charles is also trained to participate in his own medical procedures through positive reinforcement to ensure we are able to regularly and easily provide excellent care which includes cardiac ultrasounds, voluntary injections, presenting body parts, checking teeth, taking his temperature and blood pressure, nail care and applying topical medications when needed. Our operations team even made a special ultrasound port just for him as his stiffened hips and larger belly don't allow him to place his chest comfortably against the mesh for cardiac ultrasounds. When needed, the Veterinary and Wildlife Care staff will stay overnight to monitor him if they suspect he is under the weather. As Charles continues to age, we will continue to adapt to meet his evolving needs to ensure he remains happy and healthy.
Making it to half a century is always a wonderful milestone but is especially significant when we take into account the critically endangered status of Western Lowland gorillas in the wild, who typically live to 30 to 40 years of age. The species continues to decline at an annual rate of 2.7% mostly due to poaching for bushmeat, disease, and habitat loss and degradation. Because of poaching and disease, the gorilla's numbers have declined by more than 60% over the last 20 to 25 years. The Toronto Zoo is part of the Association of Zoos and Aquariums (AZA) Western lowland gorilla Species Survival Plan (SSP) Program, which aims to establish and maintain healthy, genetically diverse populations, and overall conservation efforts to save this incredible species.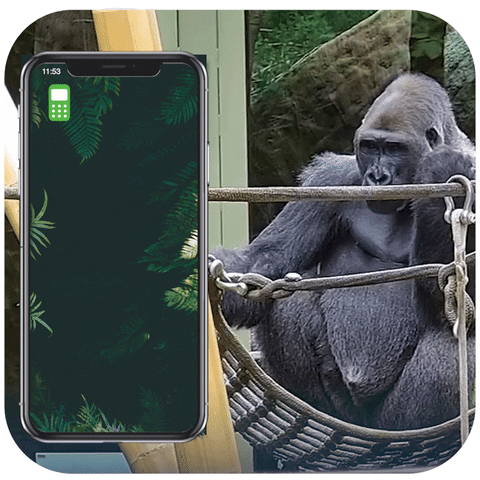 What can you do to help?
You can donate your used cell phones to your Toronto Zoo's PhoneApes Program. Cell phone recycling encourages responsible waste management of electronic materials. The e-waste sector is growing rapidly and the impacts include illegal and irresponsible mining, landfill restrictions and overuse, and habitat loss in Western Africa. Recycling old cell phones, and other small electronic devices helps reclaim valuable metals and reduces environmental social impacts.
You can also support Charles and other critically endangered Western Lowland gorillas by making a donation to the Toronto Zoo Wildlife Conservancy, or through the Adopt an Animal program.
Media Contact Information:
Amy Naylor
416-848-5920
Media Relations Coordinator
[email protected]







IMPORTANT NOTE FOR OUR MEDIA CONTACTS: Please note that all media visiting the Zoo as of Monday October 25, 2021 will also be required to show proof of full vaccination in order to gain entry to the Zoo.
The Toronto Zoo's mission is to connect people, animals and conservation science to fight extinction and our vision is a world where wildlife and wild spaces thrive.
An iconic tourist attraction and Conservation organization, the Toronto Zoo boasts a number of leading programs for helping wildlife and their natural habitats – from species reintroduction to reproductive research. A world-class educational centre for people of all ages, the Toronto Zoo is open every day including December 25 and attracts approximately 1.2 million guests each year.
Toronto Zoo is accredited by Canada's Accredited Zoos and Aquariums (CAZA) and the Association of Zoos and Aquariums (AZA). The Zoo has also achieved the Canadian Council on Animal Care (CCAC) Certificate of Good Animal Practice® and is inspected by the Ontario Ministry of Agriculture, Food and Rural Affairs (OMAFRA).
Toronto Zoo, 361A Old Finch Ave, Toronto ON, M1B 5K7

View Toronto Zoo's Privacy Statement
---
Conservancy | Online Zootique | Donate | Media Room
© 2021 Company. Toronto Zoo All Rights Reserved.