!
Animal Updates & Closures
▼
Please note, the following animals may not be viewable at this time:
African Savanna
Penguins are off display.
Canadian Domain
Moose are off display.
IndoMalaya
Tomistoma, tentacled snakes, carp, and other fish are off display.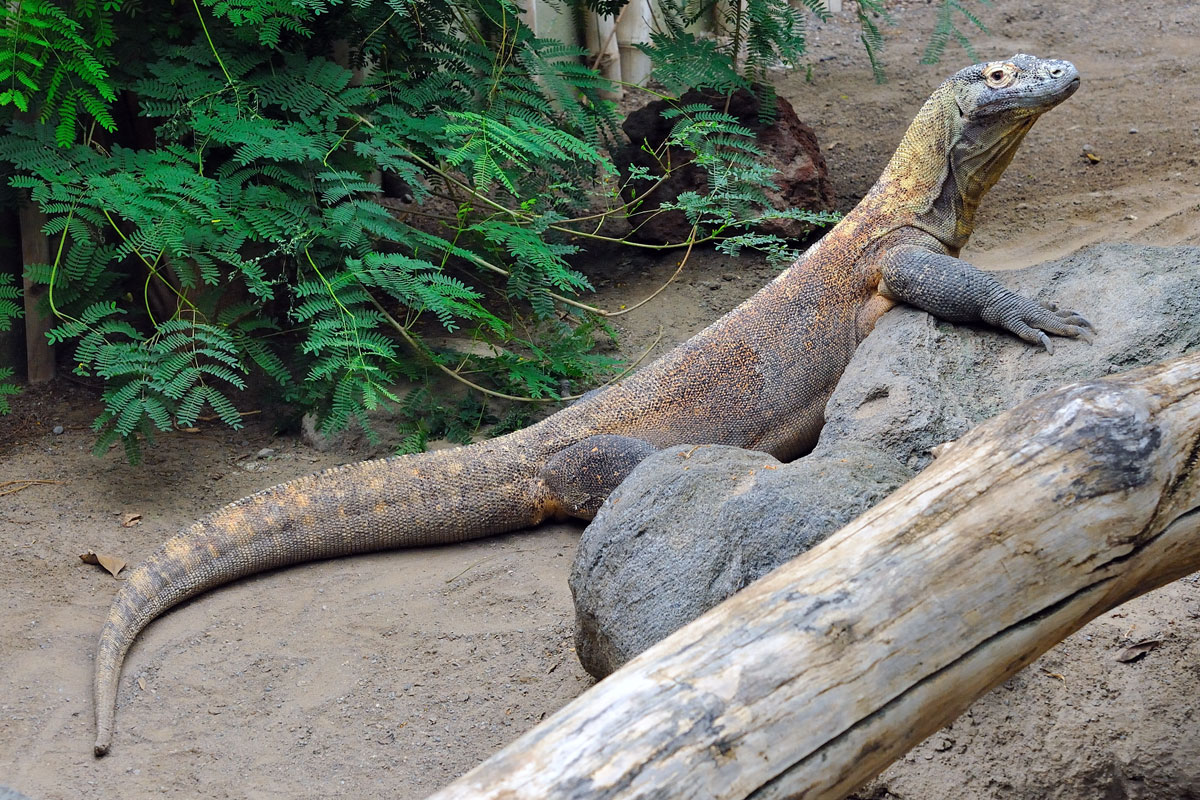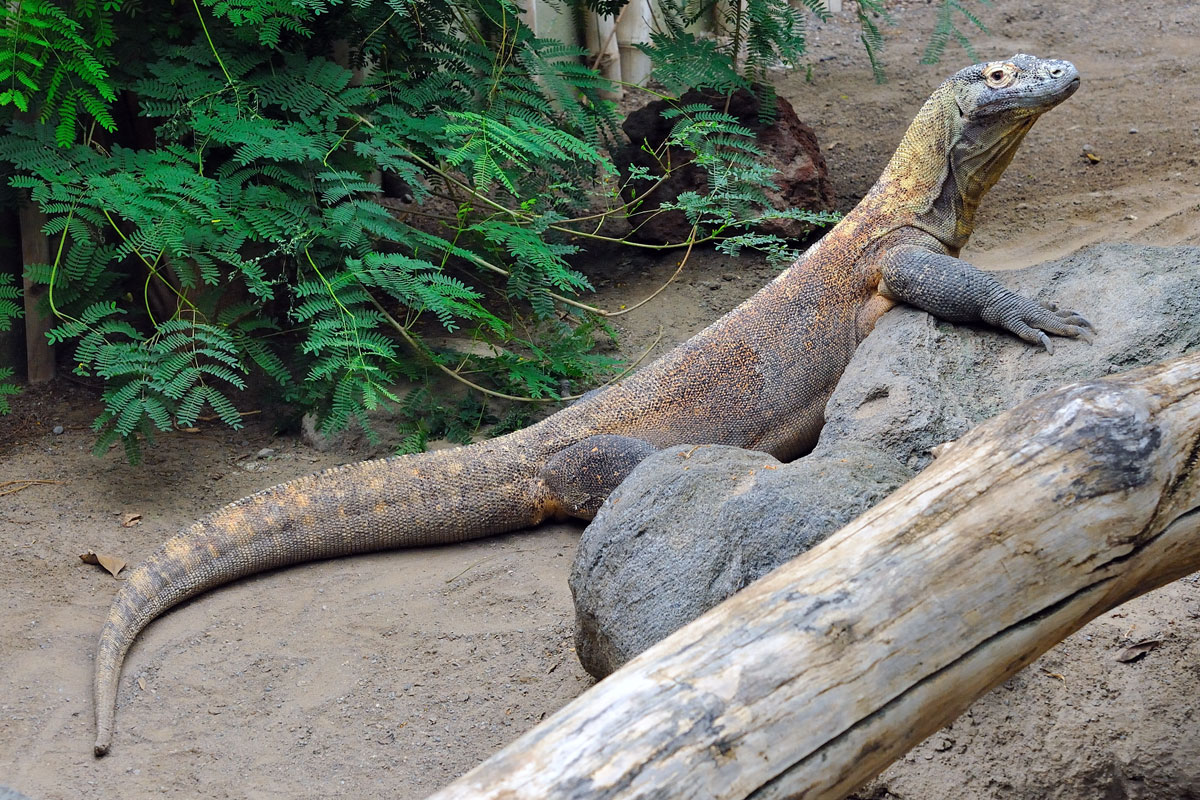 Reptile
Location at the Zoo:
Australasia
Region: Australasia
Komodo dragon
The Komodo dragon is the largest and heaviest of the lizards, well muscled, and covered with non-overlapping scales that give its surface a granular effect. These scales are a drab greyish-black colour. The skin beneath is a multi-coloured mixture of brown, yellow, greyish-red and black and is clearly visible between the scales. The head and the tail are blackish-grey; the belly exhibits hard bony scales and is also grey. Those on the nape of the neck are raised and bony; on the ridge and along the length of the tail, they form a short, spiky fringe. The scales around the anus are spiny and their arrangement is helpful in identifying male from female. As well, the males are larger and bulkier. Otherwise, they are dimorphic.
The head is tapered and flat on top; the snout and nostrils are round. The eyes are placed to the side of the skull and above the hinge of the jaws; their pupils are circular. The ears have no external structure and are seen as holes behind the eyes. The mouth reveals powerful, laterally flattened, serrated, rootless teeth set into sockets, approximately 60 in number. Further rows of replacement teeth lie behind. The roof of the mouth is strong. The tongue is long, yellow and forked and is connected to a Jacobsen's organ on the roof of the mouth. Under the tongue and near the throat lies an opening connected to the lungs. The musculature of the neck and throat is powerful.
Four very stout, bowed legs support a massive torso. These limbs, set in the hips horizontally from the body, give the lizard an ambling and serpentine gait. They end in five digits and sharp claws. The outside digit is splayed backwards. The muscular tail is slightly flattened vertically and ends in a tip. It exceeds half the dragon's overall length.
Weight: Males average 100 kg to 135 kg. Females average 100 kg.
Length: Males average 3.5 m. Females are slightly smaller.
Conservation Status: IUCN

Distribution:
Found only on a few, small, volcanic islands of the Indonesian Lesser Sundra Archipelago: Komodo, Rinca, Flores and Gili Motang.


Habitat:
Dragons exist in conditions that are hot and dry on a landscape that has rocky slopes, savannas, forested valleys, mangrove swamps, coral reefs, beaches, dry river beds, and ridge tops. They are found most frequently in tall grasses and bushes.


Diet:
For approximately the first eight months, Komodo young live in the trees where they find insects, small lizards and birds, eggs, beetles, and snakes. As older terrestrial lizards, they forage for larger game: goats, pigs, wild boar, smaller dragons, horses, water buffalo, and especially deer. A major portion of their diet, however, is carrion.


Reproduction:
The dragons' reproductive cycle begins with courting and mating behaviour throughout May and August. When males smell the females' readiness to mate, they wrestle other males, sometimes for hours, for access to them. Males show their aggression by puffing out the throat, hissing and thrashing the tail. They assume a vertical stance and, with tails for balance, grasp their opponents with forelimbs and claws in an attempt to throw them to the ground. The loser either runs away or adopts a submissive posture. Blood is often drawn.

A ready female emits pheromones in her feces and the male follows her olfactory scent trail. He approaches by touching and smelling her snout and other sensitive body scales connected to nerves, especially the ears, lips, and chin. He licks her temples, the folds of her skin between the torso and rear limbs and other areas where he can taste secretions from skin glands. Her initial response is often negative, resisting with claws and teeth. Eventually he mounts her and pushing her tail aside with his, inserts one of his hemipenises, restraining her if necessary. Since Komodos' sexual behaviour is promiscuous, the males stay with the females for a few days, preventing other suitors from approaching.

Eggs are laid about one month after mating, usually in September to avoid the desiccating summer heat. Females may mate again, if there is time, before the rainy season begins. Nests are scooped out of the sand or she may use abandoned mound nests built of twigs and dirt. Into these are laid 15 to 30 leathery shelled eggs approx. 7.5 cm long. After covering them, she may guard the nest for a while or abandon it immediately. Incubation lasts from 200 - 250 days. There is no evidence of any further maternal care. Breaking out of the shell the following April, when the rainy season ends, the young pups seek protection in nearby trees where they will spend the next few months eating and escaping from predation by older dragons. Their arboreal life coincides with the spring when food is abundant. Feeding voraciously, they grow quickly. When their size makes tree life no longer feasible, they become terrestrial and forage on the ground where they are very vulnerable. Survivors continue to grow throughout their lives becoming sexually mature at nine or ten years and have a life span of between 30 - 50 years.


Adaptation:
The Komodo dragon is the top predator in its isolated community and, free from competition, it has grown to remarkable proportions. These lizards are ambush hunters and rely on stealth and power, lying in wait on their basking sites, near game trails. Their diurnal vision is good and they can pick out moving objects at long distances. They do not see well nocturnally as their eyes have no cones so they are rarely active after dark.
Being exothermic, they lie in burrows, small caves or under piles of brush to retain as much heat as possible. This shortens the period necessary for warming up. They hear well over short distances. Nostrils are largely used for breathing, not smelling. There are a few taste buds near the throat. With the mouth crammed full, breathing is still possible through an opening under the tongue that connects to the lungs. Claws hold and eviscerate prey. Lithe and agile youngsters use them for climbing in the trees. The Komodos' blood oxygen-storing capacity allows them to pursue fast-moving prey over short distances. Powerful jaws hold and smash food into chunks. The teeth tear and saw flesh and they are replaced frequently. The dragons' saliva administers bacterial toxins that cause blood poisoning in wounded prey. However, Komodos themselves are immune.
The forked tongue is the lizard's most effective means of sensing its surroundings, allowing dragons to find food by tasting the air. The tip of each fork is highly sensitive and, when touched to the Jacobson's organ, can locate a meal up to eight km. away. The flexible skull joints, along with loosely articulated jaws and powerful neck and throat muscles, allow chunks of flesh to be consumed quickly without chewing. The stomach expands easily and dragons can eat up to 80% of their body's weight and 88% of a carcass at one meal, making them very efficient feeders. What they cannot digest they regurgitate as gastric pellets. Afterwards Komodos bask, helping them to digest their food. They can survive on a few meals a year if necessary, allowing a small prey population to sustain many consumers.
Threats to Survival:
In their very limited habitat, Komodo dragons remain vulnerable to natural events such as earthquakes, tidal waves and volcanic eruptions. Illegal poaching is a continuing threat. Introduced species such as wild dogs harass dragons; rats eat their eggs and compete for food. Habitat outside of Komodo National Park is being fragmented by human encroachment. In addition, farmers through fear and confrontations over livestock, have set out poisoned baits.