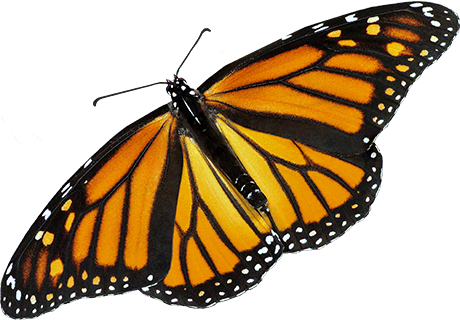 Protecting


Pollinators
How the Toronto Zoo is Helping Pollinators
Plants for Pollinators
The Toronto Zoo is fighting pollinator decline by encouraging the public to appreciate pollinators through education, and by changing negative perceptions often associated with bees. While bees are often confused with more aggressive wasp look-alikes, most bees in Canada are non-aggressive, and are very beneficial for home gardens and agricultural crops.
In 2017, the Toronto Zoo launched Plants for Pollinators, a public awareness initiative to demonstrate to Zoo-goers how to help restore pollinator habitat in their own backyards, and participate in citizen science projects across North America. Guests are able to learn about native flowers that are excellent pollinator plants or hosts, and find out how to build a solitary bee nest.
Meadow Plantings Onsite
The Toronto Zoo provides a pollinator friendly landscape both on and off the main site with natural areas for nesting, and flower beds for feeding. The Zoo will soon be home to a butterfly garden designed to attract native butterflies, with Ontario wildflowers. This garden will improve The Zoo's natural habitat for pollinators, and provide educational value for guests.
Turtle Island Conservation Program
The Toronto Zoo has partnered and worked with First Nation communities across Southern Ontario to collect stories of traditional knowledge about Monarch butterflies, and have helped foster habitat restoration projects. We've helped to build pollinator gardens in both Alderville and Aamjiwnaang First Nation, as well as attending conferences in Ottawa and Vancouver, to gain a greater insight on threats to the species, and what we can do to help. We are currently partnered with Walepole Island First Nation's Heritage Centre and are working to record traditional knowledge from community elders as to compile their stories into a book. Turtle Island Conservation then makes these books available as a resource for schools, educational institutions, and anyone interested in the traditional stories of the Monarch Butterfly. Every little bit helps, and the more we know, the better we can do!
To learn more about the Turtle Island Conservation Program, click here
Yellow-banded Bumblebee Recovery Program
The Toronto Zoo is also expanding its commitment to protecting pollinators through the Yellow-Banded Bumble Bee Captive Breeding Program. In partnership with Wildlife Preservation Canada and York University, the Toronto Zoo is preparing to host Queens and colonies of Yellow-Banded Bumble Bees in the Invertebrate Breeding Centre. The goal of this program is to learn more about colony rearing techniques, their development, and once enough colonies have been created, to help restore populations in the wild.