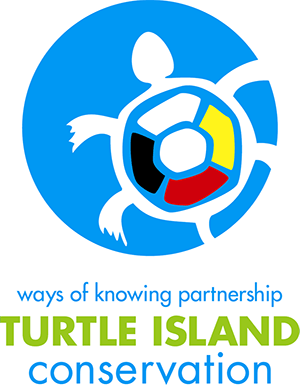 Toronto Zoo's Turtle Island Conservation programme (TIC) respectfully shares the hopes and goals of First Nation partners in our committment to the preservation of biodiversity. TIC partners with First Nation communities to preserve community knowledge and significant natural and cultural landscapes.
The objectives of the Turtle Island Conservation programme are:
To foster respect for self, community, Mother Earth, and the Creator

To recognize and record significant landscapes valued by First Nation communities

To integrate traditional ways of knowing with western science to monitor, protect, respect and restore landscapes

To integrate language, art and crafts to sustain traditional ways of knowing and among non-Indigenous

To facilitate understanding of diversity of First Nation culture and ways of knowing among non-Indigenous
Turtle Island Conservation has a variety of resources available in
Mohawk and Ojibway languages:
Other initiatives include:
Outreach education presentations in First Nations' communities
Shoreline cleanups in First Nations communities
Monitoring programs in First Nation communities
If you would like more information about the program please contact:
Programme Coordinator, Turtle Island Conservation [email protected], or 416- 393-6362
Contact Us
If you have any questions or comments, please contact us at:
Turtle Island Conservation
Toronto Zoo
361A Old Finch Ave.
Toronto, ON
M1B 5K7
Canada
E-mail: [email protected]
Telephone: 416-393-6362
Fax: 416-392-4979
Office hours are from 8:30 am- 4:00 pm, Monday to Friday.