35
PLEASE NOTE: We are currently experiencing an issue with our 416-392-5944 phone line. Please email us at [email protected] or temporarily call and leave a message on 416-393-6365 for a response to your inquiry . Our apologies for any inconvenience.
Plan a Toronto Zoo Field Trip
Benefits of a Zoo field trip:
Making real-world connections through observation, inquiry, & critical thinking
Coming face-to-face with over 3000 animals
Igniting a sense of wonder and curiosity about the natural world
Cross-curricular – Think beyond just Life Systems & Biology!
Getting active and exploring 10 km of walking trails
Captivating learning environment
Encourages an awareness of how all life is interconnected
Inspires students to take action and protect wildlife
YOUR SUPPORT MATTERS
As a not-for-profit organization, the revenues from all Zoo visits, including school field trips, directly support conservation efforts to help save vulnerable wildlife. The ongoing support of educators helps to ensure that these critical conservation efforts can continue and connects future generations to nature and the environment.
TYPE OF VISIT
We offer a variety of opportunities for you and your students to discover the Zoo including:
Self-guided Visit
Enjoy the flexibility of exploring the Zoo on your own with your students. To make the best of your visit:
For additional details about self-guided visits, please visit: Self-guided – Elementary or Self-guided – Secondary.
Curriculum Linked Programs
Incorporate a little more curriculum into your visit by participating in one of our EdVentures or Interactive Presentations (Elementary and Secondary) Programs.
To help prepare and plan for a successful field trip, teachers who have pre-booked a school trip are invited to visit the Zoo for FREE* ahead of time by presenting a copy of your school visit confirmation letter and a valid OCT card or equivalent Teacher ID card, along with photo ID, at Guest Services.
*Valid for one admission and parking pass per teacher, up to the number of qualified complimentary teachers indicated in the school visit confirmation package. All teachers attending the planning visit must check in at Guest Relations at the same time.
Classroom Connectionz - Virtual Field Trip
Bring the Zoo into your classroom and learn about the wonderful wildlife while having a little fun too! The Zoo offers multiple ways of connecting with the animals and learning curriculum related information from the comfort and safety of your device. Just choose an option and we will be excited to welcome you to the Toronto Zoo!

Classroom Connectionz Details HERE
---
CHOOSE YOUR DATE
A self-guided school visit can be booked year-round, but must be booked at least two weeks in advance. School programs (September-June) fill up quickly, so don't miss out - book early!
Weather
Thinking of bringing your class to the Zoo, but worried about the weather? The Toronto Zoo offers a variety of indoor spaces that offer protection from the elements, while boasting unique and amazing animals and plants for you and your students to learn about. The winter months are also a great time to see polar bears, Arctic wolves, and many more in their snowy element!
---
SCHOOL VISIT RATES*
(HST is included in all rates - HST#119216398)
Student

Supervisor


1 teacher per class receives FREE admission
Kindergarten: 1 teacher + 1 ECE per class receive FREE admission

Admission - Licensed Child Care Centre

$10.00


($8.85 + $1.15 HST)


**conditions apply
$10.00


($8.85 + $1.15 HST)


**conditions apply

Admission - Elementary (K-8)

$10.00


($8.85 + $1.15 HST)

$10.00


($8.85 + $1.15 HST)

Admission - Secondary (9-12)

$11.00


($9.73 + $1.27 HST)

$11.00


($9.73 + $1.27 HST)

Admission - Post-Secondary

$12.00


($10.62 + $1.38 HST)

$12.00


($10.62 + $1.38 HST)
* During July and August, school visit rates are only valid for educational institutions on a modified school year.
* All rates are subject to change without notice.
** Child Care Centres must be licensed with the Ontario Ministry of Education. Valid on professional activity or professional development days during the school year (excluding school holidays). On school holidays, licensed child care centres will receive 25% off regular admission rates. Minimum of 10 students required per booking.
---
ZOO MEMBERSHIPS
Toronto Zoo memberships will be honoured for students and supervisors to cover the cost of admission. Please present originals/photocopies of all memberships to Guest Relations at the time of payment.
---
ACCESSIBILITY- Students with Special Needs & Support Persons
Please
click here
to learn more about the many features that make the Toronto Zoo accessible for all students. Support persons who are providing one-on-one support to students with special needs for health and/or safety reasons receive complimentary admission. Support persons should not be included in the Supervisor Ratio, as their attention is focused on an individual student.
---
PARKING*
Personal Vehicle $15.00
School Bus Free
*All rates subject to change without notice
---
PICNIC SITE RENTAL*
School groups receive a 50% discount off picnic site rentals during the school year*. For more information about the available picnic sites, what a picnic site rental includes, and how to book a private picnic site for your group, please visit
Host Your Event
or contact Toronto Zoo - Group Events at
[email protected]
or 416-392-5940.
*Offer valid only for school groups booked Monday to Friday (10:00 am - 2:00 pm) during the school year. Subject to availability. Subject to change without notice.
---
SUPERVISOR RATIO
In order to ensure a safe and enjoyable visit, we require that groups maintain the following minimum supervisor to student ratios for the duration of their visit:
| | |
| --- | --- |
| Grades PreK-3 | 1 supervisor per 5 students |
| Grades 4-8 | 1 supervisor per 10 students |
| Grades 9-12 | 1 supervisor per 20 students |
Please note:
In the event that your group does not meet these requirements, you will be charged in accordance with the minimum supervisor ratio.
---
CONTACTS
Phone Number

Email Address

Self-guided Visit

416-392-5932

School Programs

416-392-5944

Zoo School

416-393-6365 (September-June)
416-392-5944 (July-August)

Outreach Programs

Adopt-A-Pond

416-392-5999

Aqua-Links

416-392-6022

Great Lakes Program

416-392-6022

Serengeti Bush Camp

416-392-5947

Adopt an Animal

416-392-9114
---

FREQUENTLY ASKED QUESTIONS
Q: How is the Toronto Zoo adapting school programs for fall 2021?
A: As we understand that visiting the Zoo in person may not be possible at this time, we now offer a variety of virtual programs to bring the Zoo to your classroom. Learn more about our virtual visits HERE.

For school groups visiting onsite, we offer 1.5 hour onsite, Staff and Volunteer-led Edu-Trek Programs that bring the curriculum to life. Programs will require social distancing and masks to be worn to ensure everyone's health and safety. Learn more about onsite visits.
On-site safety
As part of our commitment and shared responsibility for the health and safety of our animals, guests, and our employees, we ask that all persons entering our Toronto Zoo follow Public Health measures to reduce the risk of COVID-19 spread. For more information on what the Toronto Zoo is doing to help keep you safe while you visit please see our FAQ.
Self Screening:
PLEASE, do not enter the Toronto Zoo if:
You are ill or experiencing any one of the following symptoms of COVID-19. These include: fever, new or worsening cough, shortness of breath, runny nose (not related to allergies), sore throat, loss of taste or smell, nausea, vomiting, diarrhea, or difficulty swallowing.
You have been exposed to someone who has been diagnosed with or has symptoms of COVID-19.
You or someone in your household has travelled internationally in the past 14 days.
COVID-19 Safety Measures
As part of our commitment and shared responsibility for the health and safety of our animals, guests and our employees, we ask that all persons entering our Toronto Zoo follow Public Health measures to reduce the risk of COVID-19 spread.
Safety Measures include but are not limited to:
Practicing physical distancing: Please keep 2m/6ft. between your group and others.
Washing your hands often for at least 20 seconds with warm soapy water or use alcohol-based hand sanitizer.
Wearing of facial coverings are mandatory for persons 2+ years of age and who are medically capable, when inside buildings and pavilions. We strongly encourage guests to wear facial coverings at all times to reduce COVID-19 spread.
Practicing cough and sneeze etiquette by using a tissue or using the bend in your arm.
For further details relating to Covid-19 Safety Measures and providing proof of vaccinations please click here.
Still have a question about field trips? Take a moment to read through our Frequently Asked Questions.

For an updated list of any closures you may experience while planning your school trip, click here.
---
TERMS & CONDITIONS
Prices are subject to change without notice.
School visit admission rates are available for groups from schools registered with a provincial Ministry of Education or Ministry of Training, Colleges, and Universities, in addition to other education facilities, for the sole purpose of meeting learning requirements outlined in a course curriculum.
During July and August, school visit admission rates are only valid for educational institutions on a modified school year.
The Toronto Zoo will accommodate changes in the number of students and supervisors on the day of the visit.
The supervisor to student ratio is strictly enforced for the safety of our student guests and the enjoyment of our public patrons. All supervisors must be at least 18 years of age. The role of the Supervisor role is to ensure the safety of all students and in doing so, the Supervisor is ensuring that all Zoo patrons enjoy their visit. The Supervisor must encourage appropriate behaviour from each student and demonstrate respect for the plants and animals. Please remember to stay with your group at all times. Any display of inappropriate behaviour will be grounds for removal from the Zoo site.
Consumer Image and Guest Awareness: During your visit, you may be filmed, taped, or photographed by or on behalf of the Toronto Zoo. Your admission to the Zoo serves as your permission to use, record, reproduce, broadcast, sell, and distribute all for any purpose any photographs, video, digital, audio, or other recordings of you that may be made at the Toronto Zoo during your visit. The commercial use of photographs, video, and film images of the Toronto Zoo, its animal collection, staff, and volunteers, is strictly prohibited without the full written consent of the Zoo.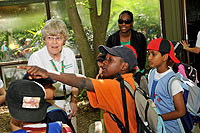 "The children were very engaged, we wish we could have stayed longer!"
- Holy Angels School
"All the teachers and students had a wonderful time at their workshops. The teachers couldn't stop raving about the program and how wonderful their instructors were. Thanks again for a great day... we'll definitely see you again next year!"
- George R. Gauld Junior School