Join us on the Zoomobile for a convenient way to get around the Zoo! Enjoy an engaging commentary about your Zoo and the natural world as the Zoomobile takes you to several designated stops that you can hop on or off at throughout the day. You may also see some of your favourite animals along the way!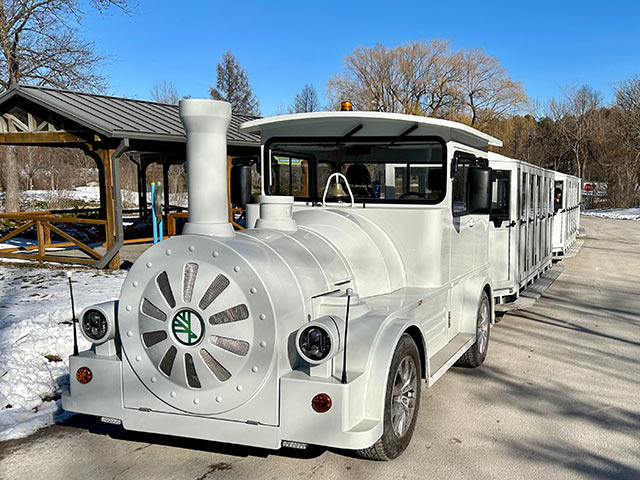 NEW THIS WINTER! Take a ride on our new Winterized Zoomobiles! With a new route, vehicle, and commentary, you are sure to love this new addition to your Zoo. Use it to whisk you away to all your favourite spots in the Zoo while keeping toasty warm in the fully enclosed vehicle. Feel free to hop on and off at several designated stations all day! The Zoomobile currently stops at the following stations:
Main Station
Indo Malaya
Americas Pavilion
Tundra Trek
Eurasia
SCHEDULE AND TICKETS:
The Zoomobile currently operates daily (weather permitting), leaving the Main Station between 10:00am and 4:00pm. Please note this is subject to change without notice due to maintenance, weather, or other unforeseen circumstances.
Members ride for free, and guests can purchase tickets at the Main Zoomobile Station in the front courtyard with debit or credit card.
Tickets are $9.00 each or $30.00 for 4 tickets (+HST). Tickets are ride-all-day and may be used multiple times to board the Zoomobile at any stop throughout the day.
Winter Zoomobile 2-for-1 special!
From February 6 to March 3, purchase a Zoomobile ticket and get one FREE for this limited time offer!
Tickets must be used on day of purchase. Zoomobile is weather dependent and may close without notice.
RULES AND RESTRICTIONS:
Members and ticketholders must present membership or proof of purchase when boarding the Zoomobile at all stations.
Strollers and wagons that fold up may be brought onto the Zoomobile if space allows. Guests and members are responsible for ensuring their personal belongings are secured. Toronto Zoo rented wagons and strollers will not fit on the Zoomobile.
Guests may be required to disembark the Zoomobile at the Main Station on high-capacity days, if the Zoomobile is going out of service, or for any other unforeseen circumstances.
No food or drink may be brought onto or consumed on the Zoomobile. Water is permitted.
ACCESSIBILITY:
The Zoomobile is equipped with a wheelchair accessible seating area. Up to two wheelchairs, ECV's or scooters will fit on the Zoomobile depending on shape and size. Toronto Zoo rented ECVs will not fit on the Zoomobiles. Every effort will be made to safely board all guests.
Please speak with a ride operator if you require any accommodations.