Toronto Zoo Events Calendar
Thanksgiving weekend at the Toronto zoo!
Saturday, October 12 to Monday, October 14
9:30am to 6:00pm daily
Nestled in the heart of the Rouge National Urban Park with over 10KM of scenic walking trails, Toronto Zoo is one of the most picturesque spots in the city to enjoy the natural colours of fall this Thanksgiving weekend. It's the perfect opportunity to check out our many photo opportunities around site, take advantage of the beautiful foliage, or capture a special moment with friends and family while surrounded by the Zoo's 5,000+ animals.
All photo opportunities are free with Zoo admission and subject to change without notice.
GRIZZLY BEAR THANKSGIVING FEAST
Monday October 14th
2:00PM
Visit the Grizzly Bear Keeper Talk at 2:00pm on Monday as Samson and Shintay enjoy their very own special Thanksgiving Feast as they bulk up to prepare for hibernation.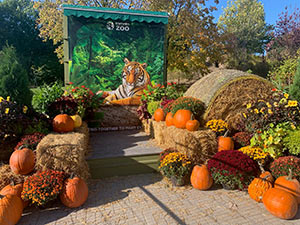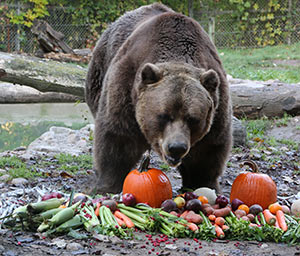 THE GREAT PUMPKIN
Front Courtyard (to the left of the Conservation Carousel)
Visit this historic, culturally rich icon from the west end of the city! Previously at Plant World in Etobicoke, The Great Pumpkin was commissioned to be built 50 years ago, and now calls the Toronto Zoo home.
Come and visit The Great Pumpkin and snap a photo starting Friday October 11!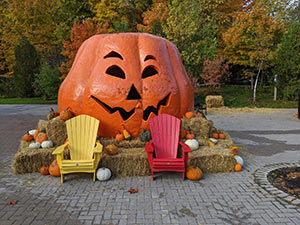 Alerts
LUMINA NIGHT WALK EXPERIENCE IS COMING AND WE ARE PREPARING!
The Toronto Zoo is very excited to be bringing this unique and one-of-a-kind experience to Toronto this winter. Lumina Night Walk will be a 45 to 60 minute experience beginning at nightfall and engages emotion using storytelling, lighting design, an original soundscape and music, scenography, video and interactive technologies.
In preparation for Lumina Night Walk, we will be experiencing some construction in certain areas throughout the month of October. Thank you for bearing with us through this exciting time of preparations. Tickets for Lumina Night Walk at the Toronto Zoo will be available in November.
---
Please note the Discovery Zone, including the Kids Zoo, will be closed from Monday, October 7 to Friday, October 11 for Lumina Night Walk construction and preparation.
---
Please note the Core Woods Pathway – between Discovery Zone and Tundra Trek - will be closed from Tuesday, October 15 to Friday, October 18 for Lumina Night Walk construction and preparation.
---
Please be advised that the Indo-Malaya Pavilion will be closed until 10:00 am on Thursday, October 24th for a private event. We apologize for the inconvenience.
*Please note all events subject to change without notice.