Toronto Zoo Events Calendar
Mother's Day
Sunday, May 12, 2019
What better way to celebrate a day all about Moms than visiting with three of Toronto Zoo's newest Mothers. Whether it's Western lowland gorilla Ngozi and her daughter Charlie in the African Rainforest Pavilion, Asha the greater one-horned rhino and her calf Kiran or white African rhino Zohari and her calf Theo, they are all sure to add something special to the day. Not only are these three new additions to the Toronto Zoo family cute they are significant in the preservation of their species. The Western lowland gorilla is under extreme threats due to poaching, disease and habitat loss, greater-one-horned rhino is listed as vulnerable and the white rhino near threatened. These births will help ensure that their species will continue for generations to come.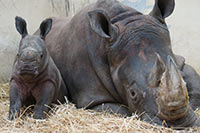 *Please note all events subject to change without notice.
Alerts


Please note, due to extreme cold weather forecast, the African Savanna pathways will be closed Saturday, January 19 and Sunday, January 20.
Subject to continued extreme cold weather forecast for Monday, Jan 21, the area may remain closed for the day. Sorry for any inconvenience.