All Events
Events
Happy 2014! Toronto Zoo is one of the most influential and innovative education facilities in Canada. The Toronto Zoo offers a great line up of fun-filled programs throughout the year.
Whether it's a week at summer day camp, sleeping under the stars at Serengeti Bush Camp, or one of our exciting daytime or evening programs, learning just comes naturally at the Toronto Zoo! In addition to the programs we also offer a variety of educational resources, interpretive graphics/displays, guided tours and outreach, plus volunteer opportunities!
And it's never too early to start planning and get ready for some Zoo-pendous experiences.
Click Here!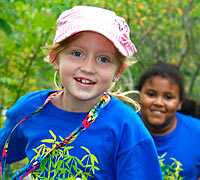 Frozen Fridays at the Toronto Zoo!
Every Friday until August 29, 2014
Join us as the grizzlies, African penguins, polar bears and Sumatran tigers receive a special frozen treat every Friday this summer. Keepers will be on hand to meet with our visitors and answer questions about the importance of these four animals, how the zoo is helping to save and protect them and why the Toronto Zoo offers our animals frozen treats as part of our Enrichment Program. Each session is approximately 20 minutes in length and free with admission.

Grizzlies - Canadian Domain 1:00pm to 1:20pm
African penguins - African Savanna 12:30pm to 12:50pm
Polar bears - Tundra Trek 3:00pm to 3:20pm
Sumatran tigers - Indo-Malaya 2:30pm to 2:50pm

National Zoo Keeper Week
Monday, July 21 to Friday, July 25, 2014
Discovery Zone Courtyard, 10:00am to 4:00 pm
Your local Toronto Zoo Chapter of the American Association of Zoo Keepers is proud to invite you to a week-long event celebrating National Zoo Keeper Week. The event will offer rare insight to the unique roles the Zoo Keeper plays within your zoo...

International Tiger Weekend
Saturday, July 26 & Sunday, July 27, 2014
11:00am to 4:00pm
Indo-Malaya Boardwalk
Join us at the Sumatran Tiger Exhibit for tiger enrichment interpretive stations, artifacts and colouring sheets. Did you know that tigers are declared a critically endangered species and that the Amur, Sumatran and Malayan tiger population are fewer than 500 in the wild? The tiger populations are threatened by habitat loss and degradation, poaching, tiger-human conflict, loss of prey and other factors. Find out how you can commit to conservation efforts to help this extremely endangered species at home and abroad.

PLUS enjoy a special meet-the-keeper talk at 1:30pm and a special training demonstration at 2:30pm at the Sumatran Tiger Exhibit.

Toronto Zoo's Annual Orangutan Awareness Weekend
Saturday, August 23 & Sunday, August 24, 2014
Conservation Connection Centre, 11:00am to 4:00pm
Did you know? The Toronto Zoo isn't just the only Zoo in Canada to have Giant pandas but we also have Sumatran orangutans! Check out our special orangutan enrichment interpretive station, artifacts, and artwork painted by one of our talented orangutans. Sumatran orangutans are critically endangered with the wild population experiencing habitat loss of 80% half of that in the last 20 years caused by palm oil cultivation, logging and mining. Join us in the Indo-Malaya Pavilion for a special Orangutan Keeper Talk at 1:00 pm daily and find out how YOU can commit to conservation efforts to help the extremely endangered Sumatran orangutans at home and abroad.

Walk for the Children

Sunday, August 24
Registration 8:30 am - 11:00 am
Event Activities run until 3:00 pm
Now in its fourth year, Walk for the Children is a great day for families to spend time together and help raise significant funds for children in need of life-saving surgeries. Participants enjoy a day at the Toronto Zoo, trekking along a scenic 5K route. Stations are set up along the way where children can have their "explorer passport" stamped adding to the sense of adventure. The walk concludes at the Savanna picnic site with a BBQ lunch and children's entertainment, games and activities. All proceeds from this event go to the Herbie Fund. The Herbie Fund's mission is to bring children from around the world to The Hospital for Sick Children (SickKids) for life-saving or life-altering surgeries - surgeries that are not available to them in their home countries because of high costs and lack of medical expertise. Since its inception in 1979, Herbie Fund has changed the lives of more than 700 children from over 100 countries around the world. To register and begin fundraising, or for more information, visit
www.herbiefund.com/wftc.asp

Oasis ZooRun 10K and 5K Run/Walk
Saturday, September 20, 2014
Our annual fundraiser run/walk for the Zoo! Open to all runners, walkers, and fitness folk of all ages and abilities. Bring the whole family for a day of fitness, fun and fundraising. Support the Toronto Zoo and invite your friends, family and colleagues to pledge a runner! For online entry, fundraising and event details go please visit the Oasis Zoo Run
website
.

RUNNING AND WALKING ALONGSIDE GIANT PANDAS, LIONS AND POLAR BEARS IN SUPPORT OF THE BREAST CANCER CAUSE!

Sunday, October 5th
Canadian Breast Cancer Foundation CIBC Run for the Cure launches new run site at the Toronto Zoo! The first-ever Canadian Breast Cancer Foundation CIBC Run for the Cure at the Toronto Zoo promises to be an exciting, powerful and unforgettable experience for everybody involved. Runners and walkers can make a wild day of it with over 5,000 animals, the only giant pandas in Canada, lots of zoo babies and more! So, grab your runners and strollers and don't forget to sport your finest
flamingo
pink attire!
This new partnership between the CIBC Run for the Cure and the Toronto Zoo is exciting and very fitting! The CIBC Run for the Cure is Canada's largest single day event in support of breast cancer research, health education and advocacy programs. The Toronto Zoo is celebrating 40 years of saving and protecting species. We look forward to seeing everyone on October 5th!


*Please note all events subject to change without notice.