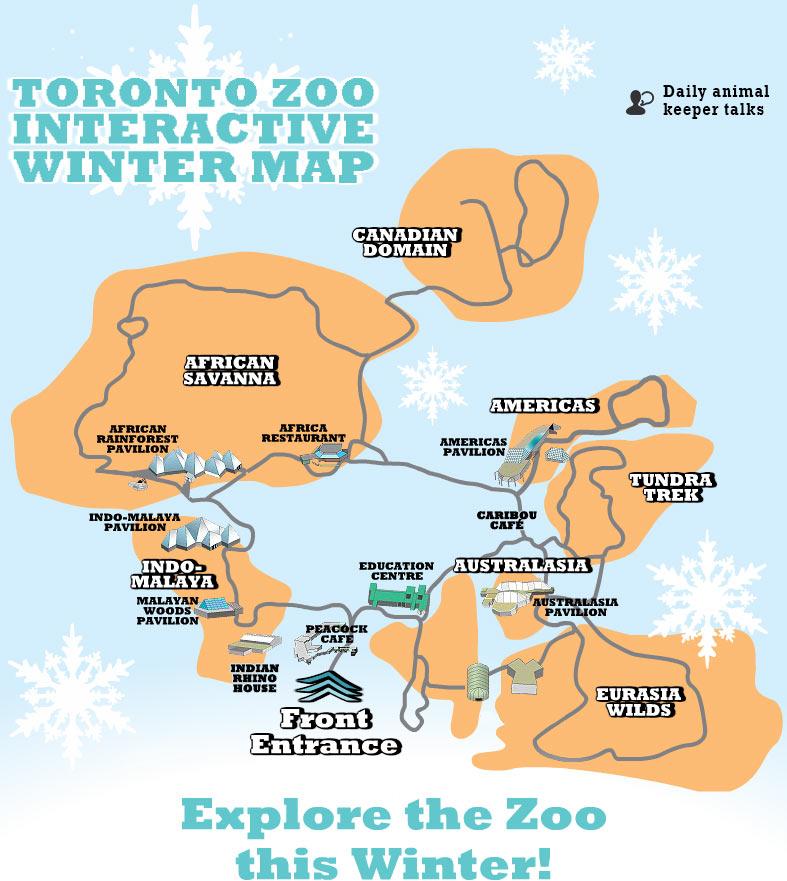 Komodo dragon
11:30 am
(Talk only)
Polar bears
12:00 pm
Otter
12:30 pm
(feeding only)
Orangutan
1:00 pm
Cheetah
1:00 pm
(weather permitting)
Lion
1:30 pm
(weather permitting)
Giraffe
2:00 pm
Snake
2:30 pm
(weekends only)
Gorilla
2:30 pm
(Talk only)
Lake Malawi
12:30 pm
(feeding only)
Snow leopards
11:30 pm
As Canadian winter approaches, enjoy over 10 km of wintery trails at the Toronto Zoo and visit our Canadian and Tundra animals in their natural winter habitats. Then, escape the cold and enter into the warmth of one of our FIVE INDOOR tropical pavilions!




Allow us to help you out with planning your trip this winter:


Eurasia Wilds Outdoor Experience: Visit fan favourites like the red pandas, Steller's sea eagles and Eurasian eagle owls in their aviaries, or visit our Bactrian camels and snow leopards, including our new cubs born May 18, 2017.

Tundra Trek Outdoor Experience: Braving the Canadian winter has never been so much fun in our 10-acre Tundra Trek. Home to our polar bears, visit Aurora, Nikita, Hudson and Humphrey in our polar bear habitat complete with an underwater viewing area. Don't forget to catch our other snow-loving animals including the Arctic wolves, snowy owl and more. Come prepared with your hats and scarves, but don't worry, warmth is only a short walk away at our Americas pavilion!

Americas Indoor Pavilion: Enter through an aviary of free-flight birds and head to our primate habitats, home to the golden lion tamarin, common marmoset, and white-faced saki as well as our two-toed sloths. And if you're a fan of reptiles, insects and spiders, you don't want to miss this pavilion with the Massasauga rattlesnake, giant bird eating spider and much more!

Canadian Domain Outdoor Experience: For those who dressed to brave the Canadian winter, the trek to the Canadian Domain will offer sightings of cougar, bald eagle, bison, moose and lynx.

African Savanna Outdoor Experience: Even though it's cold outside, a few of our African animals still enjoy the outdoors. Depending on the temperature, olive baboons, hyenas and cheetahs (including our 5 cubs born on April 20, 2017) may be out throughout the day. Also meet our pride of white lions, including Lemon, Makali and Fintan. You will also be able to view our African penguins in their indoor swimming area and visit the Zoo's tallest residents, our Masai giraffes Mstari and Kiko, in their indoor habitat.

African Rainforest Indoor Pavilion: Swing on by to the African Rainforest and meet our Western lowland gorilla troop including juvenile Nneka in their indoor habitat. Just a few steps away are the ring-tailed lemurs, pygmy hippos, royal pythons, slender-tailed meerkats and the beautiful Lake Malawi cichlids.

Indo-Malaya Indoor Pavilion: This pavilion is full of personality! Our Sumatran orangutan troop never cease to entertain as they swing and play in their indoor habitat. Don't forget to visit our playful white-handed gibbons, Sumatran tigers, giant reticulated python, free-flight birds and more!

Indian Rhino House: Visit Vishnu, Ashakiran and Nandu in our newly renovated Indian Rhino House.

Malayan Woods Indoor Pavilion: Experience amazing plant life as you enter this pavilion, followed by some scorpions and other creepy critters. This pavilion is also home to a pair of adorable Clouded leopards, Mingma and Pavarti! Plus, take a step across the path to see our two clouded leopard cubs born on May 13, 2017.

Australasia Indoor Pavilion: Take a trip down under and discover some of the iconic animals of the Australasia region - from the gentle Matschie's tree kangaroo to the largest lizard in the world, the fierce komodo dragon. Then explore the Great Barrier Reef and spot moon jellies, pot-bellied seahorses and colourful tropical fish.
*Please note subject to change without notice.