All Events
March Break at the Zoo!
Saturday, March 9, to Sunday, March 17, 2013
9:30am to 6:00 pm (last admission at 5:00 pm)
When making plans this March Break don't forget to visit the world famous Toronto Zoo!! You are sure to have a WILD time with some animal friends including our magnificent polar bears, African white lions, Western lowland gorillas, Arctic wolves and more. Looking for some warmth? Stop by one of our five tropical pavilions, bursting with animals, plants and sea life. Grab a hot chocolate and take in one of our educational and fun daily Keeper Talks and drop by and chat with some of our knowledgeable Volunteers stationed throughout the Zoo.
To help celebrate March Break the Zoo is offering our visitors a daily promotional offer plus the Zoo will have extended hours from 9:30am to 6pm (last admission 5pm).
The Toronto Zoo Wants To Give YOU a BREAK With These Daily Promotions:
Saturday, March 9th and Sunday, March 10th
Want a special memento to remember your day with us? Drop into our Zootique Store and receive 10% off your purchase!!
Monday, March 11th
Enjoy our Monday Munch Special for only $25.99*. This special is available to the first 200 visitors at the Africa Restaurant and includes ONE extra large cheese Pizza, FOUR bags of chips, FOUR -16 oz Fountain Pops and TWO dipping sauces. That's a saving of over $5!! *plus taxes
Tuesday, March 12th
Toonie Tuesdays. Take a spin on our colourful Conservation Carousel for only $2! *Weather dependant.
Wednesday, March 13th
It's all about the kids today! Enjoy a special Kids Nugget Combo for only $4.99*. The special includes FIVE Chicken Nuggets, a small fry and a small Apple Juice *plus taxes
Thursday, March 14h
Toonie Thursdays. Take a spin on our colourful Conservation Carousel for only $2! *Weather dependant.
Friday, March 15th
Belly Cookie Friday-When you purchase any hot beverage at Africa Restaurant and Peacock and Caribou Cafes the first 1,000 customers will receive a yummy Belly Cookie for only 99* cents! *plus taxes
Saturday, March 16th to Sunday, March 17th
Even adults need a break!! When you purchase a regular Coffee or Tea (12 oz) at Peacock and Caribou Café, as well as Africa Restaurant, you pay only $ 1.39 (plus tax).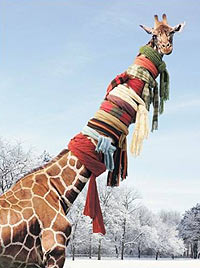 "Adopt" a Giant panda today or choose your own favourite animal.
Adopt an Animal. Support your Zoo. Order on line or call 416-392-9114.


*Please note all events subject to change without notice.