All Events
World Wetlands Day
Sunday, February 1 and Monday, February 2, 2015
10:00 am to 3:00 pm
Americas Pavilion (indoor)


While polar bears are enjoying the winter weather, ever wondered where wetland creatures go when it gets cold outside? Come celebrate the amazing world of wetland wildlife underneath the ice, and join in some conservation fun with the Adopt-A-Pond Programme on World Wetlands Day!

Experience heaps of activities for kids and kids at heart, including games like Fish for a Prize, Find the Tail on the Turtle, and Frog Call Challenge! Join our volunteers and Toady the Mascot for a touch-table experience with amazing wetland wonders, frog-tastic puzzles, and lessons on how to become a Turtle Tallyer, Frog Watcher or Wetland Guardian. Join our conservation team and make a difference for wetland species across the province and around the world! It's wetland wow for the whole family and it's FREE with Zoo admission!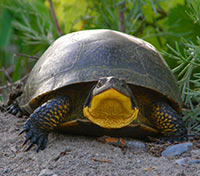 *Please note all events subject to change without notice.