Saturday, April 22 & Sunday, April 23, 2017
Party for the Planet & Rain Barrel Sales
Tundra Trek
10:00am to 4:00pm
What better place to implement sustainable actions to help wildlife than in your own backyard! Join the Toronto Zoo in our Earth Day® event Party for the Planet. Making smart choices about what we buy, how we use it, and how we dispose of it can make a big difference in the amount of waste we produce and the greenhouse gas emissions associated with our consumption. In every stage of a product's life cycle, we can reduce our impact, including what to do with what's leftover (the waste). The Zoo has successfully found alternative uses for the leftover bamboo that goes uneaten every day. Visit the Toronto Zoo on Earth Day® weekend to learn about using your everyday waste as a resource and create useful items for your home. Join us for lots of information and kid-friendly activities from local organizations who are passionate about conservation to get inspired and learn how you can take action. This event will have activity stations distributed between the Giant Panda exhibit and Tundra Trek area of the Zoo. Party for the Planet is powered by green energy through Bullfrog Power!
See below for exciting workshops taking place during Party For The Planet
---
Rain Barrel Sale:
Front Entrance
10:00 am to 4:30 pm
Rain barrels are a great way to reduce your water bill and help save the environment. Did you know that with the average amount of rain that runs off a roof in a year, you could flush your toilet more than 30 times a day?! Using a rain barrel to catch rainfall from your roof provides an inexpensive way to water your garden, and return water to the ground instead of storm water systems.
Pre-purchase a rain barrel for only $55 at www.rainbarrel.ca/torontozoo and pick it up on Saturday, April 22 or Sunday, April 23 in the drop-off loop at the front entrance of the Zoo, no admission to Zoo required. (Don't forget to bring your receipt!) Limited quantities will be available for purchase at the Zoo entrance on the day of. Funds raised through this sale will support the creation of a rain harvesting system at the Toronto Zoo.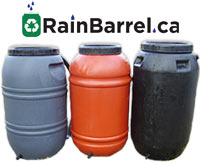 ---
Workshops:
Looking for something more? Join us for our hands-on workshops to turn your waste into something useful. Money raised through these workshops will go toward the construction of a rain harvesting system for the Zoo. Space is limited, so book your spot HERE today!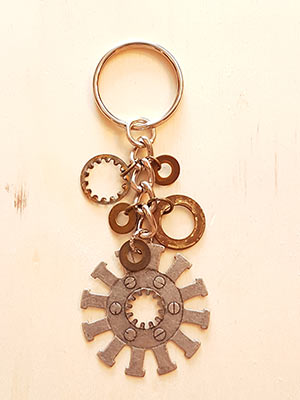 Twisted Upcycled Creations workshop
Using up-cycled materials to create your own keychain. In this workshop you will learn the skills of basic jewelry and accessory making. For more information see
twistedmetalinmotion.com
Date
: Saturday, April 22 and Sunday, April 23
Time: 10:30am -11:00am, 11:00am-11:30am, 11:30am-12:00pm, 12:30pm-1:00pm
Cost
: Member $25, Non-member $28
Location
: Wild Connections Tent –
next to Panda Interpretive Centre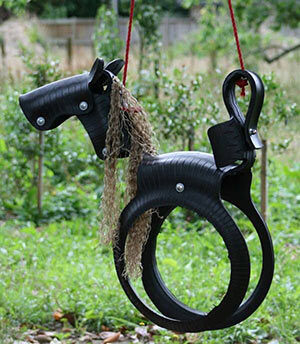 Make a horse tire swing workshop
Upcycling an old tire into a horse swing your kids will love for years to come. We will provide the tire and tools, you just have to bring yourself and any children who may wish to help.
Date: Saturday, April 22
Time: 2:00pm-4:00pm
Cost: Member $90, Non-member $100
Location: Wild Connections Tent – next to Panda Interpretive Centre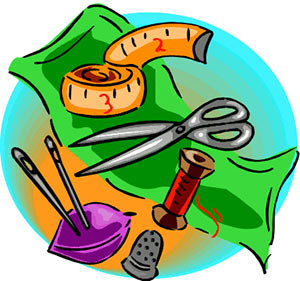 Mending Tips and Tricks workshop
Come learn some basic mending skills including - sewing up a fallen hem, reattaching a button, and repairing small holes and rips. If you have any items in need of a repair, bring them along!
Date: Sunday, April 23
Time: 3:00pm-4:00pm
Cost: Free
Location: Wild Connections Tent – next to Panda Interpretive Centre
---
Repairathon:
Sunday, April 23
Education Auditorium
12:00pm-2:00pm
Do you have some clothing in need of a little TLC? Bring in your items, in need of repair, and Repairathon's volunteers will mend your clothing for free. Only two items per guest please. For more information see repairathon.com
Date: Sunday, April 23
Time: 12:00pm-2:00pm
Cost: Free
Location: Education Auditorium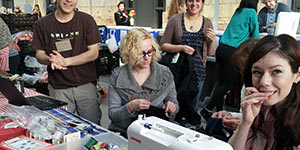 ---
Clothing and textile Collection
Bring your unwanted clothing and textiles to donate to Diabetes Canada. We will be accepting donations at the Front of the Zoo (no entrance is required) on April 22 and 23 from 9:00 a.m. until 2:00 p.m.
Items accepted:
Clothing
Bedding
Sleeping bags
Belts/ties
Handbags
Yarn
Drapes
Jewelry
Hats
Shoes