Good Friday, 2016-03-25 through Easter Monday, 2016-03-28
Join us this Easter Weekend and visit* with some our newest, and most adorable, Zoo family members including our four playful male white lion cubs, female polar bear cub, Canada's first giant panda cubs and male Indian rhino calf*. While here, take in one of our free Keeper Talks or visit one of our Volunteer Interpretive Stations and discover more about our important conservation programs and how you can become a species protector!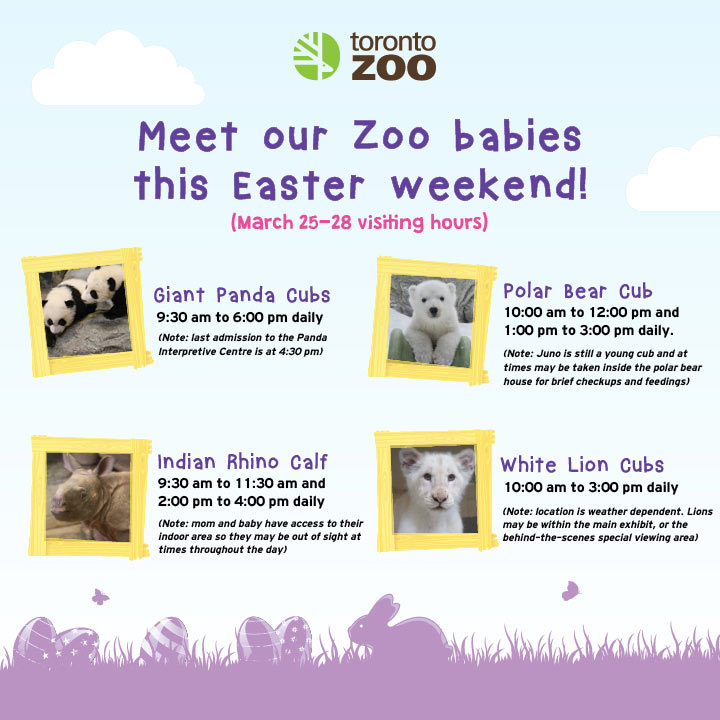 Viewing Hours:
Giant Panda Cubs:
9:30am to 6:00pm daily (Note: last admission to the Panda Interpretive Centre is at 4:30pm)
Polar Bear Cub Juno:
10:00am to 12:00pm and 1:00pm to 3:00pm daily.
Indian Rhino Calf:
9:30am - 11:30am and 2:00pm - 4:00pm daily
White Lion Cubs:
10:00am to 3:00pm daily (Note: location is weather dependent. Lions may be within the main exhibit, or the behind-the-scenes special viewing area)
*NOTE: Cub viewing times will be listed, daily, on torontozoo.com. Subject to change without notice.