TORONTO ZOO, VIBE ARTS AND TORONTO DISTRICT SCHOOL BOARD PARTNER TO BRING AWARENESS TO CLIMATE CHANGE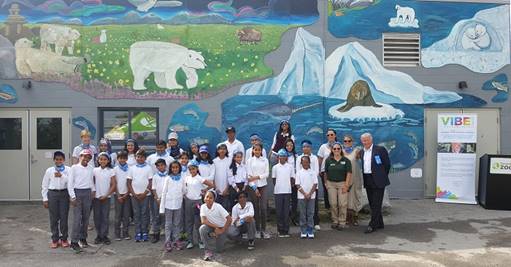 Photo Credit: Toronto Zoo
TORONTO, ON, Tuesday, September 26, 2017 - Today, the Toronto Zoo, VIBE Arts and students and teachers from Military Trail Public School (MTPS) unveiled a 50+ foot mural that has been installed on the back of the Toronto Zoo's Polar Bear Habitat and is viewable from the Zoomobile route. The impressive mural titled Polar Bears in the Arctic is comprised of 21 hand-painted panels that collectively and artfully depict arctic animals and their unique habitats. The mural was a result of an important community partnership between VIBE Arts, Toronto District School Board and Toronto Zoo. The VIBE Arts Community Sharing Project was made possible in partnership with The Great-West Life Assurance Company.
The mural was an idea that was put in motion by Toronto Zoo Wildlife Care Supervisor, Hollie Ross, who began working on the concept report during overnight shifts as a Polar Bear Keeper looking after cub "Juno" when around the clock care was necessary. It was important to Ross that the art installed would highlight the Zoo's Tundra species, as well as awareness about climate change and polar bear conservation. Involving the community, specifically children, was important because educating the public and future generations about polar bears and how we can help them in the wild is crucial to their survival. After meeting with Julie Frost, Executive and Artistic Director of VIBE Arts, to discuss the project, it became clear to Ross that VIBE Arts was an excellent match. VIBE Arts is a charity whose mandate is to work collaboratively with children and youth in under-resourced communities to innovate, build skills and resiliency, and lead social change through arts education programming, known as Community Sharing Projects. It was VIBE Arts who selected MTPS students to help bring the Polar Bears In The Arctic mural to life.
"The Toronto Zoo is proud to be part of this important community partnership," says John Tracogna, Chief Executive Officer, Toronto Zoo. "Engaging the community in understanding the importance of climate change and its impact on wildlife is a priority for the Toronto Zoo, and the Polar Bears In The Arctic mural accomplishes just that."
"Community-led mural making of this scale and high quality exemplifies the impact of meaningful grassroots collaboration, as well as the incredible artistic agency of young people in our city," says Julie Frost, VIBE Arts Executive and Artistic Director. "VIBE Arts is so proud of the Military Trail artists. Their learning, their artistry and their leadership have resulted in a beautiful mural that will inspire and engage future zoo-goers for many years to come."
MTPS staff, students and VIBE Artists, including lead artist Sandra Tarantino, were invited out to the Toronto Zoo to be inspired prior to beginning the mural. The group experienced an educational presentation led by the now Wildlife Care Supervisor, Hollie Ross, and Polar Bear Keepers, which focused on polar bears, arctic animals and the threats they are facing due to climate change. VIBE Artists were mindful of the importance of integrating the students' learnings into the mural to ensure the mural's imagery depicts accurate and motivating visual messaging. Student learning continued back at the school, as students researched and found more information gathering resources from libraries and important sources including Polar Bears International, a longtime partner of the Toronto Zoo. Both the artists and the students became more familiar with, and gained respect for, the Arctic during this creative experience. Most importantly, they learned the many ways that our daily habits can change to help reduce negative impacts on climate change.
Over the course of two months, VIBE Arts worked with 62 students grades four through eight from MTPS, located just five kilometers from the Toronto Zoo, to create an impressive 50+ foot mural for the Toronto Zoo's Polar Bear Habitat. VIBE Arts facilitated workshops inside the school that began in February 2017 and finished at the end of March 2017. The final result is a spectacular mural, which has brought pride to students and staff at MTPS, and the wider Meadowvale community. The development of this mural also gave many students who were newcomers to Canada, and the school, an opportunity to build relationships with other students, as well as learn more about Canadian species and develop confidence in their new environments. The mural is comprised of 21 hand-painted panels that collectively and artfully depict arctic animals, including polar bears, seals, fish, hares and whales, and their unique habitats. The mural is aptly titled Polar Bears in the Arctic was installed on Thursday, September 7, 2017, on the exterior of the Zoo's Polar Bear House, which is visible to visitors via the Zoomobile route.
-30-

TESTIMONIALS
"Polar Bears in the Arctic totally fits one of Toronto Zoo's key mandate of focusing on saving Canadian species through conservation action and education. This project was truly a community effort by engaging local students through art and learning about climate change and how it is affecting polar bears and other species in the Arctic. The mural envelopes our polar bear house and will spread the word about climate change and what people can do to make a difference. A big thank you to all of the students and our partners, the finished product is amazing!"
-       Maria Franke
"I am so excited to see this project come to completion and even more impressed at the results. Having the kids so engaged and bringing the community together to celebrate our iconic Canadian species, as well as learn more about how to protect their wild habitats, was exactly what I wanted and I couldn't be happier."
-       Hollie Ross
"Our artists often had to force students to stop painting and get lunch as they did not want to leave, and would repeatedly check to see when they could continue painting next."
-       Sandra Tarantino
"I didn't think I liked art, but now I know I love it."
-       Asna, Student
"I wasn't sure I wanted to be part of this program, but now I never want it to end."
-       Rafiya, Student
Toronto Zoo Media Contacts:
Katie Gray, Supervisor of Public Relations and Events
kgray@torontozoo.ca or #416-392-5941
Amanda Chambers, Public Relations and Events Associate
achambers@torontozoo.ca or #416-392-5974
VIBE Arts Media Contact:
Deneille Balkissoon, Marketing and PR Manager
deneille@vibearts.ca or #416-929-9314 ext 114
About The Toronto Zoo
The Toronto Zoo is Canada's premier zoo and a national leader in saving wildlife to ensure the rich diversity of nature for future generations. More than a tourist attraction, the Toronto Zoo boasts a number of leading programs for helping wildlife and their natural habitats – from species reintroduction to reproductive research. A world-class educational centre for people of all ages, the Toronto Zoo is open every day except December 25 and attracts approximately 1.3 million visitors each year.
About VIBE Arts
VIBE Arts is an award-winning charitable organization that is committed to engaging young people living in neighbourhood improvement areas with high quality, accessible arts education programs that are meaningful, relevant and collaboratively developed with community and education partners. VIBE Arts positions arts programs in schools and neighbourhood venues as a means of building community, and empowering children and youth to reach their full potential as artists and social contributors. To learn more, please visit: http://vibearts.ca