VIRTUAL MOVE YOUR PAWS FOR THE POLAR BEAR CAUSE WALK/RUN RAISES OVER $34,800 FOR ONE OF THE WORLD'S MOST VULNERABLE SPECIES - POLAR BEARS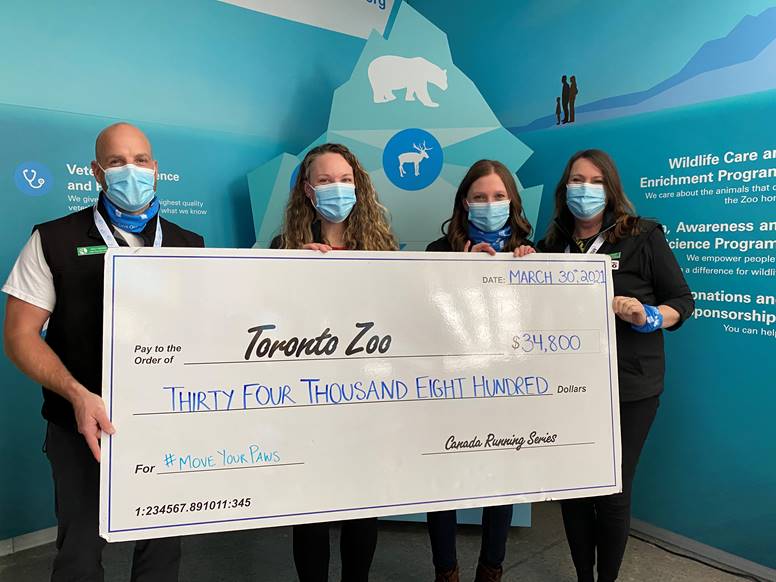 Left To Right: Dolf DeJong, CEO, Your Toronto Zoo, Charlotte Brookes, Canada Running Series National Event Director, Erin Roza, Canada Running Series Event Manager and Beth Gilhespy, Toronto Zoo Wildlife Conservancy Executive Director. Photo Credit: Toronto Zoo
TORONTO, ON, Wednesday, April 7, 2021: For the very first time, the 8th Annual Move Your Paws for the Polar Bear Cause 1k/5k Walk/Run was hosted virtually. This popular event took place from Saturday, February 27th to Monday, March 29th 2021, challenging participants to meet an initial shared movement goal of 10,000 km and a fundraising goal of $15,000, all in support of polar bear conservation. Goals increased as support grew.

"With 2021 being our first virtual Move Your Paws event, we were amazed and inspired by the passion and commitment of our 629 participants," said Charlotte Brookes, Canada Running Series National Event Director. "Not only did they collectively move almost 40,000 kilometres during the challenge, which was four times our original movement goal, they raised over $34,800, the most ever at this event", added Charlotte.

"The level of support for the first virtual Move Your Paws event has been astounding," said Beth Gilhespy, Toronto Zoo Wildlife Conservancy Executive Director. "The success of this record-breaking event is a testament to how much people care about the devastating impacts on polar bears and their habitat of sea ice melting, and how that care can be translated into direct action to protect polar bears."

Since the event began in 2014, Move Your Paws for the Polar Bear Cause has raised over $160,000 in support of your Toronto Zoo's conservation, education and research efforts to save polar bears. Funds raised from this year's event will continue to support these efforts with a goal of increasing the population of this nationally threatened species as well as inspiring people to live in ways that promote the well-being of the natural world.

"On behalf of your Toronto Zoo, our five resident polar bears; Hudson, Humphrey, Aurora, Nikita, and Juno as well as their wild counterparts – thank you for participating in this year's Move Your Paws event and advocating for this at risk species," said Dolf DeJong, Toronto Zoo Chief Executive Officer. "As a leader in conservation and species survival, your Toronto Zoo will continue to participate in collaborative research projects to better understand polar bear reproductive biology, nutrition, and provide valuable information to support polar bears in the wild."

The Toronto Zoo Wildlife Conservancy and Canada Running Series look forward to hosting Move Your Paws participants at your Toronto Zoo once open!
-30-
To learn about the Toronto Zoo Wildlife Conservancy and its work, visit www.wildlifeconservancy.ca

To sign up to receive media communications from the Toronto Zoo Wildlife Conservancy please email [email protected]
Media Contact Information:
Beth Gilhespy
Toronto Zoo Wildlife Conservancy Executive Director
(416) 392-5913
[email protected]
Katie Gray
Toronto Zoo's Manager of Strategic Communications
(416) 938-5283
[email protected]
Follow the Toronto Zoo Wildlife Conservancy on Twitter, Instagram and Facebook!




Follow your Toronto Zoo on Twitter, Instagram and Facebook!





For general information visit torontozoo.com
The Toronto Zoo's mission is to connect people, animals and conservation science to fight extinction and our vision is a world where wildlife and wild spaces thrive.
An iconic tourist attraction and Conservation organization, the Toronto Zoo boasts a number of leading programs for helping wildlife and their natural habitats – from species reintroduction to reproductive research. A world-class educational centre for people of all ages, the Toronto Zoo is open every day including December 25 and attracts approximately 1.2 million guests each year.
Toronto Zoo is accredited by Canada's Accredited Zoos and Aquariums (CAZA) and the Association of Zoos and Aquariums (AZA). The Zoo has also achieved the Canadian Council on Animal Care (CCAC) Certificate of Good Animal Practice® and is inspected by the Ontario Ministry of Agriculture, Food and Rural Affairs (OMAFRA).
Toronto Zoo, 361A Old Finch Ave, Toronto ON, M1B 5K7
To unsubscribe, please send your request to [email protected].

View Toronto Zoo's Privacy Statement