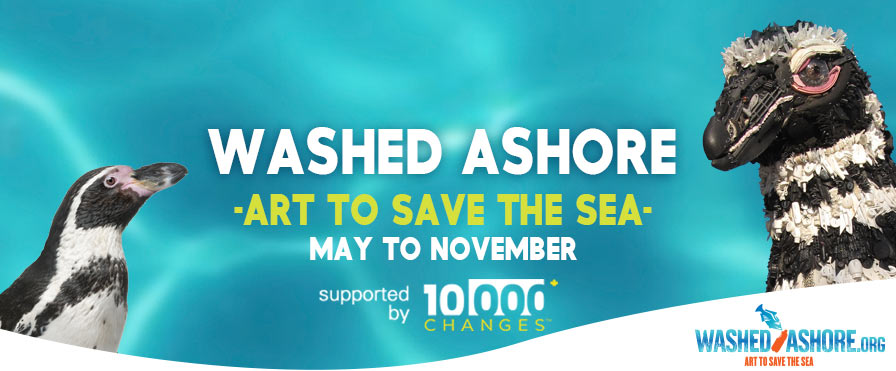 MEET THE ARTISTS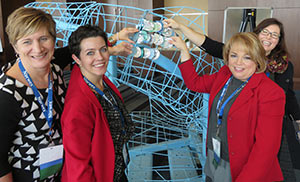 The work of Washed Ashore would not be possible without a strong collective of artists, support staff, and volunteers. Each sculpture is designed and created by a team of people who love the ocean and the Washed Ashore mission. In addition to Angela, staff artists Jennifer Faraci and Steve Wright build sculptures. And many volunteers and other staff participate in building pieces for every work of art. It's truly a team effort!
---
Angela Haseltine Pozzi, Founder
&


Artistic Director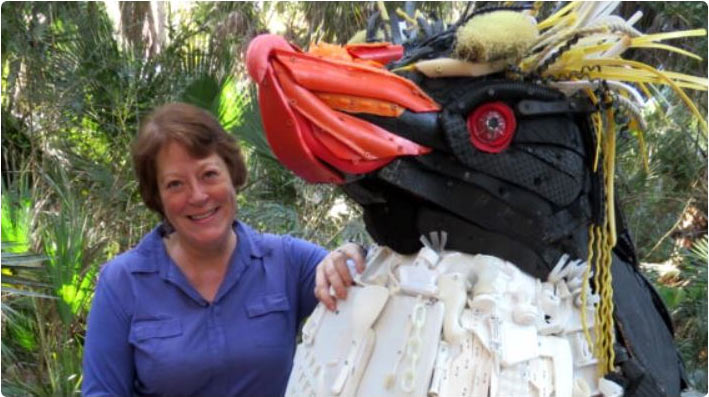 "Until we run out of plastic on the beach, we will keep doing our work."
– Angela
Angela was born in Portland, Oregon to a family of artists and naturalists. As a child she was always given a creative space in her mother's studio with various collections of odds and ends and often used discarded items from the house to invent things. At the dinner table she participated in long discussions with her parents about art. Every summer was spent on Oregon's ocean shore.
Realizing she was a rare breed, she wished to educate others about the importance of the arts and the beauty of nature. She therefore pursued her Bachelor's degree in education at the University of Utah and then a Masters Degree at Portland State University with an emphasis on Arts Education. In her 30-year career as an educator, she has taught elementary through college students and lead museum programs. She has also spent much of her career lecturing, consulting, creating and exhibiting her artwork in galleries and museums.
Angela has always believed in "art for all" and hence helped spearhead many public art projects, community art and artist-in-residency programs wherever she went. Recycling and repurposing materials were part of her life from the beginning and was the basis for her first body of exhibited work entitled, "Undetermined Species", a collection of coral reefs, and invented invertebrates made from recycled clothes and thrift store items. Her older work can still be viewed on www.seathingsart.com
Her artwork was thriving and her work fulfilling when tragedy hit in 2002. Her husband of 25 years, Craig Pozzi, an artist and teacher himself, collapsed with a brain tumor, then a stroke, then died. Everything stopped. Looking for meaning in life she went to the ocean to heal, but what she found was an ocean that needed healing. The educator in her kicked into gear. Her research revealed what was happening. Marine debris was choking the oceans worldwide and affecting the environments and sea creatures she had always loved.
In 2010, Angela found her life's calling; to make Art to Save the Sea. Rallying her small community of Bandon, Oregon she inspired them with her creative problem-solving, and the non-profit Washed Ashore was born. Today over 10,000 volunteers have helped clean beaches and worked with Washed Ashore to process over 20 tons of debris into over 70 sculptures of the animals affected by plastic pollution.
These sculptures now tour as the "Washed Ashore Project" traveling exhibits educating and inspiring countless people from diverse backgrounds to take action in their own lives and prevent contributing to this global problem. Her work continues as Artistic Director, designing and creating multitudes of sea creatures from the ongoing tons of marine debris with the goal to have a global impact. As the leader of a team of dedicated employees and hundreds of volunteers, Angela has vowed that this effort is her life's work, and "until we run out of plastic on the beach, we will keep doing our work."
SPONSORS OF WASHED ASHORE