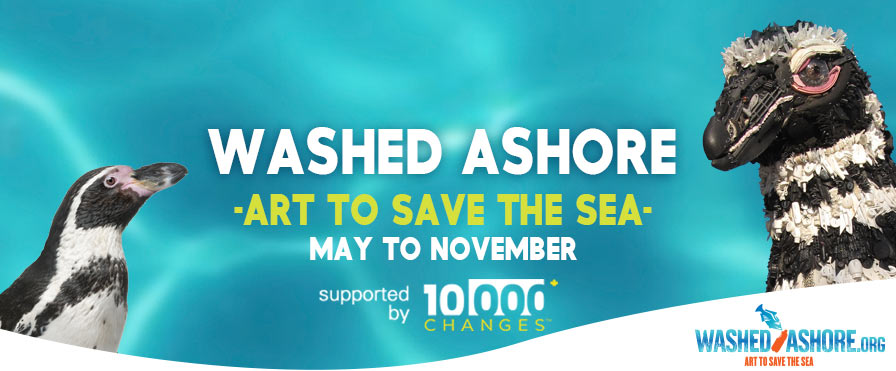 EVERY ACTION COUNTS
There are many actions that the Toronto Zoo is taking to help save our planet, including spreading awareness through our new Washed Ashore special exhibit. Ten larger-than-life sculptures, made completely from plastics that were found in waterways and oceans around the world, are being installed around the Zoo in order to bring the plastics problem to light. Go on a treasure hunt with each sculpture to try and recognize their component parts. Do any look familiar from your daily life? The way that each of us consumes and gets rid of plastics impacts the world around us. And because of the interconnectedness of the oceans, a piece of plastic carelessly discarded in Toronto could impact a species halfway across the globe.
There are many things you can do while planning your next Zoo visit, or while you are at the Zoo. Check out the eco-friendly stations on the map: on your next visit, bring your reusable water bottles and litter-less lunches, carry a travel mug or buy your very own Zoo mug as a "Zoovenir."
Here are a few eco-life hacks that you can integrate into your daily routine:
Keep an extra reusable coffee mug, water bottle and tote bags in an eco-emergency bag in your vehicle in case you forget your regular ones at home.
Always forgetting your reusable shopping bags in the car? We all do it! Keep your shopping cart coin with your bags for an extra reminder!
Bring your own reusable containers to bulk food stores – visit your store's website for guidelines.
Many restaurants and coffee shops give discounts for bringing your own containers, including our own Peacock Café. Just ask your local businesses.
Carry your fruit and veggies in reusable mesh bags instead of the single-use plastic bags in the produce aisle. Don't forget to keep them with your other grocery bags.
Pack "litter-less lunches" with reusable glass or metal containers and refuse to buy pre-packaged items. Keep it fresh instead!
Pause for 24 hours before you buy a new item and ask yourself: can I borrow, reuse or repurpose an item I already have? (go online and search your area for a swap-meet, for example).
Go to rspo.org to find palm oil companies that are certified as sustainable.
Think about what you want and need out of the refrigerator before you open the door. Get a trusty fridge door alarm if this is a tough one for you!
A fully stocked freezer is more energy efficient than a partially empty one. Add a few reusable ice packs to fill up extra space.
SPONSORS OF WASHED ASHORE