Edu-Trek
We are currently accepting bookings for Edut-Treks. For more information or to make a booking, please email [email protected] or call 416-392-5942.
Grade Level:

9 to 12

Price:

Students $4.00 + Admission
Supervisors Admission
(see prices HERE)
*tours must be booked at least 2 weeks in advance

Program Time:

1.5 hours (10:00am and 12:30pm sessions)

Format:

Interactive guided tour with activities and discussion

Location:

On-site

Capacity:

On class per session, 30-36 students max. Large groups will be divided into smaller groups.

Notes:

This is a combined Staff and Volunteer-led curriculum-linked program. Please book early, as programs fill up quickly.
Topics
Climate Change
Zoo Volunteers
Knowledgeable Zoo Volunteers, with keen interests in wildlife, conservation, education, and children, assist in delivering tours and programs. Volunteers complete a ten-week training course and write an exam before they become eligible to present educational programs. Many professions are represented in our volunteer group, including former teachers.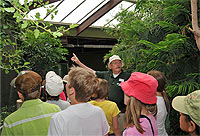 "Our guide was fabulous, very knowledgeable and great with students."
- Jack Miner Public School