Read the TZNet0 Environmental Sustainability Plan
The Toronto Zoo envisions a zoo whose operations produce an overall benefit to our natural environment, allowing wildlife and wild spaces to thrive. We have motivated staff and volunteers that understand the importance of living sustainably in balance with nature. We understand and accept that climate change is a real threat to Earth's biodiversity, and will be a leading example of energy efficient operations and sustainable action to inspire people to lessen their ecological footprint on the Earth. The Toronto Zoo will be viewed as an important source of information and inspiration for individual and group action against climate change.
In 2007, the Toronto Zoo published its Green Plan renewing its commitment to demonstrate environmental leadership in all aspects of our operations, including sustainable growth and maintenance. To date, the Toronto Zoo has achieved 25 of the 27 action steps identified in the Green Plan and has made significant movement toward achieving its 2027 targets for energy, water and waste management on-site.
In 2018, the Toronto Zoo implemented an ISO14001 compliant environmental management system providing a framework to actively reduce our impact on the environmental and ensure we are able to achieve targets set in our TZNet0 Sustainability Plan while reconciling environmental values with other priorities like animal welfare, safety and fiscal responsibility.
The purpose of this new TZNet0 Sustainability Plan is to describe our renewed commitment to preserve, protect and ultimately enhance the earth's living systems. It is a guiding document to help the Toronto Zoo not only support our internal commitment for sustainable operations, but also support the objectives of the City of Toronto's TransformTO Report, Toronto Biodiversity Report, Rouge Watershed Report, and the United Nation's Sustainable Development Goals (SDGs).
By 2024, the Toronto Zoo shall:
reduce greenhouse gas emissions (as represented by CO2e) by 60% below 1990 levels;
reduce water consumption by 75% below 1990 levels; and
divert more than 90% of waste generated each year from landfill.
The Toronto Zoo has also set long-term goals to be:
Net zero to landfill by 2027;
Net zero water consumption by 2030; and
Net zero greenhouse gas emissions by 2030;
Our environmental sustainability strategy engages all Zoo staff, volunteers, program partners and vendors to support our conservation vision to create a world where wildlife and wild spaces thrive.
HOW WE ARE DOING!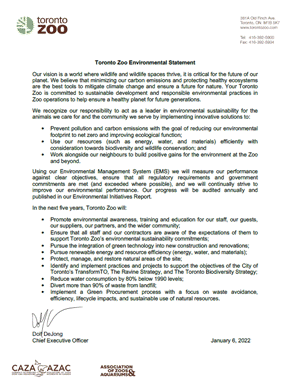 Taking Action
On Plastics
| | |
| --- | --- |
| | The Ice Bear storage technology is the Zoo's latest green technology and can be seen just outside the Caribou café. The unit stores energy at night, when demand on the grid is low. It then uses this energy during the day in the building's air conditioning system. |
| | |
| --- | --- |
| | Green roofs, also known as 'living roofs' or 'eco-roofs', are the wave of the future in sustainable design, and the Toronto Zoo is surfin' right along with them! |
| | |
| --- | --- |
| | The Zoo is going to make good use of our animal waste by using it to create biogas generated electricity. |
| | |
| --- | --- |
| | The Green Eco-Zoo Team (GEZT) is a non-technical advisory committee to the General Manager. |
Our Environmental Performance