EXCITING WILDLIFE DISCOVERY OF CRITICALLY ENDANGERED MADAGASCAR FISHES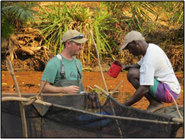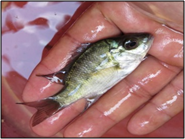 Caption: Tim McCaskie, Toronto Zoo and Malagasy fisher surveying Madagascar rivers.
Caption: Juvenile Ptychochromis insolitus, the rare Mangarahara cichlid.
January 27, 2014, Toronto, Canada: Tim McCaskie, Toronto Zoo Wildlife Care Keeper, was one of the field project leaders that made an important discovery of four rare and endangered fishes in Madagascar.
It is amazing we found the fishes, but this is just the beginning. Now we have to create a species protection plan of action to ensure they are still around in 100 years", said Tim McCaskie, "We are thrilled to work side-by-side with the local villagers and Malagasy biologists who support sustaining this species for generations to come". The work took place November, 2013 and the goal was to study fish communities in the island's eastern watersheds and compare these current results to historical records. Of special interest were critically endangered species, one in particular, with the impressive name of Ptychochromis insolitus, a member of the cichlid family of fishes, is a species feared extinct by biologists. Four of the five native species found in their surveys were moved to an aquaculture facility in Madagascar where they will receive specialist care while species protection plans are formed to conserve the populations. Already biologists at the facility in Madagascar are reporting breeding success from these fishes.
The important discovery took three weeks of travelling to remote regions of eastern Madagascar and its national parks. The team visited over 15 sites looking for these rare fishes. These 2013 results are extremely important as the fishes of Madagascar are some of the most critically endangered vertebrates in the world due to deforestation, river diversions, habitat loss, overfishing and invasive species. These are issues facing many fishes worldwide but a 2004 IUCN report indicated the situation in Madagascar to be particularly critical with over 55% of the native fishes in peril. Tim McCaskie, with experience gained from two previous Madagascar field trips organized the 2013 field study with Brian Zimmerman & Kienan Parbles of the Zoological Society of London (ZSL). Their field team included fisheries students and Malagasy biologists including Tsilavina Ravelomanana from the Tana University, Madagascar and Guy Tam Hyuk from Andapa, Madagascar.
Travelling around the remote areas and national parks the field team received considerable help from local villagers. Frequently, the villagers had specific areas of the water cordoned off into sections by nets. The expedition was greatly excited when their hard work was rewarded when they discovered these endangered fishes.
Tim McCaskie is a dedicated Wildlife Care Keeper at the Toronto Zoo with over 16 years of experience and he has developed a keen interest in fishes and endangered species. In addition to Tim's daily keeper responsibilities he has become a key partner for this international conservation project for close to 10 years. With fundraisers and financial support from the Toronto Zoo's Endangered Species Fund, Durham Aquarium Society, Local CUPE 1600, Americas Association of Zookeepers National and Toronto Chapter, Tim travelled to Madagascar in 2010, 2011 and now 2013. His efforts for this important fisheries endeavor originate from the many years of study by Paul Loiselle, Ph.D, of the New York Aquarium and Alex Saunders of the Denver Zoo. Toronto Zoo has been working on this project as a partner of the Madagascar Species Survival Plan (SSP) of the Association of Zoos & Aquariums. In 2013, the ZSL staff joined their effort, very interested in developing an international effort for protection of these fishes.
The Toronto Zoo actively participates in many wildlife protection programs and is involved in over 40 species survival programs. This involves organized efforts for species protection, including captive breeding, and re-introduction programs. Currently, the Toronto Zoo is home to three species of Madagascar fishes and is one of a few facilities in the world that support the captive breeding program.
-30-
Toronto Zoo is accredited by CAZA (Canada's Accredited Zoos and Aquariums). Look for this logo whenever you visit a Canadian zoo as your assurance that you are supporting a facility dedicated to providing excellent care for animals, a great experience for you, and a better future for all living things. For more information, visit www.caza.