Toronto Zoo Events Calendar
February is Polar Bear Month!
International Polar Bear Day is on February 27th, but here at the Toronto Zoo, we love polar bears so much that we give them a whole month – February! Things look a little different this year, as we encourage everyone to Stay Home and Stay Safe – but here are a few ways that you can still help us raise awareness and have some fun all while raising money for polar bear conservation throughout the month of February.
2021 Virtual Polar Bear Challenge
For the month of February, we are inviting you, champions of polar bear conservation, to help raise awareness about the plight of polar species in the wild. Did you know that Canada is home to almost 60% of the world's polar bear population and that that population is steadily declining due to the devastating effects of climate change in their natural habitats such as melting sea ice? By partnering with the Toronto Zoo in this virtual #TZPolarBearChallenge, you can help raise awareness by sharing some of the easy changes we can all make to help prevent the extinction of another important Canadian species.
To participate in this virtual #TZPolarBearChallenge, take to social media to share your photos and videos of you and your loved ones bringing awareness to polar bears and the easy ways we can all help protect their future! Not sure what to do? Come up with your own creative ideas or check out our social media accounts some of the cool polar bear content our Wildlife Care Keepers have come up with like the Sea Ice Shuffle, snow angels, building a 'snowbear' or doing your own polar dip! Post your videos on TikTok, Instagram, Twitter or Facebook with the hashtag #TZPolarBearChallenge and tag us @TheTorontoZoo by Sunday, February 28th for a chance to win an exclusive polar prize!
Every action counts - help your Toronto Zoo support the critical polar bear research projects happening behind the scenes, helping protecting the species and their Arctic habitats.

Raise Funds for Polar Bears!
Register for the Polar Challenge HERE to start your own fundraiser page. Share your personalized fundraiser page on social media and with your family and friends to raise awareness for polar bears and polar species, and encourage them to support your Toronto Zoo and the #TZPolarBearChallenge throughout the month of February as we celebrate our very own polar bears, Juno, Humphrey, Hudson, Aurora, Nikita as well as their counterparts in the wild.
Raise $100 by February 14 to be entered for a chance to win our early-bird prize of two admission passes to the Toronto Zoo! The top fundraiser will win an incredible Toronto Zoo Polar Bear prize pack featuring admission to the Toronto Zoo and a behind-the-scenes experience with one of our Wildlife Care Keepers and our polar bears for up to two guests!
Did you know that the Toronto Zoo is involved in collaborative research projects with multiple accredited zoos and organizations? The goal of these programs is to help better understand polar bear reproductive biology, nutrition and behaviour studies to provide valuable information to support polar bear education, research and conservation efforts both at the Zoo and in the wild. Some of these organizations include Polar Bears International (PBI), Parks Canada, the North American Polar Bear Species Survival Plan (SSP), and Acres for the Atmosphere.
Monies raised through the 2021 Virtual Polar Challenge will contribute to the construction of a "hot spot" play area in the Tundra Trek to highlight climate change and its impact on polar bears and the Arctic sea ice. Through this interactive space we aim to further inform, inspire, and empower guests to take immediate actions to reduce their CO2 emissions to help conserve polar bears and the sea ice they depend on.
Bundle Up For Polar Bears!
Did you know turning down your thermostat by just 2 degrees can help save polar bears and their habitat? Reducing our carbon footprint can slow and even reverse climate change which is what is causing the sea ice to melt. Polar bears rely heavily on sea ice to hunt and carbon emissions are causing it to melt. "Bundle Up" for the month of February and turn down those thermostats!
Silent Auction!
The #PolarBearMonth silent auction is now open! Check out https://bit.ly/3qrZUlP for unique items including paw print paintings from our polar bears, Meet the Keeper experiences, and more!
Silent auction will run until Saturday, February 27 at 9:00PM.
Monies raised through the 2021 International Polar Bear Day campaign will contribute directly to Polar Bear conservation efforts. One of our initial hopes is to raise enough funds to support creating an interactive space to further inform, inspire, and empower guests to take immediate actions to reduce their CO2 emissions. This is a key goal to help conserve polar bears and the arctic sea ice they depend on, as well as many other arctic species. As a means to engage families with the climate change conservation message, the "Tundra hot spot" area will rely heavily on technology to activate existing elements and create opportunities for guests to immerse themselves in the experience and bring our important messages to life. The technological components are a vital piece for the vision of the hotspot, using leading-edge technology to connect people and animals, and to create an amazing and inspiring experience for guests.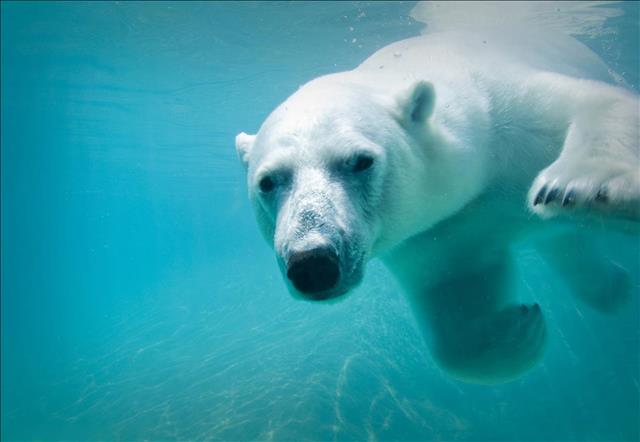 *Please note all events subject to change without notice.