Alerts
Please note that the Zoo will not be open until 10:30am on Sunday, November 27.
---
The Zootique gift shop will be closed on December 1st
---
Please also note our Zoomobile will now be taking an alternate route through the Eurasia Wilds and will no longer be travelling through the Eurasia Drive Thru.
---
The Wildlife Health Centre Viewing Gallery will be closed at 2:00 pm on Wednesday, December 7 for a private event.
---
Splash Island and Discovery Zone Washrooms are currently closed for renovations.
---
Animals that may not be viewable at this time:
Canadian Domain:
Please note as of Monday, November 14, the Canadian Domain is closed for the season.
African Savanna:
Some animals may not be viewable due to decreasing temperatures.

Kids Zoo
Closed for the season.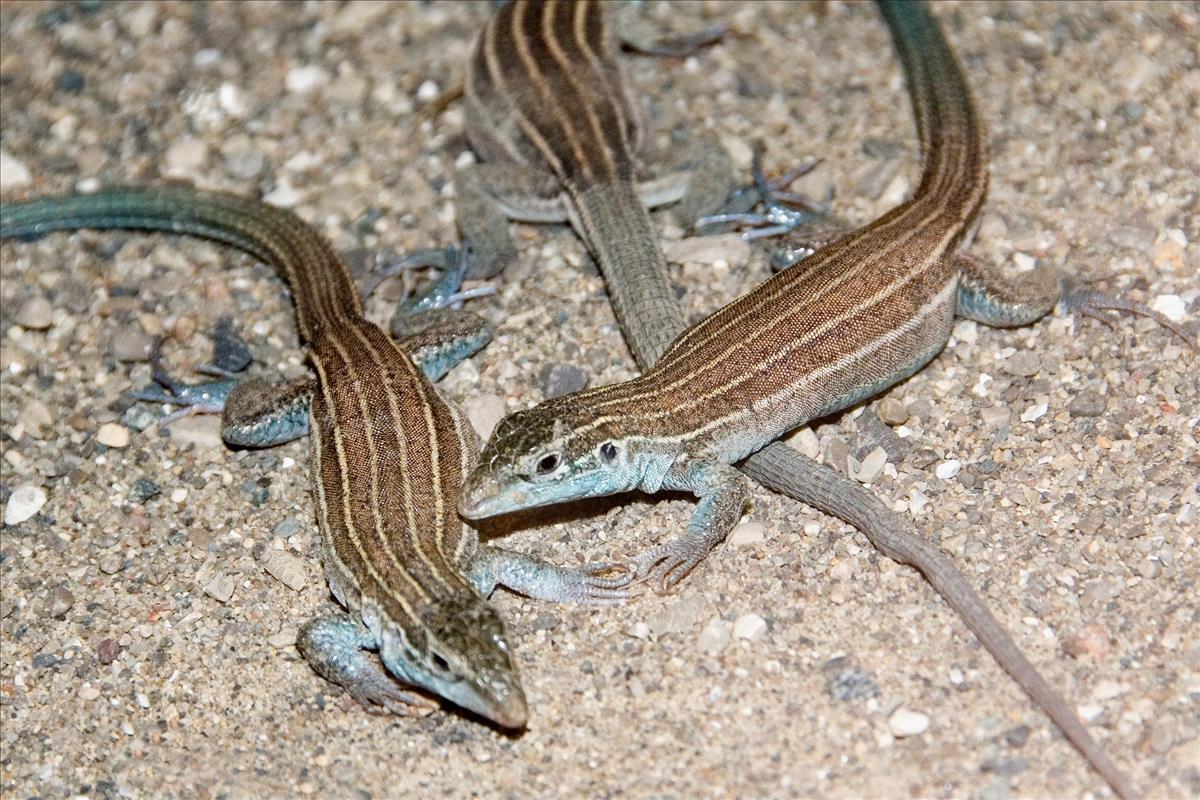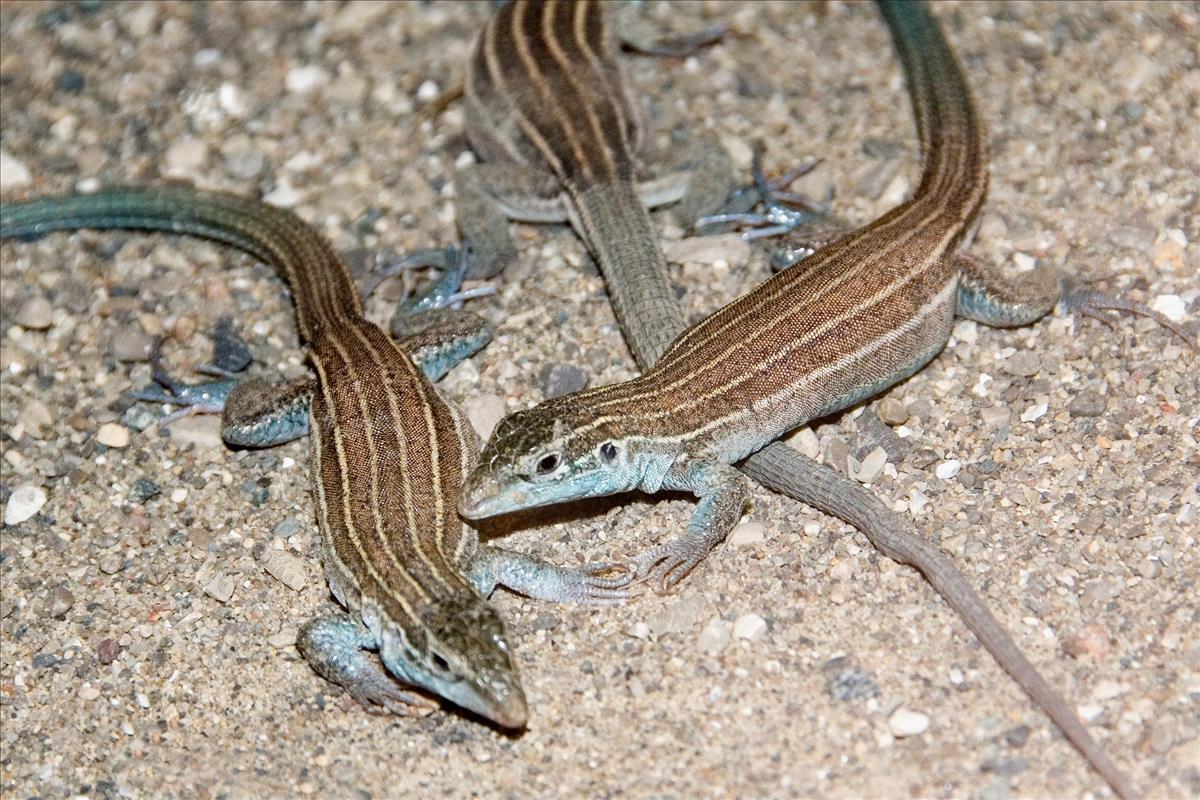 Reptile
Location at the Zoo:
Americas
Region: Central America
Desert grassland whiptail
This all-female species has a head and body length of 86 mm in adults, with a tail about two and a half times longer. The body is dark (olive, to brown, to black) with six to seven cream/white stripes running from head to tail. Its abdomen is light in colour. In hatchlings, the tail is bright blue but it fades over time to the blue-green to dark green shade of the adults' tails. These lizards are diurnal but most active in the early morning and late afternoon.
Conservation Status: IUCN

Distribution:
Desert grasslands and semi-desert grasslands of the southwestern United States and northern Mexico.


Habitat:
Desert and semi-desert grasslands at elevations of up to one kilometre.


Diet:
Desert grassland whiptails are opportunistic feeders, eating a wide variety of insects, including ants and termites, as well as insect larvae.


Reproduction:
Desert whiptails reproduce by parthenogenesis: there is no sexual reproduction because this species contains only females! What occurs is this: Meiosis is a process of cell division. After meiosis, the nucleus of the parent cell (the nucleus is the component of a cell responsible for growth and cell division) has divided twice and formed a total of four daughter cells (called "gametes"). After meiosis has occurred, those four gametes undergo chromosome doubling (chromosomes are the part of a nucleus that carry the DNA and proteins which are responsible for heredity). Because all of the chromosomes come from the mother, all of her offspring are clones, and all are female. Some females do express male-like behaviour, and even initiate pseudo-copulation with another female. In captivity, this act seems to stimulate reproduction, but it's not known if the behaviour has the same significance in the wild. Females are sexually mature at about 60mm head and body length. They lay one-to-three clutches of eggs in the late spring or early summer (each clutch contains one-to-four eggs). Clutch size depends on the size of the female. The eggs incubate about two months before hatching.


Adaptation:
This all-female species of lizard originally resulted from the hybridization of two other species of whiptail: Texas spotted whiptail, and little striped whiptail. Most parthenogenetic whiptails are the result of the hybridization of two sexually reproductive species of whiptail, so the ability of these all-female populations to reproduce is a significant adaptation which allowed the new species to survive. Unlike bisexual species, where a significant portion of the adults are male, every adult whiptail is a female and able to lay eggs. On the "plus", this means that the species can reproduce twice as quickly as whiptail species that reproduce sexually, thus allowing for a very quick increase in population, or in repopulation. The negative side of parthenogenesis is that very little genetic diversity exists. Because the entire population is so genetically similar, any biological- (i.e. disease) or environmental threat (such as climate change) to an individual is a threat to the entire species.
Whiptails that are captured by the tail will shed part of the tail structure and thus be able to flee. The detached tail will continue to wiggle, creating a deceptive sense of continued struggle and attracting the predator's attention away from the fleeing prey animal. The animal can partially re-grow its tail over a period of weeks. The new section will contain cartilage instead of bone, and it may be shorter and discoloured compared to the original. The technical term for this ability to drop the tail is caudal autotomy.
Threats to Survival:
Preyed upon by birds (raptors), coyotes, and snakes.