Guided Tour
We are currently accepting bookings for Guided Tours. For more information or to make a booking, please email tzvolunteers@torontozoo.ca or call 416-392-5942.
Grade Level:

K to 8

Price:

Free with admission
*tours must be booked at least 2 weeks in advance

Program Time:

10:00 am - 12:00 pm (2 hours)
*tour start time can be adjusted slightly to match school's arrival time

Format:

Guided tour and discussion

Location:

On-site

Capacity:

Maximum 60 students per day.
Tours are led in groups of 15 or fewer students. Large groups will be divided into smaller groups.

Notes:

This is a Volunteer-led program.
Please book early, as tours fill up quickly.
*Guided tours are available from Labour Day to Victoria Day.
Tour Topics
K & Grade 1 Introduction to Animals
Grade 1 Characteristics & Needs of Living Things
Grade 2 Growth & Change in Animals
Grade 3 Plant & Animal Interactions
Grade 4 African Savanna Habitats & Communities
Grade 4 Aquatic Habitats & Communities
Grade 4 Rainforest Habitats & Communities
Grade 5 Animal Digestive Systems
Grade 6 Biodiversity
Grade 7 Interactions within Ecosystems
Grades 4-8 Endangered Species
Have a specific theme in mind? All you need to do is ask!
All tours can be adapted for students with special needs or English as a second language.
Zoo Volunteers
Knowledgeable Zoo Volunteers, with keen interests in wildlife, conservation, education, and children, deliver tours and Outreach Programs. Volunteers complete a ten-week training course and write an exam before they become eligible to present educational programs. Many professions are represented in our volunteer group, including former teachers.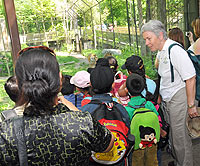 "It more than met my expectations. The leaders were absolutely fabulous - so informative!"
- Pickering Christian School