'TWAS THE NIGHT BEFORE CHRISTMAS WHEN THEODORE TURNED ONE!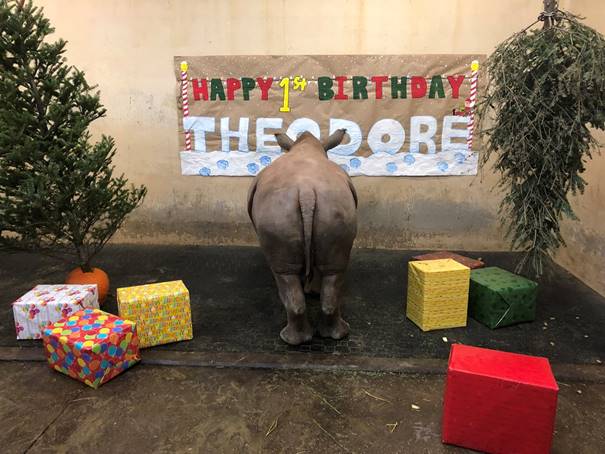 White Rhino 'Theodore' Photo Credit: Toronto Zoo
To Watch Theodore's 1st Birthday Video

'Twas the night before Christmas,
When all through the rhino house,
Not a creature was stirring,
Except one slightly heavier than a mouse.
For he saw his birthday banner hung by the chimney with care,
In hopes that his Keepers (with treats) soon would be there.
Keepers whistled, and hollered, and trotting he came,
For it's his birthday celebration, Theo-dorable is his name.
One year old and gaining 2-4 lbs a day,
"Little" Theo is still nursing but eating lots of cubes and hay.
Very interested in training and not hard to entice,
He's mostly looking for a belly rub or a sweet apple slice.
From target to scale, to checking his feet,
Training is a breeze when Theo gets a treat.
Awake from a cuddle with mom and ready to feast,
Special birthday treats awaited him, cute to say the least.
His eyes -- how they twinkled! His dimples how merry!
His cheeks so squishable, his ears adorably hairy.
He had a broad face and a little round belly,
That shook when he ran like a bowlful of jelly.
Treats and presents and Christmas trees appeared,
How are we going to top this next year, Keepers feared.
The party is over and Theo nestled in his hay,
Keepers thought to themselves, how lucky we are to see him grow up each day.
They gave him one last birthday pat and drove out of sight,
HAPPY BIRTHDAY-CHRISTMAS TO ALL, AND TO ALL A GOOD NIGHT!
- 30 -