BLANDING'S TURTLES RELEASED IN ROUGE NATIONAL URBAN PARK
HEAD-START PROGRAMME CONTINUES TO INCREASE THE POPULATION OF THIS THREATENED CANADIAN SPECIES IN THE WILD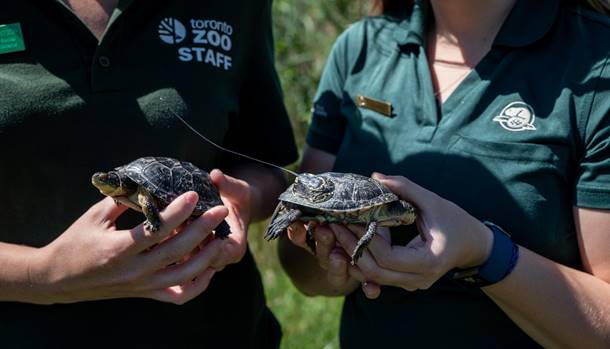 Photo Credit: Parks Canada
TORONTO, ON, Thursday, June 21, 2018 –Today the Toronto Zoo, Parks Canada, the Toronto and Region Conservation Authority (TRCA) and the Ontario Ministry of Natural Resources and Forestry (MNRF) reintroduced 49 baby Blanding's turtles to a wetland found in Rouge National Urban Park. Canada's first national urban park spans more than 79 km2 in the Greater Toronto Area, making it one of North America's largest protected areas in an urban setting. The Blanding's Turtle Head-Start conservation programme is part of a significant partnership between Toronto Zoo, Parks Canada, the TRCA, and the MNRF to help recover this globally Endangered species.
This will be the fifth year Blanding's turtles – listed as Endangered by the International Union for Conservation of Nature (IUCN) and a provincially and nationally Threatened species – will be released in the park. In June 2014, the same group of partners began reintroducing baby Blanding's turtles in the Rouge, and to date, has reintroduced 165 juvenile Blanding's turtles in an effort to save the species. The Blanding's turtle is a long-lived species, with a life span of up to 80 years. This species has inhabited the Rouge Valley for thousands of years, though prior to 2014, its future was uncertain with as few as six adult Blanding's turtles remaining.
"The Toronto Zoo is proud to be partnering with these important community partners in the reintroduction of this Threatened Canadian species," said Robin Hale, Interim Chief Executive Officer, Toronto Zoo. "Blanding's turtles are a flagship species representing a group of animals facing a variety of threats. Zoo guests can now see these turtles firsthand and learn how to help them at the newly opened Blanding's Turtle Exhibit in the Americas Pavilion."
"Canada's network of protected areas play an important role in helping to mitigate the impacts of climate change by protecting and restoring healthy, resilient ecosystems and contributing to the recovery of species at risk," said Gary Anandasangaree, Member of Parliament for Scarborough – Rouge Park. "The Government of Canada is proud to take action with our partners to enhance Rouge National Urban Park and contribute to the recovery of important species like the threatened Blanding's turtles. Parks Canada is dedicated to re-establishing a healthy, local population of this threatened turtle species in the Rouge."
This past March, the Toronto Zoo along with Parks Canada, TRCA, The University of Toronto Scarborough (UTSC) and the OMNRF were proud to announce an exciting new opportunity for members of our community at the Toronto Zoo. The new Blanding's Turtle Exhibit opened on March 28, 2018, in the Americas Pavilion for guests of the Toronto Zoo to see and experience. This new exhibit offers a turtle's-eye-view of one of the Toronto Zoo and Parks Canada's most successful conservation programmes. Like the many other conservation breeding and release programmes at the Zoo, most of the work is done behind-the-scenes. Now, Zoo members and guests have the opportunity to see these turtles in a new exhibit in the Americas Pavilion.
These Blanding's turtles were rescued as eggs from non-viable nests in a stable source population in southern Ontario and have been raised in a protected environment at the Toronto Zoo for two years. Giving these turtles a 'head-start' in life, the Zoo has raised them past their most vulnerable stages where they would otherwise have faced an increased chance of predation from animals like raccoons. The UTSC is assisting with long term monitoring of the released turtles. Parks Canada, the TRCA, the OMNRF, and the Toronto Zoo believe that this type of head-starting and reintroduction of the turtles, along with long term monitoring and ongoing habitat restoration, are keys to the species' survival in Rouge National Urban Park.
- 30 -
---
For photos and video of today's Blanding's turtle release in Rouge National Urban Park

The public can help protect the turtles by avoiding their nesting areas and by contacting authorities if they observe harmful behavior toward turtles or suspicious behaviour in their habitat. The location of the wetland housing the reintroduced turtles will not be disclosed at this time to help minimize disturbances and give the animals the best chance of surviving.
---
To report turtle poaching, please contact Crime Stoppers

The Toronto Zoo and TRCA began collecting information on and monitoring Blanding's turtles in the Rouge Valley in 2005. Environment Canada and the Ontario Ministry of Natural Resources and Forestry provided funding, permits and in-kind support for Blanding's turtle monitoring in the Rouge Valley in previous years. Rouge National Urban Park is Canada's first national park in an urban setting. Parks Canada is continuing to work on a long-term turtle monitoring program. Earth Rangers, an environmental conservation organization focused on engaging youth in the protection of nature, also provided support for the project by building a facility to house the turtle eggs and babies at the Toronto Zoo.
---
For more information on the Blanding's Turtle Head-Start Programme Reintroduction

---
Toronto Zoo Media Contact:
Amanda Chambers, Public Relations and Events Associate
achambers@torontozoo.ca or #416-392-5974 
Parks Canada Media Contact:
Michaela Campbell, Public Relations and Communications Officer
Michaela.campbell@canada.ca or #613-355-9968
About The Toronto Zoo
The Toronto Zoo is Canada's premier zoo and a national leader in saving wildlife to ensure the rich diversity of nature for future generations. More than a tourist attraction, the Toronto Zoo boasts a number of leading programs for helping wildlife and their natural habitats – from species reintroduction to reproductive research. A world-class educational centre for people of all ages, the Toronto Zoo is open every day except December 25 and attracts approximately 1.3 million visitors each year.
About Parks Canada
Parks Canada manages one of the finest and most extensive systems of protected natural and cultural heritage areas in the world, including 46 national parks, 171 national historic sites, four national marine conservation areas and one national urban park. A rich assembly of natural, cultural and agricultural landscapes, Rouge National Urban Park is home to amazing biodiversity, some of the last remaining working farms in the Greater Toronto Area, Carolinian ecosystems, Toronto's only campground, one of the region's largest marshes, a beach at Lake Ontario, amazing hiking opportunities, and human history dating back more than 10,000 years. The Rouge is within a one-hour drive for 7 million Canadians. parkscanada.ca/rouge