Jia Panpan & Jia Yueyue's Second Birthday Celebration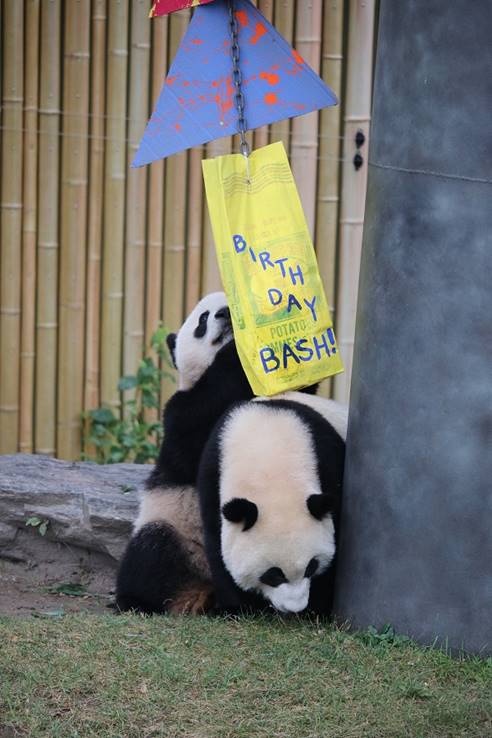 Photo Credit: Toronto Zoo
TORONTO, ON, Friday, October 13, 2017 - In March 2013, Er Shun and Da Mao arrived at the Toronto Zoo as part of a Global Giant Panda Conservation Breeding Program. On the morning of October 13, 2015, the Toronto Zoo announced that Er Shun had given birth to the first giant panda cubs born in Canada.
Today, the Toronto Zoo proudly hosted a second birthday celebration for our giant panda cubs. Jia Panpan (Canadian Hope) and Jia Yueyue (Canadian Joy) were treated to a festive birthday party including enrichment created by the Zoo's Giant Panda Keepers. This will be the giant panda cubs' last birthday celebrated at the Toronto Zoo before leaving for Calgary Zoo in March 2018.
"The Toronto Zoo is thrilled to be hosting this second-year birthday celebration for our giant panda cubs," said John Tracogna, Chief Executive Officer, Toronto Zoo. "We are grateful to all of the major partners who continue to support the ongoing success of our giant panda program, including the Chinese Association of Zoological Gardens, Chengdu Research Base of Giant Pandas, Chongqing Zoo, State Forestry Administration of China and the Canadian Embassy in Beijing.
Toronto Zoo Keepers have had the unique opportunity to experience the growth and development of these rare twin cubs over the past two years, and there have been challenges balanced with joyous moments that have been a once-in-a-lifetime opportunity for many of the dedicated and professional staff having the pleasure to work with the giant pandas. Both cubs continue to grow each day, with Jia Panpan weighing 52kg and Jia Yueyue weighing 49kg. The giant panda cubs still nurse from Er Shun, but the majority of their diet is now made up of bamboo. Jia Panpan can be described as an outgoing cub, who loves to play and instigate wrestling matches with both Er Shun and his sister. Jia Yueyue is a little more independent, although she loves to participate and play, she will often quietly remove herself from the commotion and watch the fun while relaxing at a distance.
This birthday celebration is a perfect opportunity to highlight the success of the Global Giant Panda Conservation Breeding Program. A true indication of this collective success, the giant panda was downgraded in 2016 from "endangered" to "vulnerable" by the International Union for Conservation of Nature (IUCN). This positive shift remains a primary goal of all species protection plans, and a significant focus of efforts and educational messaging by accredited and responsible zoological organizations globally.
The Toronto Zoo is honoured to be part of this ongoing success story for the giant pandas, and will continue tirelessly supporting and leading the many other species survival programs to maintain healthy and prolific populations within the animal kingdom for generations to come. We also want to thank our major corporate sponsors including Mandarin Restaurants, TELUS, FedEx Canada and Toronto Star for their ongoing support of the Giant Panda Experience.
Don't forget to come out to see the Giant Pandas before they leave for the Calgary Zoo in March 2018!
-30-
Toronto Zoo Media Contacts:
Katie Gray, Supervisor of Public Relations and Events
kgray@torontozoo.ca or #416-392-5941
Amanda Chambers, Public Relations and Events Associate
achambers@torontozoo.ca or #416-392-5974
About The Toronto Zoo
The Toronto Zoo is Canada's premier zoo and a national leader in saving wildlife to ensure the rich diversity of nature for future generations. More than a tourist attraction, the Toronto Zoo boasts a number of leading programs for helping wildlife and their natural habitats – from species reintroduction to reproductive research. A world-class educational centre for people of all ages, the Toronto Zoo is open every day except December 25 and attracts approximately 1.3 million visitors each year.

MORE UPCOMING GRRREAT EVENTS!
Wolly Bear Festival
Saturday, October 14th
Come and explore the hidden world of bugs on October 14th help the Toronto Zoo celebrate the Woolly Bear Festival! Join us at 12:30pm at the Malayan Woods Pavilion, 2:00pm at the America's pavilion and 3:00pm at the Australasia Pavilion for special talks about the different, exotic insects found at the zoo. Interactive games, native insect displays, colouring, and a contest for green items will provide lots of fun and education about the fascinating world of bugs. Come and explore the amazing animals that live all around you and be inspired to become a backyard conservationist!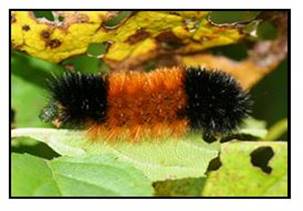 Lemur Awareness Weekend
Saturday, October 14th & Sunday, October 15th
Discover the unique biodiversity of Madagascar and learn more about Lemurs. Did you know there are 101 species of lemurs in Madagascar and all are at risk due to loss of habitat? The Toronto Zoo is dedicating a full weekend to lemur awareness on Saturday, October 14th and Sunday, 15th. Come meet the keeper and watch a training session at 1 pm each day with our 'conspiracy' of ring-tailed lemurs and find out how you can help protect lemurs and their unique biodiverse ecosystem.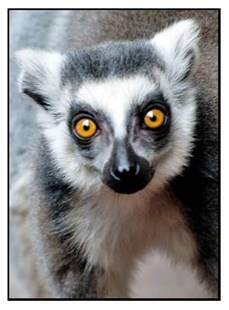 Bump In The Night
Saturday, October 21 & Sunday, October 22
(ages 5 and up)
Join us as the sun goes down on the Zoo for an exciting evening of discovery! Through a short presentation learn more about the unique characteristics of nocturnal creatures and how they manage to live in the dark. Then join us for a moonlight hike to see what we find and get a chance to "communicate" with our wolves. This night will leave you howling with excitement!
The program includes a presentation and special evening tour.
TIME: 6:30 pm to 8:30 pm
COST (per person): $10 Member,
$15 Non-Member