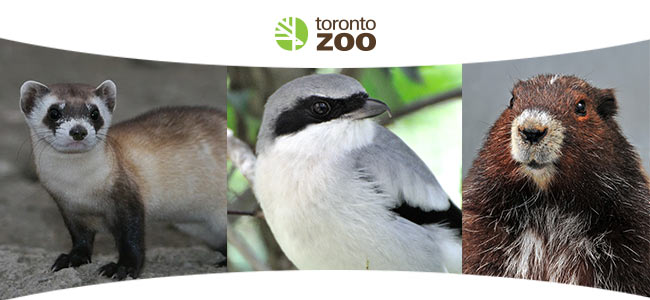 CANADA'S PREMIER ZOO IS CELEBRATING
CANADIAN SPECIES BREEDING SUCCESS
Keeping with the excitement of Canada 150, the Toronto Zoo is particularly excited to announce the births of babies of three Canadian species in captive breeding and reintroduction programs: the black-footed ferret, Vancouver Island marmot, and Eastern loggerhead shrike.

BLACK-FOOTED FERRET
Since 1992, the Toronto Zoo has been part of the conservation breeding program for the black-footed ferret. Hundreds of babies (kits) have been bred for reintroduction to the wild in USA, Mexico, and Canada, where the ferret was listed as extirpated in 1978. This program helped re-establish this species back into the prairies and brought the wild population up to approximately 300 animals. The black-footed ferret conservation breeding program continues to be important as the ferrets continue to face threats, such as habitat loss and disease.
This year, Toronto Zoo has 17 adult ferrets. On June 18, one female named Noodle gave birth to four kits (3 girls and 1 boy). Noodle is a protective first time mom, wrapping herself around her babies like a donut. It has become harder for her to hold them in as kits are squirmy and grow quickly. They will be opening their eyes in about a week. On June 29, another female named Indigo gave birth to two kits (1 girl and 1 boy). Indigo gave birth to her first litter last year so now she is an experienced mom – still protective but a bit more relaxed this year. The two kits can curl around each other in a perfect circle and still have their white, baby fuzz.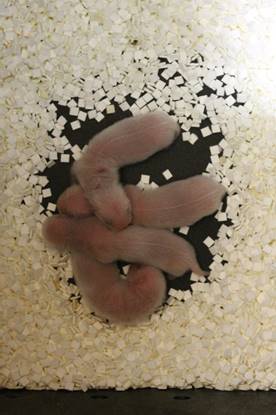 Toronto Zoo Black-Footed Ferret Kits, 7 days old
Photo Credit K. Wright, Toronto Zoo
For more information on black-footed ferrets



VANCOUVER ISLAND MARMOT
Since 1997, the Toronto Zoo has been part of the conservation breeding program for the Vancouver Island marmot, which is one of the most critically endangered animals in the world and Canada's most endangered mammal. This species had only 30 individuals left in the wild in 2003, but is now estimated between 200-300 individuals thanks to joint efforts from four Canadian facilities. Research and recovery efforts continue to protect the marmot and its habitat in Vancouver.
This year, the Toronto Zoo has five pairs of adult marmots, though one pair is too young to conceive. On May 20, 2017 pup sounds were heard from one of the nest boxes. Keepers do not open the nest boxes until three to four weeks after first hearing sounds to minimize disturbance. At four weeks, three pups started to emerge from the nest box. Since then, the pups have been venturing throughout their indoor and outdoor enclosure. They are good eaters and always finish their vegetables! One pup in particular likes to spend a lot of time in the bowl of pellets. Their parents, River (mom) and Oban (dad), seem to be a good pair as they also produced a litter of pups last year at the Toronto Zoo. The marmot pups will hibernate at the Zoo and leave for Vancouver next spring for release to the wild.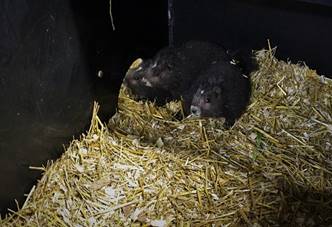 Toronto Zoo Vancouver Island Marmot Pups, 37 days old
Photo Credit: K. Wright, Toronto Zoo
For more information on Vancouver Island marmots



EASTERN LOGGERHEAD SHRIKE
Following the listing of the Eastern loggerhead shrike as endangered in 1991, recovery plans were formed. A conservation breeding program began in 1997 when there were only 100 birds remaining in Canada. In Canada, this species is found in isolated grassland habitats in Ontario, Quebec, and Manitoba.
Habitat loss continues to be a problem for the shrike, as are motor vehicles, pesticides, and factors on the wintering grounds. The Toronto Zoo has been involved in breeding and research since the program's inception and has hatched over 200 chicks.
This year, the Toronto Zoo has 10 pairs of adult shrikes and expects to surpass the number of young produced last year. Shrikes incubate their eggs for 16-18 days. After hatching, the nestlings remain in the nest for 17 days before fledging the nest and exploring their surroundings, and fledglings are ready to leave their parents at 37 days old. Currently among all pairs, there are 54 young at the egg, nestling, or fledgling stage of life. Some adult pairs have started their second clutch of young and there may be more to come. Most of these young birds will join the wild population this summer.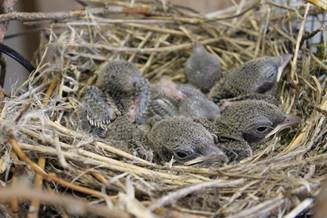 Toronto Zoo Eastern Loggerhead Shrikes Nestling, 13 days old
Photo Credit: K. Wright, Toronto Zoo
For more information on Eastern loggerhead shrikes



TORONTO ZOO CANADA 150 – WOOD BISON
REPRODUCTION EQUIPMENT CAMPAIGN
Toronto Zoo has been involved in wood bison conservation since 1977 with captive breeding and reintroduction of animals back into the wild. Since that time, efforts from various organizations have resulted in the species being down listed from "endangered" to "threatened" by the International Union of Conservation and Nature (IUCN). The conservation of the remaining free-ranging populations is at risk due to the ongoing presence of disease (tuberculosis, brucellosis). Reproductive biotechnologies may be the best way to preserve the germplasm of the remaining individuals and develop methods to produce non-infected offspring.
Toronto Zoo has had much success with wood bison calves being born via artificial insemination, however to help us continue our reproductive research and advancement of this and other Canadian species, we need help raising money for a brand new Microscope with Digital Imaging System.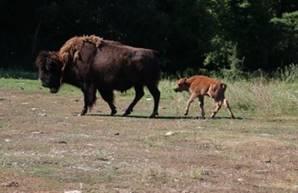 This new Microscope with Digital Imaging System will aid in our research by allowing us to better characterize and identify the most viable sperm and embryos for artificial insemination. This useful and powerful tool will be of great continued use for not only Wood Bison reproduction efforts but also reproductive programs at the Toronto Zoo for other species such as the Black-footed ferret and the Vancouver Island marmot.