Toronto Zoo Events Calendar
The Great War In Colour:

A New Look at Canada's First World War Efforts 1914-1918
Friday, October 25 – Monday, November 11, 2019
Fridays and Mondays: 10AM to 1PM
Saturdays and Sundays: 10AM to 4PM
The Toronto Zoo is proud to host The Great War in Colour: A New Look at Canada's First World War Efforts – 1914–1918, a unique travelling exhibit presented by the Vimy Foundation. Zoo Guests can experience this exhibit from 10am to 1pm on Fridays and Mondays, and from 10am to 4pm on Saturdays and Sundays in the Special Events Centre. The Exhibit is free with Zoo admission and will be available between October 25 and November 11, 2019. For the duration of the exhibit, the Toronto Zoo will be offering 50% OFF admission to past and present Canadian military personnel and up to six guests with the appropriate identification or proof of service.
This collection of colourized photos draws from the vast archival collection of Library and Archives Canada and local archives from across the country. The First World War was a transformative experience for Canada. While the memory of the conflict and its impacts on our collective consciousness are slowly vanishing, these photos capture our attention. They provide us with a clearer understanding of what the First World War would have looked like to the people who lived it. If we look closer, the photos have the power to transport us to a most poignant reality.
Explore life on the front lines, the vast support network needed to maintain the Canadian Expeditionary Force, and remarkable activities on the home front in Canada during a conflict that shaped the events of the twentieth century and continues to be present in our lives today. The Great War in Colour: A New look at Canada's First World War Efforts explores these themes while also providing important historical context to these amazing photos.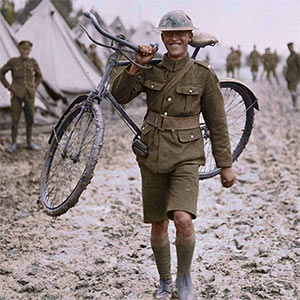 Alerts
LUMINA NIGHT WALK EXPERIENCE IS COMING AND WE ARE PREPARING!
The Toronto Zoo is very excited to be bringing this unique and one-of-a-kind experience to Toronto this winter. Lumina Night Walk will be a 45 to 60 minute experience beginning at nightfall and engages emotion using storytelling, lighting design, an original soundscape and music, scenography, video and interactive technologies.
In preparation for Lumina Night Walk, we will be experiencing some construction in certain areas throughout the month of November. Thank you for bearing with us through this exciting time of preparations. Tickets for Lumina Night Walk at the Toronto Zoo will be available in November.
---
Please note that the Tundra Trek and the Canadian Wetlands will be closed until Friday, November 15 for Lumina Night Walk construction and preparation.
---
Please be advised that the Wildlife Health Centre Viewing Gallery will be closed Tuesday, November 12 for a private event.
*Please note all events subject to change without notice.