Toronto Zoo Events Calendar
Let's Go Outdoors! (Parent and Tot Program)
Friday September 13 – Sunday September 15, 2019
10:00AM – 11:00AM OR 11:30AM – 12:30PM
Come and play the natural way in our outdoor natural play space! You will receive exclusive access to the space with many activities to try out.
Adults will take part in this interactive learning experience, helping their child make discoveries about the animal world through a variety of themed educational play stations. Following the fun, take a stroll with your family to find the first signs of autumn.
Includes:
Group welcome and guided activity
Themed educational play stations (artistic, imaginative, dramatic, active, etc.)
Special outreach animal visitor
COST: $8 (includes 1 parent and 1 child)
Recommended for pre-school aged children (18 months to 4 years) with a parent
*Cost includes one child and their accompanying adult. Note: children must attend the program with an adult.
**Cost of program does not include price of admission (sold separately).
REGISTER HERE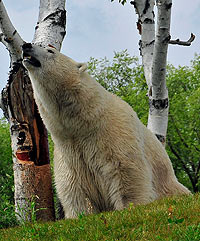 Alerts
LUMINA NIGHT WALK EXPERIENCE IS COMING AND WE ARE PREPARING!
The Toronto Zoo is very excited to be bringing this unique and one-of-a-kind experience to Toronto this winter. Lumina Night Walk will be a 45 to 60 minute experience beginning at nightfall and engages emotion using storytelling, lighting design, an original soundscape and music, scenography, video and interactive technologies.
In preparation for Lumina Night Walk, we will be experiencing some construction in certain areas throughout the month of November. Thank you for bearing with us through this exciting time of preparations. Tickets for Lumina Night Walk at the Toronto Zoo will be available in November.
*Please note all events subject to change without notice.