Toronto Zoo Events Calendar
The Toronto Zoo's Holiday Animal Enrichment Days
Thursday, December 26, 2019 to Sunday, January 5, 2020
Join us this holiday season for this much-loved annual event as our animals get to participate in their very own seasonal celebration with the Zoo's Holiday Animal Enrichment Days. This is a fun way to learn about the importance of our Zoo's enrichment program while watching our animals enjoy festive treats!
What is enrichment? Enrichment is a way for us to provide experiences for the animals and help mimic their natural behaviour with benefits to their health and welfare. These experiences can include the use of various food, puzzle feeders and unique scents as well as some items purchased from our annual Enrichment Giving Tree.
Remember, it is also that time of year again for E-Waste Holiday Collection so don't forget to drop off your old electronics at our Phone Apes Station at the front entrance.
Join the Zoo Family and Enjoy the Zoo Year-Round!
Purchase a NEW membership* during the Toronto Zoo's Holiday Animal Enrichment Days (Dec. 26, 2019 – Jan. 5, 2020) and receive an extra TWO months on your membership!
Click here for Membership benefits. http://www.torontozoo.com/Membership/
*Offer valid for NEW memberships only on in-person sales purchased in the Member Services Office. Offer will not be retroactively applied to previous purchases. Offer not applicable on discounted memberships.
Toronto Zoo Holiday PhoneApes Collection Days
Toronto Zoo Admissions
Do you ever wonder what happens to your old electronics (also known as e-waste)?
Over 50 million tonnes of e-waste is produced every year and only 15-20% of it is recycled properly! The remaining electronics are sent directly to the landfill. Electronics are valuable and potentially hazardous materials that need to be recycled properly.
Did you receive a new cellphone for the Holidays? Do you have a drawer full of old cellphones? Help raise conservation funds for Gorilla conservation in Africa by donating your old cellphone to the Toronto Zoo's PhoneApes program. This event directly correlates to the message of protecting the forest habitat of great apes in our PhoneApes program. Materials found in our electronics are mined from the same region Lowland Gorillas call home and by recycling your electronics you are reducing the demand to mine in that region and raising valuable funds to help Gorilla rehabilitation and veterinary services and habitat restoration in Africa.
Donate your old cellphone at the Guest Admissions window from December 26, 2019 to Sunday, January 5, 2020.
Didn't get a new cellphone, but did get a new computer, save your old one and donate it to the PhoneApes e-waste collection to be hosted in the spring of the new year.
On behalf of the Toronto Zoo Staff and our over 5,000 animals, we wish you and yours the very merriest for the holiday season and in 2020.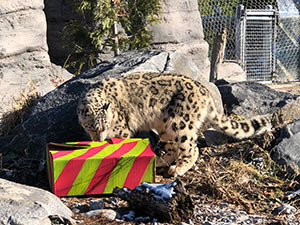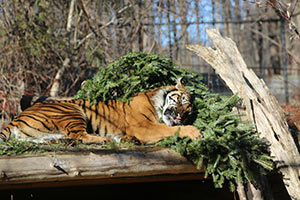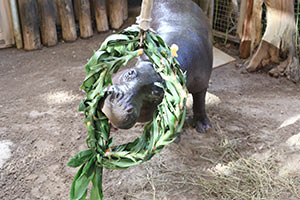 Alerts
LUMINA NIGHT WALK EXPERIENCE IS COMING AND WE ARE PREPARING!
The Toronto Zoo is very excited to be bringing this unique and one-of-a-kind experience to Toronto this winter. Lumina Night Walk will be a 45 to 60 minute experience beginning at nightfall and engages emotion using storytelling, lighting design, an original soundscape and music, scenography, video and interactive technologies.
In preparation for Lumina Night Walk, we will be experiencing some construction in certain areas throughout the month of November. Thank you for bearing with us through this exciting time of preparations. Tickets for Lumina Night Walk at the Toronto Zoo will be available in November.
*Please note all events subject to change without notice.