Toronto Zoo Events Calendar
World Turtle Weekend
Saturday, May 23 and Sunday, May 24, 2020
Indo-Malaya Pavilion, beside the Asian Turtle/Tortoise Exhibit ("turtle world")
11:00am - 3:00pm
Free with zoo admission
This event will educate the public about the unique adaptations of turtles, the threats they face, and how to help. There will be interactive games & demonstrations. This event aims to generate an appreciation for turtles globally and locally. We will promote the Zoo's head starting programs & inform guests how they can help native turtles.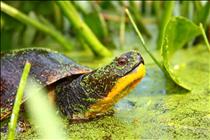 Alerts
Please note, Weston Pond washrooms in the Canadian Domain will not be accessible due to maintenance. Moose and Grizzly will not be viewable.
---
Please note, the underwater viewing tunnel at the Polar Bear Habitat is currently closed for maintenance until further notice. The polar bears remain viewable during this time.
---
Please note, the Wildlife Health Centre Viewing Gallery will be closed the full day of March 23 and will be closed as of 2pm on April 23.
---
Please note the Great Barrier Reef section of the Australasia Pavilion will be closed until further notice for routine maintenance.
*Please note all events subject to change without notice.