Toronto Zoo Events Calendar
World Turtle Weekend
Saturday, May 23 and Sunday, May 24, 2020
Indo-Malaya Pavilion, beside the Asian Turtle/Tortoise Exhibit ("turtle world")
11:00am - 3:00pm
Free with zoo admission
This event will educate the public about the unique adaptations of turtles, the threats they face, and how to help. There will be interactive games & demonstrations. This event aims to generate an appreciation for turtles globally and locally. We will promote the Zoo's head starting programs & inform guests how they can help native turtles.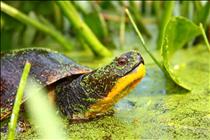 Alerts
Please note that the African Savanna, from the south Kesho Gate by Kesho Park HQ to hyenas, will be closed on July 11 and 12, 2020 due to a 19+ ticketed event. Giraffes, River hippos, warthogs, Watusi cattle, African penguins and White lions will still be viewable. The African Rainforest Pavilion and Zoomobile operations will not be affected by this closure.
We apologize for any inconvenience.
*Please note all events subject to change without notice.