Toronto Zoo Events Calendar
World Fish Migration Day
Friday, May 15, 2020
Where: Canadian Wetlands
10:00am – 4:00pm
Free with zoo admission
The Toronto Zoo's Great Lakes Outreach Program is celebrating World Fish Migration Day to help raise awareness about migratory fish species in the Great Lakes. We will have a station with resources about the species at risk in the Great Lakes and models that visitors can engage with as well as an inflatable obstacle course for participants to go through to imitate a migrating fish. We will have a station where guests can make their own eel mucus (ie. slime) which will be in the Americas Pavilion.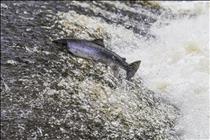 Alerts
Please note that the African Savanna, from the south Kesho Gate by Kesho Park HQ to hyenas, will be closed on July 11 and 12, 2020 due to a 19+ ticketed event. Giraffes, River hippos, warthogs, Watusi cattle, African penguins and White lions will still be viewable. The African Rainforest Pavilion and Zoomobile operations will not be affected by this closure.
We apologize for any inconvenience.
*Please note all events subject to change without notice.