Toronto Zoo Events Calendar
International Snow Leopard Weekend
Saturday, October 19 and Sunday, October 20, 2019
Snow Leopard enclosure, Eurasia Wilds
Free with Zoo admission
Come join us to celebrate International Snow Leopard Day. Meet our resident snow leopards and their keepers to learn all about these elusive cats.
Often referred to as the 'Ghost Cat', snow leopards are one of the hardest cats to study based on their remote locations and their ability to camouflage into their surroundings. And while many conservation efforts are being made, populations in the wild are still declining.
This event will allow guests to meet our keepers, watch special enrichment presentations, learn the importance of snow leopard conservation, and have the chance to donate through purchase of merchandise and silent auction. All proceeds will be going to the Snow Leopard Trust.
Book a Behind-the-Scenes Tour!
Don't miss your chance for a special opportunity to go behind-the-scenes and get up-close to one of our snow leopards and their keepers! An average of one snow leopard is killed every day in the wild. With numerous threats facing them, efforts in conservation are needed to ensure the survival of the species. Money raised from the tours and the weekend's events will be going to support Snow Leopard Trust and protecting snow leopards in the wild.
Session times available:
Saturday, October 19: 12:30 pm & 1:30 pm
Sunday, October 20: 12:30 pm & 1:30 pm
Price: $75.00 per person
Each experience will be approximately 30 minutes.
Price does not include admission or parking into the Toronto Zoo
Please note that online registration closes at 4pm on Friday, October 18, 2019 and are non-refundable. Space is limited, maximum of 10 people per time slot available. Must present copy of receipt at Snow Leopard Exhibit.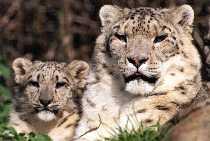 Alerts
Please note, Weston Pond washrooms in the Canadian Domain will not be accessible due to maintenance. Moose and Grizzly will not be viewable. We apologize for any inconvenience.
*Please note all events subject to change without notice.