Toronto Zoo Events Calendar
Great Canadian Shoreline Cleanup new
Friday, September 13, 2019
10am to 2pm
Offsite at the Rouge Park Beaches
Join Toronto Zoo staff and your fellow citizens in taking action to clean-up communities in our own backyard and help wildlife! This event is located at the Twyn Rivers Park, near 55 Twyn Rivers Dr. Parking is free and pizza and drinks will be provided. Drop in anytime between 10am and 2pm. Please register by Friday, September 6, 2019 by emailing aap@torontozoo.ca. Every little bit helps, whether it is 15 min, an hour, or more!
More details here.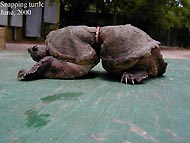 Alerts
Please note that the African Savanna will be closed to the public on Saturday, September 26 and Sunday, September 27 for a 19+ event. African Rainforest Pavilion, Masai giraffes, river hippos, hyenas, Watusi cattle, African penguins and access to the Canadian Domain will not be affected by this closure.
---
Please note, we currently do not accept cash at the Toronto Zoo.
*Please note all events subject to change without notice.