Toronto Zoo Events Calendar
National Indigenous Peoples Day
Saturday, June 20 and Sunday, June 21, 2020
Where: Wildlife Marquee
10:00am - 2:00pm
Free with zoo admission
The Toronto Zoo is celebrating National Indigenous People's Day (NIPD) and 24 years of strong, vibrant cultures and traditions. Join us at the Wildlife Marquee for some Indigenous art and storytelling! Plus, due to the cultural importance of turtles in North American indigenous cultures, we have selected National Indigenous People's Day as the day to release our head started Blanding's turtles into the Rouge National Urban Park.

Blanding's turtles are listed as endangered by the International Union for Conservation of Nature (IUCN) and a provincially and nationally threatened species. Our head-starting program, which began reintroducing baby Blanding's turtles in June 2014, has now reintroduced 154 baby Blanding's turtles in total into the wild. The Blanding's turtle is a long-lived species, with a life span of up to 80 years, and has inhabited the Rouge Valley for thousands of years, though prior to 2014 its future was uncertain, with as few as six adult Blanding's turtles remaining.

Free admission will be provided to Indigenous peoples with the presentation of a status card, Metis card, or an Inuit Health Branch Client Identification Number (N-Number) on both the 20th and 21st of June, 2020.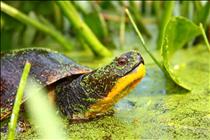 Alerts
Please note, Weston Pond washrooms in the Canadian Domain will not be accessible due to maintenance. Moose and Grizzly will not be viewable.
---
Please note, the underwater viewing tunnel at the Polar Bear Habitat is currently closed for maintenance until further notice. The polar bears remain viewable during this time.
---
Please note, the Wildlife Health Centre Viewing Gallery will be closed the full day of March 23 and will be closed as of 2pm on April 23.
---
Please note the Great Barrier Reef section of the Australasia Pavilion will be closed until further notice for routine maintenance.
*Please note all events subject to change without notice.