Toronto Zoo Events Calendar
National Hippo Day Celebrations
Saturday, February 15, 2020
Where: Pygmy Hippo Exhibit, Africa Rainforest Pavilion
10:00am - 3:00pm
Free with Zoo Admission
Join us in celebrating National Hippo Day! From 10:00am to 3:00pm you can drop by our Pygmy Hippopotamus Habitat and meet our adorable pygmy hippo family including dad Harvey (25), mom Kindia (13), and baby Penelope (18 months). Also, join us for special meet-the-keeper talks and enrichment presentations at 11:00am and 1:00pm. Guests will learn how deforestation is affecting the hippo populations and how, if more is not done, they are on their way to being considered critically endangered.
PLUS, snap a photo with our special InstaZoo frame for your chance to win an up-close encounter with Penelope and Kindia!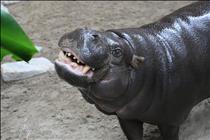 Alerts
Please note, Weston Pond washrooms in the Canadian Domain will not be accessible due to maintenance. Moose and Grizzly will not be viewable.
---
Please note, the underwater viewing tunnel at the Polar Bear Habitat is currently closed for maintenance until further notice. The polar bears remain viewable during this time.
---
Please note, the Wildlife Health Centre Viewing Gallery will be closed the full day of March 23 and will be closed as of 2pm on April 23.
---
Please note the Great Barrier Reef section of the Australasia Pavilion will be closed until further notice for routine maintenance.
*Please note all events subject to change without notice.