MAKE A DONATION
ADOPT AN ANIMAL
HABITAT PROJECTS
MORE WAYS TO GIVE
Adopt an Animal - Your Support Matters
---
Due to a technical issue, you may receive a cancellation message after your Adopt an Animal donation has been processed. If you have received this message, please contact the Toronto Zoo Wildlife Conservancy directly at 416-392-9114 (8:30am to 4:30pm, Monday to Friday) to confirm the status of your order.
We sincerely apologize for the inconvenience and thank you for your support.
---
Adopt an animal today and help to support vulnerable species at home and abroad.
As a charitable organization, funds raised through the Adopt-an-Animal program directly support the Toronto Zoo's scientific research and conservation efforts to help save vulnerable wildlife, including (but not limited to) the polar bear, the Blanding's turtle, and the Puerto Rican crested toad.
Our Adopt-an-Animal packages make the perfect gift to honor a loved one, celebrate a birthday or recognize a job well done!
To learn more about all that we do at the Toronto Zoo to fight extinction,
click here
.
Adopt an Animal Packages
Polar Package - $65
$25 – Animal Advocate
$50 – Conservation Crew
$100 – Species Ambassador
$500 – Wildlife Protector
$1,000 – Wildlife Guardian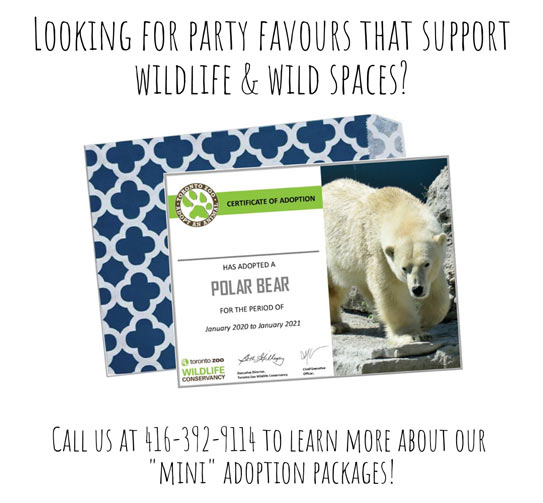 Please note: buyer will be issued full or partial tax receipt where indicated
Adopt me today!
NEW
- Boa, Jamaican (vulnerable)
Cheetah, African (vulnerable)
Dragon, Komodo (vulnerable)
Giraffe, Masai (vulnerable)
Gorilla, Western lowland (critically endangered)
NEW
- Hippopotamus, Pygmy (endangered)
Hippopotamus, River (vulnerable)
Jaguar (near threatened)
Lemur, Ring-tailed (near threatened)
NEW
- Leopard, Clouded (vulnerable)
Leopard, Snow (vulnerable)

Lion, African (vulnerable)
Orangutan, Sumatran (critically endangered)
Panda, Red (vulnerable)
Penguin, African (endangered)
Rhinoceros, African (white) (near threatened)
Rhinoceros, Greater one-horned (vulnerable)
Tiger, Amur (endangered)
Tiger, Sumatran (critically endangered)
Tortoise, Aldabra (vulnerable)
Zebra, Grevy's (endangered)
Canadian Species
Bear, Polar (vulnerable)
NEW
- Bison, Wood (near threatened)
Eagle, North American bald
Ferret, Black-footed (endangered)
NEW
- Marmot, Vancouver Island (critically endangered)
Owl, Snowy (vulnerable)
NEW
- Shrike, Eastern loggerhead (near threatened)
Wolf, Arctic
In an effort to reduce our carbon footprint, we only use Forest Stewardship Council (FSC) certified paper products, which are sourced from sustainable wood to help protect and conserve wildlife and animal habitats.
For mail orders, please
Click here
to download the Adopt-an-Animal form and mail to the following address:
Toronto Zoo Wildlife Conservancy
361A Old Finch Avenue
Toronto ON M1B 5K7