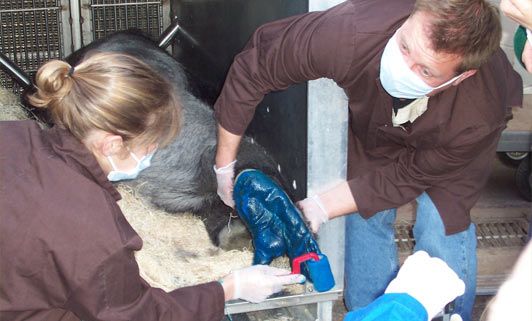 Where would a giraffe with a tummy ache go at the Zoo? To the Wildlife Health Centre of course! The brilliant staff here is made up of veterinarians, technicians, animal keepers and an administrative clerk, who work together to maintain the health of all the animals at Toronto Zoo. Anything from diet arrangements, handling of animals, quarantine and disinfection, to major surgeries and veterinary research, all takes place at the Animal Health Centre, improving animal care and conservation, every day.
Veterinary Fellowship
The Wildlife Health Centre staff notably includes students enrolled in veterinary colleges. These students join the team on fellowships to absorb theories and practices of zoological veterinary medicine.
Current Veterinary Fellow:
Iga Stasiak, D.V.M.
Iga is a second year graduate student in the Zoo Animal Medicine and Pathology D.V.Sc. program at the Ontario Veterinary College, University of Guelph and the Toronto Zoo. She is a graduate of the Ontario Veterinary College. She subsequently completed an internship in small animal medicine and surgery at the Michigan Veterinary Specialists. She has been a research assistant helping with a loggerhead sea turtle health assessment. Her research project is focused on the role of hepcidin in iron regulation in bats.
Pauline Delnatte, D.V.M.
Pauline joined the program in September 2010. She is a graduate of the National Veterinary School of Toulouse, France. She completed an internship in exotic pet medicine and bird of prey rehabilitation at St Hyacinthe Veterinary College in Quebec, and spent a year in mixed practice before the residency. Her research concerns the prevalence of a newly identified avian bornavirus in wild waterfowl and the susceptibility of domestic poultry species to this virus.
PIPING PLOVER - Canadian Wildlife Service Volunteer Veterinary Care and Advisors
(C. Dutton, W. Rapley)
The purpose of this project is to conduct a health assessment of any apparently diseased or injured wild-reared Piping Plover chicks at Wasaga Beach or Sauble Beach, determine best course of action, transport birds to most appropriate location for necessary treatment (on site, local veterinary clinic, or Toronto Zoo) and return birds to the site in the attendance of Canadian Wildlife Service staff. Dr. Dutton acted as an advisor. Staff at Toronto Zoo also helped the CWS find a local veterinarian to help in case of emergency at the sites. Dr. Rapley has served as an advisor and observer for this project for CWS.
SNAKES - Physiological and Pathological Effects of Surgical Implantation and Handling Procedures in African House Snakes.
(G. Crawshaw, A. Lentini) REF No. 2009-11-05
In a previous study at Toronto Zoo, the physiological and pathological effects of intracoelomic implants were examined in a group of 24 Eastern massasauga rattlesnakes (Sistrurus catenatus catenatus). Inflammation and infection occurred despite careful surgical procedures and advanced veterinary care. Reaction to the transmitters was likely a result of unsuitable implant coating. This study is designed to continue that work by comparing the responses of the snakes to implants with different coatings.
We are also assessing if the stresses associated with surgery and handling are reflected in changes in corticosterone in the shed skin of the snakes. This is a potential tool of great value to those caring for captive wildlife, and for assessing ecological changes in wild animals. There is no published work on the use of this technique in reptiles but handling stress was reflected in elevated stress hormone (corticosterone) metabolite levels in the previous implant study. Initial studies at Toronto Zoo have shown that it is possible to quantify corticosterone in shed reptile skin.
We are comparing the fecal and skin shed corticosterone concentrations, and examining the physiological and pathological changes in snakes implanted with transmitters. All snakes have been randomly assigned to three groups and received surgically implanted transmitters and are being maintained for 12 months until surgical removal of the implants. At that time the reaction to the transmitters will be assessed by histological and microbiological methods.
WATERFOWL - Prevalence of Avian Bornavirus Infection in Wild Waterfowl in Southern Ontario and Susceptibility of Domestic Poultry to Experimental Infection with Avian Bornavirus
(P. Delnatte, D. Smith, E. Nagy, S. Hollamby) REF. NO. 2011-06-02
Avian Bornavirus, a newly discovered virus of birds, has recently been identified as a cause of neurologic disease in wild waterfowl in Ontario, with several cases diagnosed at the Toronto Zoo (retrospective study). This virus is the cause of a neurological disease in psittacine birds (proventricular dilation disease), and other avian species may also be susceptible to infection. Infection spreads naturally through the fecal oral route, thus wild Canada geese could be a source of environmental contamination. Zoos and poultry industries are at risk, as both zoo and commercially reared birds (backyard, open range, and organic producers) can be housed outdoors were contact with wild waterfowl can occur.
The first goal of this project is to collect blood samples and cloacal swabs from wild Canada geese, Trumpeter swans, mute swans and mallard ducks, in order to determine the prevalence of this virus in wild populations in Southern Ontario and at the Toronto Zoo. Samples will be collected in conjunction with waterfowl banding activities carried out by the Canadian Wildlife Service (for the locations outside of the Toronto Zoo) or purposely collected at the zoo. We will gain knowledge as to how common infection with avian Bornavirus is in Ontario waterfowl and at the Toronto Zoo, helping us to understand and identify cause of disease and mortality in wild birds, and to anticipate a potential impact on captive zoo birds or domestic poultry species.
The second purpose of this research is to determine whether domestic chickens, ducks and geese are susceptible to experimental infection with Avian Bornavirus, and if so, to characterize viral distribution, seroconversion and viral shedding in order to develop a preliminary assessment of the danger to Ontario's poultry industries. Pathologic lesions in the brain mimic those caused by other neurotropic viruses, including paramyxoviruses such as Newcastle Disease virus (reportable in Ontario) and could be an important cause of misdiagnosis.