Habitat loss is one of the greatest threats to biodiversity on Earth today. According to the International Union for Conservation of Nature (IUCN), habitat loss is the primary threat to 85% of all threatened or endangered species around the world. In Canada, 90% of Carolinian forests, which hold over 40% of the endangered and threatened species in Canada, have been converted to farmland or towns.
Habitat fragmentation is as serious a problem as habitat loss. Many species, especially migratory ones, have difficulty surviving in habitats that are broken into fragments created by disturbances such as roads, pipelines and railways.
The Toronto Zoo is dedicated to help solve these problems, by restoring habitats for native species in Canada, and all over the world.
On this page: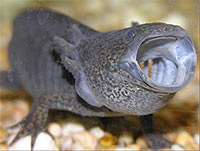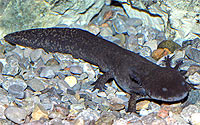 AXOLOTL - Axolotl and Lake Xochimilco, Mexico, Creating Sanctuaries and Habitat Restoration

(B. Johnson, L. Zambrano, E. Valente)


The goal of this project is provide lake remediation and to save a species from extinction. The axolotl is a Critically Endangered Species only found in Lake Xochimilco, in Mexico City. The Toronto Zoo participated in a stakeholder meeting to develop conservation actions with Mexican partners. These include long term biological monitoring and research on metapopulation structuring within the lake and captive assurance populations; ecotoxicology of lake sediments; impacts and control of introduced species; zoo based disease screening and pathology studies of captive and wild axolotl populations; zoo and community outreach programs; community based social studies to evaluate stakeholder attitudes and participation; collaborations with local food producers, farmers (chanamperos) and fishers to restore traditional agricultural practices; and training for Lake Xochimilco boat operators (remeros) to provide ecotourism income and axolotl conservation awareness.
Perhaps the most important aspect of support for these projects is the re-enforcement of fledgling conservation partnerships among different and diverse stakeholders. Conservation of the Lake Xochimilco ecosystem in the face of overwhelming ecological challenges will require sustaining such partnerships and integrating results to benefit residents of the Lake Xochimilco community, those earning a living from ecotourism, the health of communities around the lake, removal of invasive species, and remediation of the stressed lake ecosystem itself. Indeed, the axolotl and whole Lake Xochimilco ecosystem will benefit from non-traditional sustainable collaborations.
The completion of an "Axolotl Species Habitat Action Plan" provides an opportunity to contribute to existing in-country led and executed conservation priorities. These in situ projects will support a stakeholder driven Conservation Action Plan and foster newly developed partnerships and collaborations under the umbrella of GIA-X, a multi partner alliance of stakeholders for axolotl and Lake Xochimilco conservation. Partners include Government agencies; two universities; researchers and graduate students; educators, biologists and sociologists; farmers, fishers, remero boat operators; two Mexico City zoos; with participation of the AZA ATAG.
With over 9 million visitors a year Chapultepec Zoo has axolotl education programs developed by zoo educators. Additional support is required for printing of resources to be distributed to zoo visitors and education programs. Chapultepec Zoo will provide disease screening and pathology for all captive axolotl colonies and as a resource in case of sudden mortalities of axolotl within Lake Xochimilco. Toronto Zoo supports zoo based collaborations.
BLANCHARD'S CRICKET FROG - Genetic Assessment of Historic and Extant Blanchard's Cricket Frog (Acris crepitans blanchardi)

(P. Wilson, K. Beuaclerc, B. Johnson)


This study will examine DNA profiles of Blanchard's cricket frogs across the present and historic range of live and museum specimens. Museum specimens will represent the original Canadian range and frogs from the United States will determine potential source animals for release on Pelee Island, Ontario (Recovery Plan Objective). The Recovery Plan for the cricket frog has been submitted; its focus is on renewed field surveys for extant populations and to map habitats.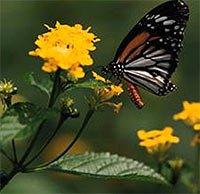 BUTTERFLY INVENTORY

(T. Mason, North American Butterfly Association, Toronto Entomologist's Association, Rouge Park)


Since 1993, the Zoo has participated in an annual butterfly survey conducted across North America, from Canada to Mexico. The survey is conducted for, and in association with, the North American Butterfly Association (NABA) and the Toronto Entomologist's Association (TEA). Every year on July 1st, the survey is performed to examine the cycling of butterflies in East Toronto. The Eastern Toronto count covers a 15-mile diameter, including the Rouge Valley, the eastern portion of the Don Valley and Petticoat Creek. The 2010 count found 42 species. The early spring and constant warm damp weather created quite a change in the species count and the types of butterflies observed. The total inventory takes place between the months of May and September. Over 70 species have been observed in the Rouge since the Zoo began the surveys.
CONSERVATION OF URBAN AMPHIBIANS AND REPTILES

(B. Johnson)


For over 27 years, data on the distribution of amphibians and reptiles has been collected for the Toronto area. The distribution data is mapped in a GIS database and used in species inventories and watershed planning. Reptile and amphibian conservation hotspots and threatened habitats are identified. Habitat restoration projects are also identified, including the construction of snake hibernacula, turtle nesting areas, and signs for turtle and amphibian road crossings. Although data is used for the recovery of threatened species, maintaining the abundance of common species is a parallel goal in the urban landscape. Identifiers for all of Ontario's amphibians and reptiles can be found under 'Identifiers' on the Adopt-A-Pond website (www.torontozoo.com/adoptapond). Our primary research focus is in partnership with the Rouge Park Alliance and Toronto and Region Conservation Authority to provide habitat use data for amphibian and reptile species at risk and to develop and implement management recommendations. A Stewardship Guide for turtles at risk provides a focus on conservation of urban turtle populations.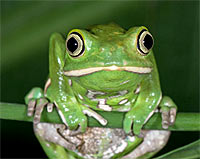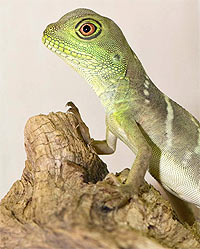 CONSERVATION PARTNERSHIPS FOR RECOVERY OF CANADIAN AND OTHER AMPHIBIANS AND REPTILES

(B. Johnson; TZ Endangered Species Recovery Fund; Adopt-A-Pond)


Toronto Zoo Amphibian and Reptile curatorial staff, through the Endangered Species Reserve Fund, targets programmes that demonstrate innovation, community partnerships, and applied research projects for the recovery of species at risk. Past and current projects include:
Blandings turtle research in Algonquin Provincial Park, Ontario
Fox snake hiberanculum construction, Ontario
Black rat snake interpretive programme, Murphy's Point Provincial Park, Ontario
Altona Forest amphibian breeding pond construction, Ontario
Facilitating Species At Risk monitoring and habitat protection in First Nations communities.
Nk"Mip Indian Reserve Western rattlesnake habitat use and fencing project, British Columbia
Okanagan Valley Tiger Salamander and pond restoration, British Columbia.
Red-sided garter snake habitat protection, Manitoba
Leatherback sea turtle fishermen surveys and newsletter, Nova Scotia
Puerto Rican crested toad Juan Rivero Zoo outreach student guides, Puerto Rico
Wyoming toad population and habitat surveys, USA
Oregon Spotted frog population monitoring, British Columbia
Axolotl population surveys Lake Xochimilco, Mexico
Axolotl husbandry and rearing facility, Chapultepec Zoo, Mexico
Beaded lizard community outreach programme, Guatemala.
El Valle Amphibian Conservation Centre, Panama.
Asian turtle crisis- training of biologists and veterinarians, Vietnam/Thailand.
Asian turtle crisis- printing of turtle awareness and conservation booklet in Mandarin for Chinese Zoo Association, China
False gharial crocodile population monitoring in two Indonesian Parks
West African dwarf crocodile population monitoring, Ivory Coast.
Madagascan tortoise conservation
Community Based conservation of the Golden Mantella frog in Madagascar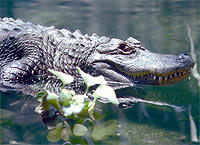 CROCODILES AND TORTOISES - Mitigation of the impacts of bushmeat on crocodiles and tortoises in African parks

(B. Johnson, A. Lentini, zoo staff Africa, Wildlife Health Centre)


Bushmeat is a term used to describe the hunt of wild animals in their habitat for their meat, traditionally for self consumption by hunters without regular access to markets or meat from domesticated animals. The bushmeat market is not limited to gorillas and other primates but also includes crocodiles, turtles, monitor lizards and other reptiles. This practice has been taking place for thousands of years and kept in balance due to low human populations and inaccessibility of forests to humans. However, in the last century, overexploitation and illegal hunting of wild animals have placed many species at risk of extinction.
Factors contributing to the bushmeat trade are:
Logging: Large scale logging is clearing the forests of Central West Africa, so what used to be impermeable habitat is now an access road to the inner parts of the forests. This makes it possible for hunters to capture animals in distant areas.
Poverty: Bushmeat is cheap to obtain and considered a luxury item in the cities. With no alternatives available, many villagers living in poverty hunt wild animals to either eat them as a source of protein, or to sell them to traders as a supplement to their income. Traditional hunters have increased impact with shotguns in combination with snares and traps.
International demand: Many animals are kept alive to be transported illegally in the international pet trade, or butchered for their body parts, such as skins, shells, bones, or limbs to be used as decorative items, fashion items or in traditional medicine. With higher accessibility to the animals' habitats and growing human populations, hunters capture or kill animals that may be some distance away as a valuable source of income.
The dwarf crocodile is listed as Vulnerable by IUCN and listed in Appendix I by CITES, which means trade in this species is prohibited. The Crocodile Specialist Group (CSG) is a network of Biologists, government officials, NGO representatives, farmers, traders, fashion leaders, and private companies, who work together for the conservation of crocodilian species. This group examines means to utilize the dwarf crocodile in a sustainable manner while protecting the crocodile's natural habitat and wild populations. CSG Experts collect information about the species' distribution in the wild and monitor its trade in bushmeat markets. Home's hinge-back tortoise is listed as Vulnerable by IUCN. The Tortoise and Freshwater Turtle Specialist Group is a network of over 7,000 scientists working to conserve this species. Information about the species distribution in the wild is updated regularly, and its trade is monitored closely. This group also develops plans to establish protected areas in natural habitats of the hinge-back tortoises, particularly where they are worshiped as holy animals. The Toronto Zoo provides support to protect the biodiversity of several African parks and conservation partnerships.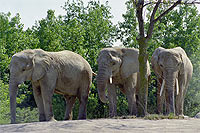 ELEPHANTS - Using Science to Understand Zoo Elephant Welfare
(J. Brown, M. Franke) REF. NO. 2011-03-01
The purpose of this study is to determine the environmental and husbandry factors that are most important to elephant welfare. Using a multi-disciplinary approach, we will establish science-based benchmarks for assessing individual elephant welfare by studying the population housed at Association of Zoos and Aquariums (ZAZ) - accredited zoos (290 elephants in 8 facilities). When completed, this project will provide detailed, science-based welfare outcomes that can be used by managers to optimize care and promote well-being of zoo elephants. The primary goal of this study is to produce scientific data that will aid decision-making with regard to best practices in elephant management.

FRESHWATER MUSSELS - Field Research and Public Awareness Campaign
The Great Lakes Program launched a 2011 initiative for freshwater mussels, as a field research project and a public outreach campaign entitled "I am Important, I am Protected". In spite of being cited by the IUCN as one of the world's most endangered species assemblages, freshwater mussels, especially those in Lake Ontario inland waters, are little studied and fairly unknown. To fill this knowledge and awareness gap, the Toronto Zoo is focusing its efforts on Central Ontario's Kawartha Lakes and Kingston regions, with plans to expand in the future.
A field study to determine species presence has been initiated for 2012 in the Kawartha Lakes region and multiple locations within the Rouge watershed, including sites on Toronto Zoo property. The public awareness campaign will introduce these unique invertebrates to the public, highlighting their role in keeping our waters clean. As part of this initiative, the Toronto Zoo has developed resources such as a Campaign poster, several Species fact sheets, and a Mussel species database. Only by fostering an appreciation and understanding of freshwater mussels can we hope to engage the public in their conservation.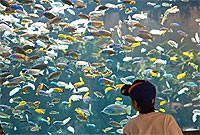 LAKE VICTORIA - Cichlids Species Survival Plan

(C. Lee)


The perch-like fishes of Lake Victoria, Africa have the dubious distinction of being documented in the IUCN Red Book as the greatest extinction in recent times. North American Zoos are working together holding breeding populations of these fishes under an SSP. Toronto Zoo has been an active participant since the program's inception in the late 1980s. We currently hold five species including the pelagic Oreochromis esculentus. The Toronto Zoo's Aqua-Links program focuses on connecting students in Ontario with E. African classes and represents a novel approach to public awareness of Great Lakes issues.
Madagascar Freshwater Fishes Breeding and Conservation efforts

(T.McCaskie & C. Lee)


The Toronto Zoo has sent a keeper to Madagascar in 2010 and 2011. We hold and exhibit three species of Madagascar fishes. We have developed breeding guidelines for these species and having successfully bred all three species and dispersed two to other AZA institutions. We are on our second generation for all three species.
In 1998 Bedotia marojejy was found in abundance in Madagascar. Last year we tried to find this species again with no luck. The villagers received mosquito nets which they fished with during the day and prevented malaria at night. The mosquito nets prevent all fish from going through where the old traditional fishing baskets allowed the fry to go through. There has been talk about reintroducing this species back into the wild. There are several institutions inquiring about this species.
In 2013 when I return to Madagascar I plan to do a mark and recapture census on Paretroplus menerambo. Paretroplus menerambo were considered extinct in 2004. In 2010 Alex Saunders and I confirmed that the species was not extinct and established that their habitat was pristine except for the exotics located in the lake. We also plan to start collecting information on Sauvagella robusta, which makes up about 60 percent of Lake Tseny's fishery.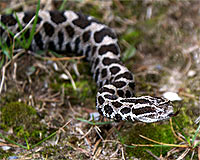 MASSASAUGA RATTLESNAKE - Long-term monitoring of an eastern Massasauga rattlesnake population in Southwest Michigan

(Project Investigators: L. Faust, M. Redmer, J. Earnhardt, M. McCuistion: Toronto Zoo participants: A. Lentini, R. Vos, T. Long)


Toronto Zoo is participating in multi-year population surveys being conducted as part of a field conservation project run by the Massasauga Species Survival Plan (SSP) at the Edward Lowe Foundation, a private foundation with property in SW Michigan. The Massasauga is listed as a Threatened species in Canada and is a candidate species for federal listing in the USA. This long-term monitoring project uses mark-recapture methods for up to five years to study population dynamics over time for these snakes.
Field research has been combined with the annual Massasauga SSP meeting with participants surveying via visual searches and snake-friendly traps (funnel traps with drift fences and coverboards). Snakes that are located are captured to collect morphological data, blood samples, and individually marked using transponders (PIT tags). The snakes are then re-released at their capture location. The numbers of snakes recaptured at subsequent surveying sessions will then be used to help estimate the ratio of marked to unmarked animals in the population, rates of population growth or decline, and individual survival.
The Toronto Zoo team made a significant contribution by finding nearly 25% of all snakes processed during the 2011 SSP meeting. Temperature data we were able to collect combined with habitat observation we made will be helpful in establishing target environmental and habitat parameters for Toronto Zoo snakes.
MASSASAUGA RATTLESNAKE - Management, Outreach, Research and Husbandry Program

(A. Lentini, B. Johnson)


The Massasauga is Ontario's only venomous species and Toronto Zoo is a founding member of the National Recovery team for this species. The Massasauga is considered endangered, threatened or of special concern within its current range. The Zoo holds two public workshops "Living with Wildlife" that features the Massasauga and other species at risk snakes. An SSP was established in 2006 to enhance conservation efforts in the field while increasing public awareness through educational programs and exhibits. An AZA Husbandry Manual for the care and breeding of these rattlesnakes was developed for the SSP. Toronto zoo actively participates in a multi-year field project conducted by the SSP in south-western Michigan. The goal of the research is to gather baseline demographic data, habitat use and behavioral ecology for this species in the wild.
MILK SNAKE - Population Monitoring in Rouge Park.

(A. Lentini, B. Johnson) REF No. 2011-05-01


Milk snake reports for Rouge Park have been anecdotal. Road mortalities and a forest to meadow habitat corridor were documented in 1984 and hibernacula locations plotted for the Rouge Park Natural Features inventory. Multiple dead-on-road findings of milk snakes were recorded in the 2010 OREG road mortality survey. A comprehensive study of the Rouge Park milk snake population and habitat use is necessary to better understand the ecology (e.g. abundance, habitat use, distribution, movements, road mortality impact on population sustainability, etc.) of this Species At Risk (SAR). This study will ultimately result in the development of a Management Plan that may include habitat restoration and more comprehensive road mitigation measures (i.e. ecopassages) that target protection of this SAR. Mitigation (habitat mitigation, stewardship and snake crossing road signs) may be necessary to raise awareness and help reduce the occurrence of snake/vehicle collisions. The tablelands between the Little Rouge and Rouge Rivers, south of Steeles Avenue, are being investigated with the cooperation of Rouge Park tenants and landowners to search anthropogenic habitats near buildings and abandoned structures (foundations, wells and barns).
Coverboards have been laid out across the study site to attract snakes already present in the area. Coverboards are checked regularly for evidence of snake use, snakes, rodents and other features of interest are also noted. Data collected will be submitted to Rouge Park to inform habitat restoration (e.g. hibernacula, gestation and egg laying sites) and will enable OREG to prioritize road mitigation practices to restore habitat permeability.
ODONATE SURVEY

(Bev Edwards, Richard Aaron, Rouge Park Volunteers, Rouge Park, Tom Mason, Lydia Attard)


This year, the Rouge Park began a monitoring program for the dragonflies and damselflies of the Rouge Park. Toronto Zoo had done a survey using one student and had established a base of 30 species on the Zoo property. With Bev Edwards as the lead, a large survey group was utilized to cover much of the valley with a result of 58 species being covered. This is a great contribution to the knowledge of biodiversity within the Park.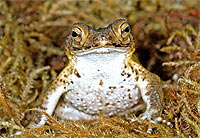 PUERTO RICAN CRESTED TOAD - Management, Outreach, Husbandry, Research and Re-introduction Program

(A. Lentini, B. Johnson, E. Gabura, D. Martin, C. Dutton, G. Crawshaw)


Toronto Zoo has maintained an assurance population of this species since its re-discovery in 1985. Captive animals provide a genetic resource to supplement wild populations through re-introduction of over 125,000 tadpoles. An AZA Husbandry Manual for the care and breeding of the Puerto Rican crested toad was developed at the Toronto Zoo and has been translated into Spanish. An International Studbook was completed and published. This important document provided essential demographic and genetic data to the Species Survival Plan (SSP) to genetically and demographically manage the species for re-introduction to the wild. Research into a potential nutritional imbalance (hypovitaminosis A) is currently being conducted.
RESEARCHING THE USE OF CELL CULTURES FOR FRESHWATER FISHES CONSERVATION

(G. Mastromonaco, C. Lee, M. Filice, K. Greenham)


In November 2010 at the 4th International Seahorse Husbandry Symposium held at Chester Zoo, Chester England, the IUCN's Freshwater Fishes Specialty Group announced the development of a regional cell culture bank of native endangered fishes as a priority endeavour in response to the global decline of freshwater and marine fishes. The mandate is to systematically bank genetic material in the form of gametes, embryos, cells and DNA from as many species as possible around the globe.
Although cryopreservation of gametes and embryos is the most beneficial resource for future fish population management, reproductive cells can be difficult to handle and cryopreserve. Complex species-specific protocols are required to optimize post-thaw survival. An equally important source of genetic material is found in somatic cells. These cells are easily acquired and, being more robust, survive the freeze-thaw process with greater success. Studies in mammals have shown that culture characteristics are influenced by culture establishment techniques; however there is very little information in published literature for fishes. An understanding of cell culture parameters is necessary in fishes so that the production of healthy cell lines can be ensured. The goals of this study are to evaluate tissue storage and processing techniques on the viability, longevity and normality of fish cell cultures. This will provide us with the information required to establish adequate protocols for initiating a genome resource bank for endangered freshwater fishes.
RESPONSE TO ASIAN TURTLE CRISIS AND BUSHMEAT TRADE

(B. Johnson; A. Lentini; zoo staff Africa, Indo Malaya; Animal Health Centre)


With 90 species, Asia has the richest turtle and tortoise diversity in the world. However, in recent decades, the future of almost every such species has been put at risk for various reasons.
10- 20% of South East Asia land cover is forest, which is the natural habitat for most turtle and tortoise species in the region, and ten percent of the world's turtle and tortoise species are found in the forests of Indonesia alone. In recent years there has been a sharp increase in demand for forest products from the region and deforestation rates have been steadily increasing. Loss of natural forest threatens over 65 of the 90 turtle and tortoise species in South East Asia.
A second major problem is that increasing income in the region and decreasing numbers of turtles and tortoises in the wild has triggered a massive, mainly illegal, trade in hundreds of thousands of turtles and tortoises a year. Turtles and tortoises have been used by Southeast Asian cultures for thousands of years for nutritional, medicinal and cultural purposes. However, the more recent rise in demand for these species has led to unsustainable and illegal harvesting of turtles and tortoises from the wild, including species listed as threatened by IUCN and/or CITES species at risk with either restricted or prohibited trade.
Certified Wood Products are one solution to this crisis, as they come from forests managed in a sustainable way. This means that forest products, such as wood, timber, and fruit, are obtained responsibly, avoiding the destruction of wildlife habitat while providing dependable livelihood for humans. This project spreads awareness of the Asian turtle crisis and bushmeat trade, and educates visitors on how they can help to conserve turtle and tortoise species by supporting Certified Wood Products. The project also encourages donations to support turtle conservation for our Endangered Species fund and public donations. Keepers have also organized 'Toonies for Turtles' fundraising events which draw attention to some of our rarest species and breeding programmes. The Toronto Zoo provides funding for turtle conservation partnerships to help turtles in the wild and supports:
Asian Scholarship Program to train South East Asian Biologists to help turtles and tortoises in trouble in their countries of origin.
Conservation education partnerships with Chinese Association of Zoological Gardens.
Creation and production of turtle conservation pamphlets.
Support of the Turtle survival Alliance, which provides funding for:

Research and protected areas to help wild turtles and tortoises
Support of park staff, who care for thousands of turtles and tortoises confiscated from food and pet markets
Captive breeding programs to save turtle and tortoise species from extinction
Support for researchers and officials monitoring the illegal turtle trade
Training of Trade Enforcement Inspectors
The Toronto Zoo also helps turtles and tortoises on the zoo's site:
Our Indo-Malaya animal keepers have contributed their expertise to protect assurance populations (captive populations of wild species to save the species from extinction) through captive breeding programs for:

Spiny turtle (Heosemys spinosa)
Malaysian painted turtle (Callagur borneoensis)
Black breasted leaf turtle (Geoemyda spengleri)
Burmese star tortoise (Geochelone platynota)
Brown tortoise (Manouria emys emys)
Vietnamese box turtle (Cistoclemmys galbinifrons)

Accommodating, relocating and providing medical care for turtles and tortoises confiscated on their way to food and pet markets by the Ontario Society for the Prevention of Cruelty to Animals (OSPCA), the Humane society of Canada and the Canadian Food Inspection Agency.
Encouraging individuals on exhibit to breed by providing them with spacious enclosures with appropriate egg laying areas, specialized diets, monitoring their behaviour, health, reproductive physiology, and x raying females to monitor egg development of South East Asian turtles.
Partnership in the Asian Giant River Turtle Consortium.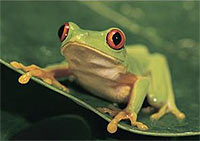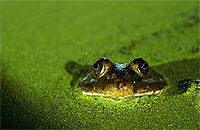 RESPONSE TO GLOBAL AMPHIBIAN DECLINES

(B. Johnson, A. Lentini, zoo staff Africa, Americas, Australasia, Indo Malaya; Wildlife Health Centre)


Global declines of amphibians require an urgent response. For many years staff at Toronto Zoo has contributed to the recovery of endangered amphibians (i.e. member of American and Canadian Zoo Associations Amphibian Taxon Advisory Groups, Puerto Rican crested toad, Wyoming toad, Fowler's Toad, Cricket Frog, Oregon spotted frog and Dusky Salamander Recovery Teams). This is in part due to our success in breeding many amphibian species to maintain demographically and genetically managed assurance populations in case of loss of wild populations and developing educational resources for community involvement in backyard conservation. In fact, our popular Adopt-A-Pond Program was initiated by zoo staff to protect and restore wetland habitats in response to 1989 reports of amphibian declines. Unfortunately, amphibians face ongoing threats. We are now witnessing a crisis that is decimating a whole vertebrate class. The causes of decline are not easily reversible, nor immediately preventable and traditional conservation approaches have been inadequate in meeting these challenges.
Recent extinctions and extirpations have occurred around the world, including those in Canada. Many amphibian extinctions are not random. The primary cause of recent population declines appears to be chytridiomycosis, a pathogenic fungal infection commonly referred to as chytrid. Because there are many cases where chytrid fungus is decimating populations from pristine habitat, conventional in situ conservation techniques are not going to work.
A recent IUCN/SSC Amphibian Conservation Summit, attended by the Toronto Zoo's Curator of Amphibians and Reptiles, developed an Amphibian Conservation Action Plan that called for emergency conservation centres for ex situ assurance colonies within the natural ranges of affected populations. While there is a global response to declining amphibian populations, the zoo community has proposed the development of a global network of captive breeding programs that are linked to conservation within countries where amphibian declines are occurring or predicted to occur. In mounting a rapid response to these issues, the Toronto Zoo and our partners continue to seek sponsors for these facilities that will serve as amphibian rescue centres operated within range countries. These centres will also provide opportunities for zoos to support and train those who live with the frogs. Toronto Zoo has provided support for the first in situ captive breeding facility, the El Valle amphibian conservation Centre, coordinated by Houston Zoo at El Nespero Zoo in El Valle, Panama. Toronto Zoo, after an appeal for assistance, sent two keepers to Panama to participate in an international frog rescue and set up of the El Valle Amphibian Conservation Centre. Most recently we provided funding for additional amphibian breeding facilities at Summitt Zoo in Panama City. As a result of our success in amphibian reproduction at the Toronto Zoo and experience with over 25 years of pond construction and reintroduction of zoo-bred tadpoles in Puerto Rico, we will be receiving captive bred rescue frogs from Central America. It is sad indeed to know that the frogs to be received have already become extinct in the wild as a result of an emerging disease we seem unable to stop.
More recently, Toronto Zoo funded staff to assist the Wyoming toad Recovery Team and SSP in field surveys to determine over winter survival of toads introduced to the wild on newly protected watersheds. Toronto Zoo opened an Amphibian Breeding Centre and a new Amphibian Rescue centre with 2 new dedicated isolation rooms to increase our capacity to hold and breed at-risk amphibian species from Canada and amphibian decline hotspots.
TURTLE SPECIES AT RISK - Head-Starting Program

(A. Lentini, B. Johnson, J. Phillips, E. Nadeau)


Toronto Zoo participates in head-starting programs for two species of Canadian turtles. Working with partners in the Ontario Ministry of Natural Resources and Parks Canada, hatchling Species At Risk turtles are being raised at Toronto Zoo until they are two years old and ready for release back to the wild.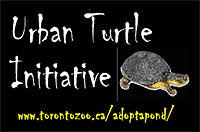 URBAN TURTLE INITIATIVE - Management of Turtle Populations in Rouge Park

(B. Johnson, J. Phillips; Crystal Robertson; Shannon Ritchie)


The Urban Turtle Initiative (UTI) is a research project that began in 1999, in an effort to determine critical habitat use by Snapping turtles in areas of Rouge Park situated on or near Toronto Zoo property. Since the project's initiation, two additional Species at Risk (COSEWIC), the Northern Map turtle (Graptemys geographica) and the Blanding's turtle (Emydoidea blandingii), have been added to the project's focus. Additionally, the project's original study area has now expanded to include Rouge Park wetland areas southward to Lake Ontario and northward to Highway 407. and a new study area was added to the project in 2010: wetlands adjacent to the Highway 24 corridor southwest of Brantford.
Between 2002 and 2008, radio-telemetry equipment was used to track turtle movements from emergence in spring through to spring/summer foraging habitats and nesting grounds, and then to winter hibernation sites. Data collected included coarse and fine habitat characteristics, GPS and GIS movement information, and observations of individual turtle behaviours. Preliminary analysis of selected data showed that small wetlands and seepage areas are important over-wintering habitats; foraging sites and nesting beaches may be in distinct areas; male snapping turtles may hold linear territories in river habitat; and the surrounding urban landscape has an effect on the individual movement and the overall population connectivity of all urban turtle species.
With support from the Rouge Park Cultural and Natural Heritage Fund and Environment Canada's Habitat Stewardship Fund, data from over nine years of UTI research was collected and combined with literature reviews and conference proceedings to write a Turtle Management Plan for the Rouge Park valley and tablelands in 2007. In 2008, the project initiated a 3 year plan to increase significant turtle habitat in Rouge Park based on information provided by the Management Plan for Turtle Populations in the Rouge Park prepared by Adopt-A-Pond's Urban Turtle Initiative, the Recovery Strategy for Species at Risk Turtles in Ontario prepared by OMSTARRT (Ontario Multi-Species Turtles at Risk Recovery Team), and the Turtle Management Workshop held at Toronto Zoo in March 2008. Research in 2008 focused on a nest site characterization analysis to determine the physical characteristics of successful nest sites in the Park, whereas research in 2009 focused on mapping the current distribution of high quality turtle habitat throughout the Rouge and locating suitable areas to target for building new nesting areas and over wintering sites using Geographic Information Systems (GIS). In 2010, the focus of the UTI's research in Rouge Park has shifted to ground-truthing previously identified high quality turtle sites to confirm their value as potential habitat, and to monitoring movements and habitat use of Blanding's turtles currently using restored wetlands.
The data collected over the past few years will be used to create successful artificial nest sites in areas where traditional sites have been destroyed or degraded (online resources detail the steps to constructing turtle nesting habitat) and build over wintering wetland habitat where current habitat availability is low. Important basking habitat will also be constructed in Rouge Park to ensure that our focal species can achieve proper thermoregulation. All constructed and restored habitat will be monitored for turtle usage and ecological function. The GIS-based hydrological assessments will be used to determine the most ecologically sound locations for ground-truthing and turtle habitat creation/restoration activities in subsequent years.
An additional research component was added to the UTI in 2011 to learn more about turtle movement and habitat use in an area along Highway 24 (southwest of Brantford) where the Ministry of Transportation Ontario (MTO) established fencing beside wetland areas to prevent turtle road mortalities. Working in close partnership with MTO, and with support from the Ontario Ministry of Natural Resources' Species at Risk Stewardship Fund, UTI researchers are using radio-telemetry equipment to track turtle movements during nesting, foraging, overwintering and spring emergence forays in wetlands adjacent to the highway. Radio-telemetry work combined with routine road kill surveys will help determine whether turtles use pre-existing sub-highway culverts as movement corridors to pass between roadside wetlands, and whether road mortality mitigation fencing provides an effective means for preventing turtle deaths on roads. Turtle movement and road mortality data will ultimately be paired with literature studies of road mortality mitigation techniques to provide government stakeholders, landowners adjacent to roads and conservation agencies with information on the efficacy of road mortality mitigation structures and best management practices for preventing turtle death on roads.
Running parallel to the Urban Turtle Initiative's research objectives is AAP's goal to communicate turtle conservation issues and habitat stewardship practices to as many people as possible. Environment Canada's Habitat Stewardship Program (HSP) and the Ontario Ministry of Natural Resources' Species at Risk Stewardship Fund have provided AAP with the financial support to achieve this objective by sponsoring a Social Marketing and Stewardship Coordinator, two Wetland Evaluation Technicians, two Turtle Research Technicians, a GIS consultant, habitat assessments, stewardship workshops and meetings, the writing of a Turtle Stewardship Guide, and the production of several other outreach resources over the past two years.