Get Involved

Conservation & Initiatives

Keeper For A Day

Partnerships & Affiliates

Contact Conservation
Behavioural Research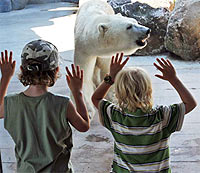 When you come to the zoo, do you ever wonder what the animals are thinking? So do we! That's why we take the time to study their behaviour; what the animals are doing tells us what they are thinking. By studying the patterns of their behaviour, we can tell if they are happy, sad, sick, or bored. Our researchers also spend time coming up with ways to keep the animals entertained in their exhibits. This includes giving the animals toys to play with, designing puzzles for animals to think and learn with, and hiding food to emphasize natural foraging. Although behaviour isn't as well studied as other aspects of animal care, it is just as important, because when the animals are happy, they are also healthy, and that's the ultimate goal of Toronto Zoo!
On this page:
CHEETAHS - Cheetahs in Captivity: Behaviour, Husbandry, Biomechanics and Genetics
EFFECT OF VISITORS ON THE BEHAVIOUR OF ZOO ANIMALS
ORANGUTANS - Behavioural Assessment
POLAR BEARS - Ongoing behavioural assessment
POLAR BEARS - Olfactory Communication in Polar Bears - Implications for Conservation in the Face of Increasing Habitat Fragmentation
SUMATRAN AND SIBERIAN TIGERS, CLOUDED AND SNOW LEOPARDS - Scent as an Enrichment Tool in Felines
VANCOUVER ISLAND MARMOTS - Maternal care and pup development study
CHEETAHS - Cheetahs in Captivity: Behaviour, Husbandry, Biomechanics and Genetics
REF No. 2010-03-02
The project focuses mainly on the behaviour of captive cheetahs in relation to husbandry practices, as well as other variables in captivity in which cheetahs may be reacting behaviourally, e.g. visitors. The main goal of the research is to determine what factors cause observed cheetah behaviour in captivity. This information can then be used to understand the effect of captivity on cheetah behaviour, as well as possibly resulting in changes to husbandry practices in order to improve the behavioural diversity seen in captivity, while also decreasing the incidence of abnormal behaviours.
EFFECT OF VISITORS ON THE BEHAVIOUR OF ZOO ANIMALS
(Dr. S. MacDonald)
The behavior of many species may be affected, both positively and negatively, by the presence of visitors. The number of visitors, traffic patterns, and noise may all have an impact on activity levels, social behavior, and overall health of the animals. We have focused on the behavior of the polar bears and found that each bear reacts differently to visitors and, while the levels of stereotypical behavior are low, individual bears react in unique ways
1
.
ORANGUTANS - Behavioural Assessment
(Dr. S. MacDonald, H. Marsh, L. Adams, S. Ritvo)
The effects and documentation of effective enrichment techniques, including finger-painting, spatial foraging tasks, and computer touch-screen games will be recorded. The purpose of these tasks is to keep the orangutans mentally stimulated and occupied while 'off exhibit' in the holding area. All of the orangutans, including the juveniles, participate enthusiastically in the various 'games'. One recently published article
2
looked at whether orangutans prefer music as enrichment. When given a choice, none of the orangutans preferred music over silence, and in fact, were unable to discriminate music from 'noise', suggesting that music may not be a good form of enrichment for this species.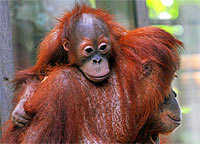 POLAR BEARS - Ongoing behavioural assessment
Behavioral observations have been done on a regular basis since 2009 to assess how the bears have adapted to their new exhibit, and to each other. Activity levels (including mating behaviors, relative frequency of play and stereotypical behaviors such as pacing) are assessed.
POLAR BEARS - Olfactory Communication in Polar Bears - Implications for Conservation in the Face of Increasing Habitat Fragmentation
(M. Owen, R. Swaisgood) REF No. 2010-03-01
Polar bears are largely solitary and breed seasonally. As such, the need to find appropriate mates at the right time is dependent upon effective, and long-range, social communication. Intra-specific communication in the polar bear is not well understood. Theoretically, polar bears should rely on olfactory signals, especially during the early phases of estrus to locate appropriate mates. The goal of this research is to determine whether chemical communication may be an important part of intra-specific communication for the polar bear. Scent discrimination tests will be performed on captive adult polar bears and to test the differential responsiveness to male versus female pedal scents, as well as estrus versus non-estrus females. This study utilizes pedal swabs that have been collected from wild bears on Alaska's North Slope. Samples will be presented to captive bears at a variety of N. American zoos. Bears will have olfactory access only to the scents and gustatory or tactile access will be precluded during scent presentation. Scents will be presented to subject bears in a plexi-glass "sandwich." Data collection during scent presentation trials will follow methods developed and used in previous studies with polar bears and giant pandas. All scent presentations will be videotaped and behavioural responses will be decoded.
Polar Bear Provincial Park -Toronto Zoo ESRF supports studies on polar bear health, status and determines the effects of global change on Polar Bear populations in the region.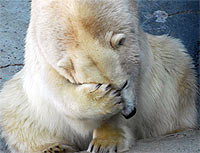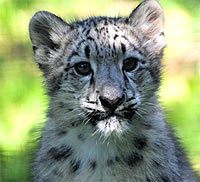 VANCOUVER ISLAND MARMOTS - Maternal care and pup development study
(Dr. S. MacDonald, Jean-Francois Nankoo, M. Franke)
Maternal behavior toward altricial young is an important predictor of the pup's resistance to stress in later life. Maternal behavior has not been studied in Vancouver Island marmots, Canada's most endangered mammal, and thus we know little about what types of behaviors occur, and whether there are individual differences between marmot mothers in maternal care. In this study, 24-hour videotapes of the first seven days post-parturition will be studied for four pairs of marmots. Maternal and paternal behavior will be examined, including amount and frequency of pup care (grooming, licking, nursing), number and duration of nest leaves by the mother, and parental interactions.
VANCOUVER ISLAND MARMOTS – Measuring stress - from the zoo to the wild, in marmot populations then and now
(M. Acker, A. Schulte-Hostedde, G. Mastromonaco)
In collaboration with Laurentian University, we are using Vancouver Island marmots to study how human activities correlate to stress levels in endangered mammal populations. This study will investigate cortisol concentrations in marmot hair samples from museum specimens and those collected from the field as part of ongoing recovery efforts. Hair provides us with a unique tool to measure the deposition of hormones over an extended period of time giving us the potential to consider the long-term effects of large scale human activity on animal populations. Prior to initiating the study, hair samples obtained opportunistically from the Toronto Zoo's marmots will be used to study basic marmot hair biology, including cortisol incorporation into marmot hair based on body location and hair colour, an important preliminary step before using hair as a means to measure stress in animal populations. This initial portion of the study is currently underway with expected completion by August, 2016. The research team is hoping to better understand how human disturbance influences wild mammal populations and the role that hair samples might play in the conservation of these populations.
VANCOUVER ISLAND MARMOTS – Manipulating reproduction in the Vancouver Island Marmot
(L. Graham)
Since the early 2000s, endocrine studies have been ongoing for the Vancouver Island marmot in zoological institutions as part of the captive breeding and reintroduction recovery program. The first phase of this multi-layer project was to develop non-invasive endocrine techniques to monitor ovarian and testicular function. The next phase was to develop assisted reproduction techniques including artificial insemination and reversible contraception. Artificial insemination techniques require a method of collecting semen from males, the best way of cryopreserving sperm, and the control of ovarian function such that the sperm is inseminated at the optimum time for fertilization. Individual animals are assigned each year by the Captive Management Group based on management and research needs.
---
1
Kelly, Krista R., et al. "Individual effects of seasonal changes, visitor density, and concurrent bear behavior on stereotypical behaviors in captive polar bears (Ursus maritimus)." Journal of Applied Animal Welfare Science 18.1 (2015): 17-31.
2
Ritvo, Sarah E., and Suzanne E. MacDonald. "Music as enrichment for Sumatran orangutans (Pongo abelii)." Journal of Zoo and Aquarium Research 4.3 (2016): 156-163.