Our Turtle Tally project is going great! But Adopt-A-Pond and turtles all across Ontario still need your help!
Report your turtle sightings by entering your observations into our on-line database.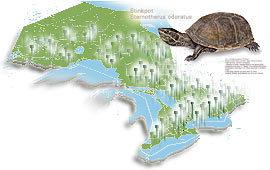 The purpose is to collect, record and store location and species information on Ontario turtles, including species at risk. Turtles are most often seen in June when they are traveling to reach their nesting sites. The information that is collected in this database will be submitted to the Natural Heritage Information Centre and will be used to learn more about turtle distributions in Ontario.