AAP Home

Resources

Species Guides

Events

Contact Us

Programs

Ontario Turtle Tally

FrogWatch Ontario

Urban Turtle Initiative

Turtle Island Conservation
Turtle Conservation Curriculum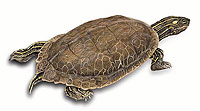 Does your class love animals? This curriculum resource links a variety of science and environmental topics with the turtles that live right here in Ontario.

Did you know that there are 8 species of turtle in Ontario, and 7 are considered Species at Risk? Turtles face many challenges throughout their life, with some of the biggest ones caused by humans. Add a little turtle knowledge to your lessons with Adopt-A-Pond's Turtle Conservation Curriculum and help spread the word that turtles need our help!

Use the links above to select activities by grade or by topic. If you have any questions or are interested in additional resources for your classroom, please contact us!

Please contact Adopt-A-Pond (416-392-5999), or email us at aap@torontozoo.ca if you have any questions.