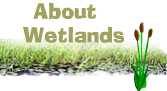 What is a Wetland?

Functional Importance?

Wetland Loss

Wetland Types

The Great Lakes

Invasive Species




Discover the Great Lakes



Great Lakes Coastal Wetlands
The Great Lakes region's glacial history and the remarkable influence of the lakes themselves create unique conditions that support a wealth of biological diversity, including more than 130 rare species and ecosystems.

Coastal wetlands include a number of natural communities that share the unique combination of aquatic, semi-aquatic, and terrestrial habitats that result from periodic flooding by tidal waters, rainfall, or runoff.

Great Lakes coastal wetlands are extremely productive and diverse communities of plant and animal life. They are vital to the well-being of the Great Lakes ecosystem. Their unique vegetation provides:
Cover and food for wildlife
Holds the soil in place with their roots
Helps protect shorelines from erosion by absorbing the energy of waves and breaking the flow of stream or river currents
Helps improve water quality by filtering pollutants and trapping sediment
Coastal wetlands also hold water, which reduces runoff and flooding.

A significant number of provincially significant species are found in Great Lakes coastal wetlands, including a number of species at risk. Some coastal wetland sites along the Great Lakes are recognized internationally for their outstanding biological significance. Examples include the Long Point complex and Point Pelee.

Unfortunately, approximately two thirds of the original wetlands in the lower Great Lakes basin have already been lost, and they continue to disappear. The estimate of wetland loss in southern Ontario is 1000 hectares per year. As the quantity of Great Lakes wetlands shrinks, the importance of remaining wetlands becomes even greater.