Blanding's Turtle Head-starting and Reintroduction
With support from Parks Canada, the Toronto and Region Conservation Authority (TRCA) and the Ontario Ministry of Natural Resources and Forestry (MNRF), the Toronto Zoo raises and reintroduces juvenile Blanding's turtles into natural and created wetlands of the Rouge National Urban Park in the Greater Toronto Area. The Rouge National Urban Park is Canada's first national urban park and one of the largest parks of its kind in the world.

Turtle species worldwide are in decline. Of the 8 native turtle species found in Ontario, 7 are now classified as Species at Risk. Turtles have a long life span and delayed sexual maturity. These life history characteristics mean that populations are highly sensitive to human-induced threats such as habitat loss and fragmentation caused by urban development and drainage of wetlands for agriculture, road mortality, and increased levels of predation due to predators like raccoons that tend to be over-abundant in urban areas.
The Blanding's turtle, a long-lived species with a life span of up to 80 years, is listed as a threatened species both provincially and nationally. This species has inhabited the Rouge Valley for thousands of years; however, prior to the initiation of the Toronto Zoo's head-starting program, Blanding's turtles were facing almost imminent local extinction in this area, with as few as six individuals remaining.
After over a decade of monitoring turtles in (the now) Rouge National Urban Park, the Toronto Zoo's Adopt-A-Pond Wetland Conservation Programme proposed to supplement the Park's declining Blanding's turtle population with head-started juveniles as part of a comprehensive approach to species recovery, which also included habitat creation, academic research, stewardship initiatives, and outreach and education programs to save this species from local extinction. With funding from Parks Canada, and project support from the TRCA and the MNRF, Adopt-A-Pond staff were able to release the first group of head-start turtles into the wilds of the Rouge Valley in 2014.

The head-start turtle eggs are collected under permit from stable source populations in Ontario, from at-risk nest sites where eggs would otherwise not survive to hatching. This includes nests from construction sites and tilled farm fields. The eggs are incubated and hatched, and then the hatchlings are raised in a controlled environment at the Toronto Zoo for two years before they're released back into the wild.
When baby Blanding's turtles are first born they are very soft and about the size of a loonie, making them an easy meal for any predator that can fit the tiny turtle in its mouth. The Toronto Zoo raises head-starts to about the size of a baked potato. At this point their shells are much harder and they are large enough to evade most predators (like raccoons, skunks, foxes, coyotes and crows), thereby giving them a head-start in life!

Ongoing research and habitat creation are also a big part of the head-start project. Our goal is to release approximately 50 young Blanding's turtles back into the wild each spring. To keep track of their movement and survival staff from the Toronto Zoo attach tiny radio transmitters to each of their shells. We continue to monitor the turtles as they interact with their new environment and undergo important milestones such as migration and hibernation. The information gained from monitoring these turtles will help to inform us about their habitat requirements and help us to understand what we can do to ensure they are continually provided with suitable areas to live.
The University of Toronto (Scarborough) has now partnered with the project to assist with the long-term monitoring of released Blanding's turtles. Parks Canada, TRCA, and the Toronto Zoo are also participating in long term habitat improvement projects, including wetland restoration, the creation of nesting habitats, and the construction of road way eco-passages that will promote this species' long-term survival and sustainability in the Rouge Valley.
A long term partnership with Environment Canada and the Ontario Ministry of Natural Resources and Forestry has greatly enhanced the Blanding's turtle monitoring and head-start project by providing funding, permits and in-kind contributions to conduct research on wild Blanding's turtles in the Rouge Valley. Earth Rangers, an environmental conservation organization focused on engaging youth in the protection of nature, has provided support for the project by building a facility to house the turtle eggs and hatchlings at the Toronto Zoo.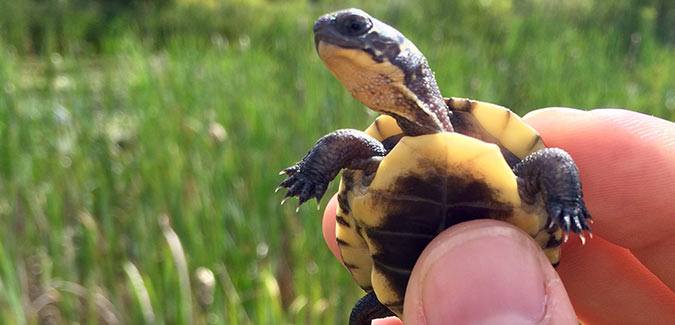 Blanding's turtles are an excellent species upon which to model wetland protection initiatives. Blanding's turtles use a variety of different wetland habitats throughout their life cycle, including swamps, marshes, ponds, vernal pools and connecting travel corridors like ravines and rivers. Protecting Blanding's turtles and their habitat goes a long way to benefit other native turtles, birds, fish and amphibians that use the same wetland homes. Together, we can focus on saving habitat for one species to save an entire ecosystem!


---
Over the past 10 years, the Toronto Zoo's Adopt-A-Pond Wetland Conservation Programme has undertaken a series of research projects, as a collective entitled the Urban Turtle Initiative, to learn more about what species of turtles live in the Rouge Valley, when and how they travel through their habitat, and how they use the landscape to survive. Many of the turtles that live in our watershed are Species at Risk, protected by both Federal and Provincial legislation.
During our study we have captured Painted turtles, Snapping turtles, Northern Map turtles and Blanding's turtles. To find out what habitats they were living in, we used radio telemetry to track their daily movements. By attaching a small (6-20 gram) radio transmitter to the shell of each turtle, we can follow them by "tuning in" to the radio signal emitted from their transmitter. Over the course of 10 years we have radio tracked a total of 11 Snapping turtles (Coco, Tinkerbell, Peter Pan, Abetzi, M.J., Winnie, Wanda, Xena, Franklin, Storm and Rocky), 7 Blanding's turtles (Bobbers, Clementine, Lucky, Colin, Raymond, Irene and Brooke NASCAR), and 3 Northern Map turtles (Mikey, Tasha, Andrea) within the valley.
Meet some of the UTI turtles.
Andrea



Andrea (pronounced An-DRÉ-a) is a large female Northern Map turtle, with a missing foot! She was found in one of our basking traps by a turtle tracker, whose middle name is Andres. Since our turtle is a female, we decided Andrea was more fitting. Her front right foot is missing, and it appears to be from a long-ago fight with a predator. Her leg, however, has healed nicely, and she appears to be doing just fine! In 2007, we retired her from our study.




Clementine

Clementine was the first female Blanding's turtle in our study. She has a small orange marking on her yellow chin that reminded us of a Clementine! Upon tagging Clementine we noticed extensive cracking to her carapace. This damage was most likely the result of being hit by a car. Clementine was able to recover from her injuries with minimal damage, but most turtles are not so lucky. Clementine has since been retired from our study.



Colin

We were delighted to add Colin to our study because he was only 3.5 years old when he was first tagged. Immature, or juvenile, Blanding's turtles are rarely seen so Colin has taught us a lot about the lives of young urban turtles, and continues to do so. Colin was named after the Friends of the Rouge staff who found him. After years of tracking so many turtles, Colin is our only turtle being currently tracked in this area.

Coco

Coco is a large male Snapping turtle that was tagged in 1999. He was our first turtle and he took us on some pretty wild adventures as we learned more about his home range. He was named because he was found amongst floating coconut shells. Why coconut shells in the river? We can only speculate. After 9 years in our study, the turtle who started it all for us has been retired. Coco's transmitter was removed in 2008, and he was sent on his way.




Tinkerbell

Tinkerbell, a small female Snapping turtle, was discovered in the same section of river as Coco. She was tagged in 2000 and continued to offer us glimpses into the secret lives of turtles for several years, from nesting to hibernation. In 2002 she was X-rayed and we learned that she was carrying 28 eggs! We were so proud and happy to find out that Tinkerbell was a mom! Although we have made numerous fascinating observations of Tinkerbell, one that sticks out is that since we began tracking her, she has spent her summers hanging out with Coco…summer romance perhaps? Tinkerbell was retired from our study after several years of tracking.



The turtles led us to their foraging areas, overwintering areas, nesting areas, and their travel routes in between. We found that the home range size for Snapping turtles was linear along the rivers, covering, on average, a 2 km stretch. Blanding's turtles moved in a less linear fashion covering an average of 15 hectares throughout the valley wetlands, while Northern Map turtles had an even larger non-linear home range size of about 25 hectares! Within these home ranges were a variety of habitats to suit the turtles' different needs. Both Snapping turtles and Northern Map turtles spent over fifty percent of their time in rivers, while Blanding's turtles frequented marsh habitats most of the time, and pond habitats as a close second. One female Blanding's turtle moved over 2 kilometres up the Rouge River to a nesting site she used for three consecutive years!
It is always interesting to see what different types of habitats different species will use; it also tells us how much space we need to protect if we expect to sustain a stable population of turtles. Luckily the turtles of the Rouge Valley have a large area of protected spaces in which to move about, but that doesn't make them immune to outside pressures. Living in an urban area exposes our turtles to a number of challenges aside from habitat loss, including increased predator populations, road mortality, collection by humans, and manmade barriers that limit movement along travel routes. We continue to monitor our urban turtles to see how they are impacted as changes take place in the Rouge Valley.
Although the Urban Turtle Initiative is largely research based, we encourage people to get involved with turtle conservation through Ontario Turtle Tally, one of our citizen naturalist programs. More information on Ontario Turtle Tally can be found by following the link on the side bar or clicking here:
Ontario Turtle Tally
.