AAP Home

Resources

Species Guides

Events

Contact Us

Programs

Ontario Turtle Tally

FrogWatch Ontario

Urban Turtle Initiative

Turtle Island Conservation
Amphibian Resources

Back to Amphibian Resources selection


Frog and Toad Calls of Ontario USB stick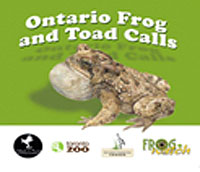 This USB stick contains the calls of all Ontario frog and toad species, as well as calls that can easily be confused with our frogs and toads. Although all calls are available on our website in each species profile, this can be used when you do not have access to the website. Learning your calls will help you report to our FrogWatch Ontario Program.

Hard copies of this USB stick are available upon request. Please contact us for more information.

You can also listen to the calls of our Ontario species online, just visit our Species Guides page for Frogs and Toads and click on the species you are interested in.